printer friendly version
Application development races ahead with Siemens cellular engines
December 2002
IT infrastructure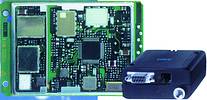 Following the explosive growth in the cellular phone market in South Africa, the introduction of GSM and GPRS (general packet radio service) enabled cellular engines has sparked an increase in the number of locally developed applications.
When GSM technology was hatched, electronics company Siemens quickly developed infrastructure and devices to cater for this market. Similarly, when the need arose for non-mobile phone devices for industry, Siemens had the technology to implement these, such as the wireless modules terminals and modules - products aimed at designers, developers, OEMs and manufacturers.
Since taking over the responsibility for marketing, supplying and fully supporting these units from Siemens - information, communication, mobile (ICM), just over a year ago, the components division of Siemens drastically ramped up the sales of these modules. Conan Jones, Siemens' marketing manager for these devices in the division, confidently expects to improve on last financial year's R4m sales by five fold in the next financial year (Oct 2002-Sep 2003).
"The incredible growth in applications being developed to use GPRS technology has seen an explosion in the number of wireless modules sold in South Africa," he says. "A market survey and conservative look at the industry estimates that over 100 000 units were sold last year, a demand that will grow enormously as the need for innovative solutions in the telemetry, telematics, mobile computing and automotive sectors continues to release demand."
While the market for wireless technology in machines, remote devices, vehicles and automated equipment is still at the beginning of development, Jones believes this will continue to offer high growth opportunities in coming years.
"We have seen the cellular phone boom prepare the way for mobile radio networks that offer wide-area coverage and efficient technologies at very reasonable costs," he continues. "Since cellular engines can already communicate without limitation and independent of communication cables, it is possible for a manufacturer, designer or OEM to quickly and easily add value and strengthen the competitiveness of their product as well as their overall customers' satisfaction."
Impressive applications
According to Jones, a regional sales representative from Siemens in Germany was so impressed with the variety of applications being developed using Siemens' cellular engines that an application engineer was also flown out to investigate this on a subsequent visit in May 2002. "Our philosophy is not just to supply wireless modules, but rather to assist a designer, developer, manufacturer or OEM in developing the best solutions for the widest possible range of applications," said Jones. "Almost on a daily basis, new products and applications are being developed in this country that effectively exploit the benefits of this technology."
In industry, the use of wireless modules has resulted in greater productivity, improved service and lower costs. Telemetry applications include the remote reading of data for utility metering devices such as electricity and water; vending machine stocking and maintenance; logistics management in warehousing as well as cable-free remote monitoring and alarm transmission in security systems.
In telematics, the modules can be used to augment orientation information systems (location based services - LBS, using GPS at present) for streets and multistorey car parks; coordination of truck fleets, routing and complete fleet management; seamless tracking of documents or parcels in the courier and freight industry; as well as cashless payment at restaurant tables with portable GPRS enabled point-of-sale terminals.
Innovative solution
There are also a large number of automotive applications that can significantly improve the usage value, comfort and safety in a car. Innovative ideas include automatic emergency call if the airbag inflates, remote diagnosis in the case of breakdown, as well as security where the car's location can be pinpointed. It can also be used for navigation as well as the latest information on sights, restaurants, hotels and other amenities.
Other innovative solutions currently being developed include cell and smart phones with GPRS; multimedia capabilities with Web pads for Internet access and PDAs with GPRS; wireless data access with laptops and for security purposes such as emergency call devices for senior citizens, the disabled or children.
Jones added that because the products are so easy to integrate, no in-depth knowledge of communication technologies is needed. With their robust housings, universal interfaces and integrated SIM card reader, the terminals are plug-and-play solutions which can be simply and quickly integrated.
"Nevertheless, the Siemens Application Engineering team is always on hand to supply technical documentation, make viable recommendations and assist in the 'development of complete solutions or tests," he concluded.
For more information contact Conan Jones, Siemens Southern Africa, 011 652 2000.
Further reading:
Putting secondary storage to work
September 2019 , IT infrastructure, Security Services & Risk Management
By 2022, more than 80% of enterprise data will be stored in scale-out storage systems in enterprise and cloud data centres, up from 40% in 2018.
Read more...
---
Ensuring a seamless ultra-wideband ecosystem
September 2019 , Editor's Choice, IT infrastructure
FiRa consortium ensures an interoperable ultra-wideband technology ecosystem across chipset, device and service infrastructure through standards and certifications.
Read more...
---
LanDynamix helps secure Michael Mount campus
September 2019 , IT infrastructure, Products
LanDynamix has implemented Fortigate, Fortinet's firewall appliance, at Michael Mount Waldorf School in Bryanston, Johannesburg.
Read more...
---
Network insight benefits business
September 2019, Duxbury Networking , IT infrastructure, Products
The Insight app provides ease of access to your network from any location, and simplified device discovery and setup, warnings, notifications, and status checks.
Read more...
---
Highly adaptable wireless mesh network solution
September 2019, Duxbury Networking , Products, IT infrastructure, Residential Estate (Industry)
Rajant's Living Network infrastructure evolves and adapts to your growing and changing connectivity requirements.
Read more...
---
Modular fibre-optic patch panel
September 2019, Jasco Trading t/a Webb Industries , Products, IT infrastructure
Telegärtner's Fibre Termination Box facilitates customised cabling in locations where large numbers of apartments or buildings have fibre-optic outlets installed.
Read more...
---
Wi-Fi access points for SMMEs and startups
September 2019, Duxbury Networking , Products, IT infrastructure
Aruba Networks? latest offering, Instant On, delivers reliable, easy-to-manage network technology for small businesses.
Read more...
---
Network switch for solar applications
September 2019, Duxbury Networking , Products, IT infrastructure
Duxbury Networking has released the latest addition to the Duxbury network switch range, a solar switch ideal for remote locations.
Read more...
---
Argentine Railway chooses Radwin's wireless broadband solution
September 2019, RADWIN , IT infrastructure
Radwin's FiberinMotion will enable mission-critical applications onboard passenger trains, including CCTV, VoIP and future Wi-Fi connectivity.
Read more...
---
SD-WAN: how and why
August 2019 , IT infrastructure
Software-defined networking in a wide-area network (SD-WAN) is emerging as a mainstream technology and is seeing increasing global adoption.
Read more...
---