printer friendly version
Smart communications enhances security business
February 2003
IT infrastructure
As crime continues to escalate, security companies are having to look to new technologies and techniques to outsmart criminals and syndicates that have become increasingly sly and sophisticated.
And while the security industry retains steady growth, competition between companies is becoming fiercer. The recent trend in acquisitions by multinationals and the merging of security firms makes it even more critical to maintain high levels of customer service, which is measured in terms of response and reaction time and the rate of success in protecting clients and their assets.
Communication technology is one of the most costly and complex components of large organisations, yet it is a vital component, particularly in the emergency services industry. The answer lies in determining which technology to use to maximise return on investment and to enhance productivity. But with the constant barrage of new and improved products, deciding which one will best suit a company's needs is no easy feat.
According to Philip Hime, marketing manager for Alcom, the sole distributor of Motorola two-way radio products in South Africa, many security companies are using two-way radios as their primary communications technology, but few are truly harnessing the power of this technology to streamline operations and improve customer service.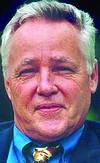 Philip Hime
Hime cites an example: "Take the typical scenario of a burglary: an alarm is activated and a vehicle is dispatched to respond. Most of these vehicles are fitted with mobile radios so the guards have contact with the control room. But what happens once they leave the vehicle? Unable to communicate with the control room, they face potential ambush or the criminals flee and a futile chase ensues. In both instances, the control room has no contact with the guard and is unaware of what action has been taken or whether the guard and the customer are safe."
"And even if the guard has a portable radio with him when leaving the vehicle, he has to juggle his firearm and radio while trying to climb over gates or walls. Additionally, if he is investigating an alert or surveying an area, he risks a call from the control room that could alert suspects to his presence and place him in danger," he says.
So what is the solution? Hime says that the increased functionality of today's two-way radios provide a range of features designed specifically for professionals in the security industry. "Motorola's GP and GM series of portable and mobile radios all offer 5-tone signalling, which allows the radios to be programmed to transmit critical information such as who is calling and whether it is an emergency or a status call. They also allow companies to prioritise calls according to the signal received which provides them with more specific information and results in better frequency utilisation, faster response and promotes proactive security."
Before leaving the vehicle, the guard can activate a voice-storage function on his mobile radio and record details of his location, the status of the emergency and the action he is taking. The control room can page the vehicle and access the message at any time. In an emergency, the emergency signalling function allows the user to alert the control room by pressing a panic button on the radio. The radio can be programmed to mute mode so that a silent alarm is sounded and the control room knows to send back-up without having to contact the guard and alert suspects.
The whisper mode function has been designed for discreet communication, reducing the volume of the incoming signal and enabling the caller to whisper into the radio and still be heard in the control room. And for remote workers, the radio can be programmed to send an alert to the user at regular intervals, requiring him to press a button that resets the radio. If there is no response to the signal prompt, the control room is alerted. In this way, they know whether the guard is at the site and is safe.
Robust communication tools
In the case of attack or injury, the 'man-down' feature automatically sends an alert signal to the control room if the user is in a horizontal position for a set period of time. "All these features have been created to enhance staff and client safety and to maximise productivity," Hime explains.
Also, many companies are not prepared to pay for a more sophisticated radio. "While the initial outlay may be higher than that of a basic push-to-talk radio, companies can gain a fast return on investment by buying a more robust communications tool that lasts longer, provides increased safety for both their staff and clients, maximises the use of frequency, improves productivity and reduces unnecessary call-outs which contribute to escalating costs. All this in turn contributes to customer service and satisfaction, something which companies who face increasing competition can not afford to neglect."
For information contact Philip Hime, Alcom Systems, 011 235 7640.
Further reading:
Network disaster recovery plans are an insurance policy
Issue 4 2021 , IT infrastructure
An organisation cannot function properly if one of its networking system components stops working. Without network services, a company is simply not able to properly execute its business operations and move data within the infrastructure.
Read more...
---
Edge computing: bringing the cloud down to Earth
Issue 4 2021 , IT infrastructure
The addition of edge computing capabilities to the Industrial IoT gateway hardware allows the Industrial IoT gateway to perform local storing and processing of data, meaning higher reliability, lower latency and tighter security.
Read more...
---
DSM 7.0 and C2 cloud expansion
Issue 3 2021 , IT infrastructure
Synology has released DiskStation Manager (DSM) 7.0 and an expansion of the Synology C2 platform with four new cloud services focusing on enhancing security, system management capabilities and improving data collaboration.
Read more...
---
Keeping MICE safe and compliant in a new environment
Issue 3 2021 , Commercial (Industry), IT infrastructure
The meetings, incentives, conferences and exhibitions (MICE) sector has been challenged with massive change over the past year, first Covid-19 and now the Protection of Personal Information Act.
Read more...
---
Technoswitch stand-alone power supply range
Issue 4 2021, Technoswitch , IT infrastructure
The Technoswitch stand-alone 100-240 V AC to 24 V DC, 2 A regulated power supply range is available in three different enclosure types.
Read more...
---
Cybersecurity in the physical security world
Issue 4 2021, Technews Publishing, Milestone Systems, Axis Communications SA, AVeS Cyber Security, Vox , Editor's Choice, Cyber Security, Integrated Solutions, IT infrastructure
Hi-Tech Security Solutions, in partnership with Milestone Systems, hosted a round table discussion to find out about the trends and realities and the importance of cybersecurity in the physical security and IoT world.
Read more...
---
Design for the users, not against them
Issue 4 2021 , Editor's Choice, Cyber Security, IT infrastructure
Security is an evolving process, a liquid and malleable evolution that engages with user, technology and system to ensure absolute security coherence, says Henk Olivier, MD of Ozone Information Technology Distribution.
Read more...
---
Storage solutions for surveillance
CCTV Handbook 2021, Technews Publishing, Forbatt SA, Duxbury Networking , IT infrastructure
When it comes to storage, simply knowing where your video is stored, how to access it quickly and how to handle the large amount of data is a complex task.
Read more...
---
Surveillance-enhanced hard drives
CCTV Handbook 2021 , IT infrastructure
New WD Purple Pro product line brings elevated performance, workload capability and reliability to advanced AI-enabled recorders and video analytics server applications.
Read more...
---
Can you hack-proof the cloud?
CCTV Handbook 2021 , IT infrastructure
The cost and impact of cybercrime is climbing by around 15% every year and by 2025 it's expected to cost $10,5 trillion globally. This makes cybercrime more profitable than the global illegal drug trade.
Read more...
---