printer friendly version
Securevu VC 2000 on national television
December 2002
Surveillance
With the current seeming increase in crime, more and more companies are changing to digital solutions. The recent shooting of an off duty traffic officer at a Petrol Station in North West Province highlights the trend and shows the abilities of the VC 2000 to catch the relevant footage.
Although the detail gives an impression of what can be achieved showing the crime step by step, correct placement of cameras and usage of lenses at correct focal length would have achieved far more. The owner of the station has been advised as to how he can improve upon his current set-ups.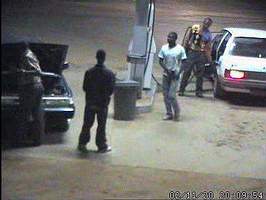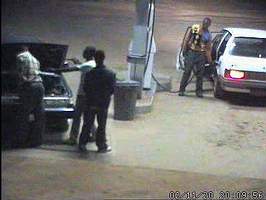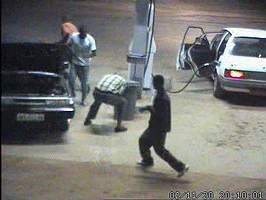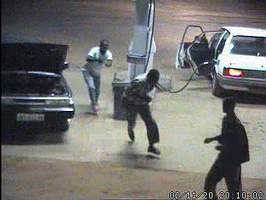 In the frames highlighted, the alleged crooks arrived in the white vehicle and proceed to fill the tank. The attendant is aware of the gun held by the crook. A second vehicle arrives with the off duty traffic officer looking for oil. The white T-shirt guy holds up the traffic officer while his accomplice gets into the traffic officer's car. The traffic officer reacts and is shot in the stomach, he runs away with the white T-shirt crook following. The white car drives away with the petrol pump attached. The other crook has meanwhile robbed the till point and runs out to the new getaway car, while the white T-shirt crook rummages through the traffic officers pockets for wallet, money, etc. The action occurred in under 40 s from start to finish.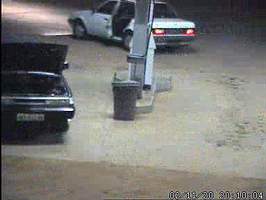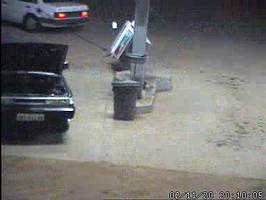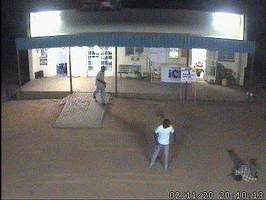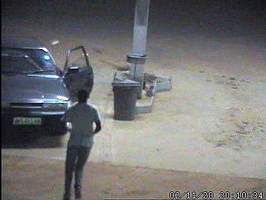 The police are currently working with the colour and monochrome snapshots of the event, provided within minutes of the incident taking place. The snapshots and extracted footage have been e-mailed throughout the region, and as a result of the non-proprietary nature of the software they can play the footage back through any media player.
Vision Catcher
Tel: 011 465 5396
Fax: 011 465 7257
e-mail: info@visioncatcher.com
Further reading:
Safer roads to a sustainable future
Dahua Technology South Africa Surveillance
With the ever-increasing number of vehicles on the road, it is imperative to constantly improve the quality of transportation monitoring and traffic management in urban and rural areas.
Read more...
---
From damage management to false alarm prevention
Dallmeier Electronic Southern Africa Transport (Industry) Surveillance Logistics (Industry)
Video surveillance is undergoing an exciting evolution; today's IP-based solutions can be fully integrated into digital systems. With the increasing integration of artificial intelligence (AI); logistics, in particular, can make processes more transparent and exploit previously untapped potential.
Read more...
---
Marshall Security partners with Blacklight to introduce Reconeyez to KZN
News & Events Surveillance Power Management
Marshal Security has joined forces with Blacklight Group to launch Reconeyez, a cutting-edge battery-powered surveillance platform with mesh network capability, in the KwaZulu-Natal market.
Read more...
---
Professional mobile video management in your pocket
Dallmeier Electronic Southern Africa Surveillance
With the SeMSy Mobile Client for its Domera and Panomera cameras, Dallmeier is now launching a solution that combines the functional and security requirements of professional organisations with the user-friendliness and simplicity of consumer apps.
Read more...
---
Leveraging AI to boost security in SA
AI & Data Analytics Surveillance
By shifting data analysis and processing to the edge of a company's network, decision-makers can ensure their remote offices can access real-time computing across multiple locations, supporting informed business decisions.
Read more...
---
Safeguard surveillance devices from cyberattacks
Axis Communications SA Surveillance Information Security
Cybersecurity concerns extend through the organisation and out among its stakeholders and supply chains. It also covers video surveillance, which is critical to any organisation's physical security and asset protection strategy.
Read more...
---
Ring announces second generation indoor camera
Smart Home Automation Surveillance Residential Estate (Industry)
Introducing a removable manual privacy cover, Ring's latest indoor camera provides customers with increased privacy, control and peace of mind when it comes to home security.
Read more...
---
Body-worn evidence
Technews Publishing Forbatt SA Betatrac Telematic Solutions Secutel Technologies Surveillance Residential Estate (Industry) Products & Solutions
Body-worn cameras are no longer just a good idea or a luxury item; in fact, they are gaining popularity and finding use in various situations, one of these being in residential estates.
Read more...
---
Stop cheating with gaming analytics
Dallmeier Electronic Southern Africa Surveillance Entertainment and Hospitality (Industry)
The CAT gaming analysis solution from Dallmeier offers a range of analysis options with which casino operators can increase the 'game pace', combat fraud and gain valuable insights into the gaming action through real time data collection.
Read more...
---
Integrated, intelligent, informed and improved living
Guardian Eye Surveillance
Guardian Eye's range of solutions allow for monitoring and safeguarding your home through discreet, easy-to-maintain devices and solutions, watching your premises and alerting you in the event of unwanted happenings.
Read more...
---