printer friendly version
Fire alarm panel
December 2002
Fire & Safety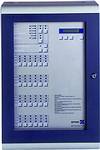 The ZC5 is a conventional fire alarm panel available in 6-zone, 12-zone, 18-zone and 24-zone models. It is suitable for medium-size to large-size systems and is able to support up to 480 fire or smoke detectors. It is designed for surface mounting, is compact, and incorporates batteries, electronics and annunciation in one cabinet.
It is an advanced fire alarm panel providing a reliable high-quality fire detection system for those applications needing a conventional system. Proven hardware and robust software ensure reliable operation and the confidence that the system is functioning correctly. The panel and detectors are continuously monitored for correct operation and the operator is immediately alerted in the event of a problem.
In addition to the standard fire alarm functions, it can communicate with repeater panels by means of a serial link and can connect to a computer graphics system to display alarms in a simple graphic format. An optional liquid crystal display indicates events and provides maintenance functions. All functions are software controlled. A built-in charger maintains the batteries in a continuously charged state, providing a full 24 hours operation in the event of a mains failure.
To allow the system to be configured to suit the application requirements, a full range of outputs is provided. These include separate common fire and fault outputs, common fire sounder outputs for alarm and evacuation, outputs to signal the fire brigade for both alarm and fault conditions, and separate fire outputs for each zone. This can be used to operate alarms by zone, or for zonal functions such as remote annunciation, door control, etc.
Further reading:
SafeQuip introduces lithium fire extinguishers
Fire & Safety Products & Solutions
With the use of Lithium batteries increasing in many types of portable devices and battery storage solutions, SafeQuip, in partnership with AVD Lithex, is introducing a fire extinguisher aimed at suppressing and extinguishing, and also preventing re-ignition of lithium fires.
Read more...
---
Modern warehouses come with added fire risk
Fire & Safety Transport (Industry)
Along with increased investments in modern warehousing in Africa, there is also a need to focus on protecting warehouses from crime, however, fire can arguably be a greater danger to business continuity.
Read more...
---
How to prevent solar inverter short-circuits and fires
Fire & Safety
With many South Africans installing inverters as part of solar power systems to mitigate the impact of load shedding in homes and at businesses, users need to be aware of the potential fire risks.
Read more...
---
Fidelity SecureFire steps into critical fire response space
News & Events Fire & Safety
With the majority of fire stations around the country being crippled by a lack of resources to offer effective responses, Fidelity Fire Solutions has launched its own 'first responder' model, Fidelity SecureFire.
Read more...
---
Long-distance connectivity with Simplex ES Net Life Safety
Johnson Controls Global Products Fire & Safety Products & Solutions
ES Net Network Bridge allows fire alarm system data to be transmitted across distant buildings via a customer's existing network infrastructure, improving system-wide monitoring and control in facilities and campuses where life safety networks are often widely dispersed.
Read more...
---
Elvey Group and Technoswitch part ways
Elvey Security Technologies Fire & Safety News & Events
The Elvey Group (a division of the Hudaco Group of Companies) is relinquishing its distributorship of the Technoswitch brand, following Hudaco's acquisition of Brigit Fire.
Read more...
---
From one month to 10 minutes
Dahua Technology South Africa Fire & Safety
Dahua has integrated technology with the inspection mode of the photovoltaic power station in order to create a robust system that can monitor the fire situation in the power plant and its surrounding areas 24/7.
Read more...
---
Protecting poultry processing plant
Technoswitch Fire Detection & Suppression Fire & Safety
Grain Field Chickens, based in Reitz in the Orange Free State Province, features all the typical fire detection challenges one would expect to encounter in a food processing facility.
Read more...
---
Fire prevention for energy systems
Technoswitch Fire Detection & Suppression Fire & Safety
With the significant push towards renewable energy, such as wind and solar, the demand for battery energy storage systems has grown exponentially, as has the need for fire safety solutions for these environments.
Read more...
---
Fire risks in solar panel installations
Technoswitch Fire Detection & Suppression Fire & Safety
Installed global solar capacity doubled in three years from 2018, and the expectation is that in the next three years, it will more than double. In South Africa, the year-on-year growth from 2021 to 2022 was 24,90%.
Read more...
---