printer friendly version
Low profile analog sensors
December 2002
Fire & Safety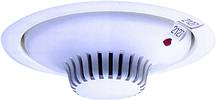 Ziton's 700 series of analog sensors is among the slimmest low profile analog sensors. The system automatically compensates for calibration changes caused by dirt, temperature, humidity, voltage fluctuations and long term contamination.
Sensor sensitivity can be varied through four preset levels, either manually or automatically on a timed basis. Sensors automatically advise when they require maintenance.
Every sensor does a complete self-test at regular intervals and returns a test value to the control unit. If the test value is incorrect or not received, the control unit immediately identifies the sensor as faulty.
Built-in test features allow one person to test every sensor in the system.
Sensors plug into either a common surface mount or a recessed base by means of a twist-lock action. An optional locking device is provided to prevent unauthorised removal from the base.
Further reading:
Choosing the right fire detection system
August 2019, FDIA (Fire Detection Installers Association) , Fire & Safety
Charles Thiong'o from the FDIA highlights important factors to consider when choosing a fire detection system.
Read more...
---
Local security technology manufacturer
August 2019, Technoswitch , Fire & Safety
Technoswitch, a South-African manufacturer, importer and distributor of fire detection and suppression equipment turned 45 this year.
Read more...
---
Fire detection and suppression for server cabinets
August 2019, Technoswitch , Fire & Safety
The TEC601, designed and manufactured by Technoswitch, is an all-in-one fire and extinguishing rack-mountable control system designed to protect electronic equipment in 19-inch server room cabinets.
Read more...
---
ORYX conventional fire panel range
August 2019, Technoswitch , Fire & Safety
The ORYX range of conventional panels from Technoswitch offers 2, 4 and 8 zone options, including weatherproof versions (with or without DIN rail) specifically suited to industrial applications.
Read more...
---
Next generation BlazeCut T-series
August 2019, Technoswitch , Fire & Safety
Designed to protect small enclosed spaces with greater risk of fire, the BlazeCut T-series system is easy to install.
Read more...
---
Emergency lighting and fire detection combination
August 2019 , Fire & Safety, Products
Hochiki Europe has launched FIREscape+, a system which combines emergency lighting, fire detection and wayfinding technology.
Read more...
---
Introducing Gulf Security Technology
August 2019, UTC Fire & Security SSA , Fire & Safety
Gulf Security Technology manufactures more than 16 million detectors and modules and more than 120 thousand control panels per year, making it one of the largest fire detection manufacturers in the world.
Read more...
---
Visual alarm devices enable effective, lifesaving evacuation
August 2019, Johnson Controls , Fire & Safety
Visual alarm devices are used to supplement audio alarms, providing an effective means of alerting and evacuating occupants when a fire emergency occurs.
Read more...
---
Condensed aerosol fire suppression
August 2019, Technoswitch , Fire & Safety
] The Stat-X condensed aerosol fire suppression product, distributed by Technoswitch, is one possible solution for fires in battery energy storage systems.
Read more...
---
Video-based fire and smoke detection
August 2019, Secutel Technologies , Fire & Safety
AxxonSoft has developed an early fire notification system based on intelligent video technology.
Read more...
---