printer friendly version
Radio remote control system helps save lives in Afghanistan
October 2002
IT infrastructure
Cattron-Theimeg Portable Radio Remote Controllers are helping make Afghanistan safe for residents of the war-torn country and the military operators of anti-personnel minesweepers.
An armoured minesweeper, the Mini-Flail, is controlled by the Cattron-Theimeg AT (Advanced Technology) Series System to flail and sweep the mines. Operators, generally combat engineers, usually stand 150 to 300 m from the Mini-Flail, far enough away from mine explosions.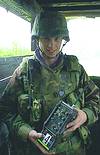 Cattron-Theimeg's Mini-Flail in use in Afghanistan
The Mini-Flail is covered with a Spectra Shield armour and based on a skid steer loader. More than 80 chains, which are mounted on a rotating spindle at the front of the machine, move clockwise in a rotating, flailing motion to imitate a person's step. The movement either detonates the mine or enables it to be pulled from the ground. The remote control operator, who has line of sight of all Mini-Flail movements, is out of harm's way. When the chains move counterclockwise, the Mini-Flail sweeps the device from the surface. The sweeper can remove mines from hard surfaces, heavy grass and open fields.
Because of the Mini-Flail's armoured protection, usually the damage is limited to a chain if a mine explodes. The chain is easily replaced. Cattron-Theimeg application engineers successfully adapted the AT remote control system to meet the needs of the Defence Department where officials describe the remote control as 'outstanding and trouble free'. The AT Series has an extensive history of successful applications for overhead cranes, furnace doors, shiploading, mining and agricultural equipment. It is designed for use in harsh environments.
The Mini-Flail is also used in Bosnia and Kosovo where they were successfully deployed for anti-personnel mine removal. The Mini-Flail used in Afghanistan has been enhanced by the manufacturer, Marion Metal Works, to meet the demands brought about by higher elevation and difficult terrain equipment.
Cattron-Theimeg has operations worldwide, including South Africa, the USA, UK and Brazil and is able to draw on over 50 years experience within the industrial market.
For more information contact Justin Benniman, Cattron-Theimeg Africa, 011 425 1123, cattron@iafrica.com
Further reading:
DSM 7.0 and C2 cloud expansion
Issue 3 2021 , IT infrastructure
Synology has released DiskStation Manager (DSM) 7.0 and an expansion of the Synology C2 platform with four new cloud services focusing on enhancing security, system management capabilities and improving data collaboration.
Read more...
---
Keeping MICE safe and compliant in a new environment
Issue 3 2021 , Commercial (Industry), IT infrastructure
The meetings, incentives, conferences and exhibitions (MICE) sector has been challenged with massive change over the past year, first Covid-19 and now the Protection of Personal Information Act.
Read more...
---
Technoswitch stand-alone power supply range
Issue 4 2021, Technoswitch , IT infrastructure
The Technoswitch stand-alone 100-240 V AC to 24 V DC, 2 A regulated power supply range is available in three different enclosure types.
Read more...
---
Cybersecurity in the physical security world
Issue 4 2021, Technews Publishing, Milestone Systems, Axis Communications SA, AVeS Cyber Security, Vox , Editor's Choice, Cyber Security, Integrated Solutions, IT infrastructure
Hi-Tech Security Solutions, in partnership with Milestone Systems, hosted a round table discussion to find out about the trends and realities and the importance of cybersecurity in the physical security and IoT world.
Read more...
---
Design for the users, not against them
Issue 4 2021 , Editor's Choice, Cyber Security, IT infrastructure
Security is an evolving process, a liquid and malleable evolution that engages with user, technology and system to ensure absolute security coherence, says Henk Olivier, MD of Ozone Information Technology Distribution.
Read more...
---
Storage solutions for surveillance
CCTV Handbook 2021, Technews Publishing, Forbatt SA, Duxbury Networking , IT infrastructure
When it comes to storage, simply knowing where your video is stored, how to access it quickly and how to handle the large amount of data is a complex task.
Read more...
---
Surveillance-enhanced hard drives
CCTV Handbook 2021 , IT infrastructure
New WD Purple Pro product line brings elevated performance, workload capability and reliability to advanced AI-enabled recorders and video analytics server applications.
Read more...
---
Can you hack-proof the cloud?
CCTV Handbook 2021 , IT infrastructure
The cost and impact of cybercrime is climbing by around 15% every year and by 2025 it's expected to cost $10,5 trillion globally. This makes cybercrime more profitable than the global illegal drug trade.
Read more...
---
The importance of protecting the device and not just the network
Issue 3 2021 , IT infrastructure
With data security such a big talking point of late, many of the discussions around protecting data have focused on securing the network, however, a key consideration should also be how best to secure the devices that hold this data.
Read more...
---
Securing the IoT in the 5G Era
Issue 3 2021 , IT infrastructure
The value and intelligence derived from the data extracted from IoT devices is priceless with endless opportunities for organisations or individuals.
Read more...
---