printer friendly version
Radio remote control system helps save lives in Afghanistan
October 2002
IT infrastructure
Cattron-Theimeg Portable Radio Remote Controllers are helping make Afghanistan safe for residents of the war-torn country and the military operators of anti-personnel minesweepers.
An armoured minesweeper, the Mini-Flail, is controlled by the Cattron-Theimeg AT (Advanced Technology) Series System to flail and sweep the mines. Operators, generally combat engineers, usually stand 150 to 300 m from the Mini-Flail, far enough away from mine explosions.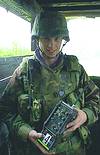 Cattron-Theimeg's Mini-Flail in use in Afghanistan
The Mini-Flail is covered with a Spectra Shield armour and based on a skid steer loader. More than 80 chains, which are mounted on a rotating spindle at the front of the machine, move clockwise in a rotating, flailing motion to imitate a person's step. The movement either detonates the mine or enables it to be pulled from the ground. The remote control operator, who has line of sight of all Mini-Flail movements, is out of harm's way. When the chains move counterclockwise, the Mini-Flail sweeps the device from the surface. The sweeper can remove mines from hard surfaces, heavy grass and open fields.
Because of the Mini-Flail's armoured protection, usually the damage is limited to a chain if a mine explodes. The chain is easily replaced. Cattron-Theimeg application engineers successfully adapted the AT remote control system to meet the needs of the Defence Department where officials describe the remote control as 'outstanding and trouble free'. The AT Series has an extensive history of successful applications for overhead cranes, furnace doors, shiploading, mining and agricultural equipment. It is designed for use in harsh environments.
The Mini-Flail is also used in Bosnia and Kosovo where they were successfully deployed for anti-personnel mine removal. The Mini-Flail used in Afghanistan has been enhanced by the manufacturer, Marion Metal Works, to meet the demands brought about by higher elevation and difficult terrain equipment.
Cattron-Theimeg has operations worldwide, including South Africa, the USA, UK and Brazil and is able to draw on over 50 years experience within the industrial market.
For more information contact Justin Benniman, Cattron-Theimeg Africa, 011 425 1123, cattron@iafrica.com
Further reading:
TRENDnet introduces ONVIF conformant Smart Surveillance switches
Issue 7 2020, TRENDnet , IT infrastructure
Gigabit PoE+ Smart Surveillance switches support PoE self-healing and integrated camera management features, and are ONVIF Profile Q conformant.
Read more...
---
First Distribution to distribute Video Storage Solutions
Issue 8 2020 , News, CCTV, Surveillance & Remote Monitoring, IT infrastructure
First Distribution has signed an agreement to distribute the entire Video Storage Solutions (VSS) product line of video surveillance appliances.
Read more...
---
COVID-19 will foster much needed collaboration in the future of work
Issue 7 2020 , IT infrastructure
Business leaders are starting to discuss the lessons learnt from these challenging times and how they can be used to shape the future world of work.
Read more...
---
Fake cloud vs true cloud
Issue 7 2020 , IT infrastructure
Many organisations have invested in fake cloud solutions only to find out that the benefits they expected have not materialised.
Read more...
---
The other connectivity option
Issue 8 2020 , IT infrastructure
The most efficient and affordable connectivity options for remote areas is unquestionably VSAT technology.
Read more...
---
Finding customer insights from data
Issue 8 2020 , IT infrastructure
Data is often trapped in multiple siloes, in non-standardised formats and frequently inaccessible to those who need it, hampering operational efficiency and regulatory compliance.
Read more...
---
Unified data protection for cloud applications
Issue 8 2020 , IT infrastructure
Arcserve Southern Africa has announced the availability of Arcserve's UDP for the SA market, aimed at the protection of Microsoft 365.
Read more...
---
Fibre the key to more effective community security
CCTV Handbook 2020 , IT infrastructure
Bringing reliable, affordable, high-speed fibre connectivity to a community signifies opportunities for upliftment, safety and security.
Read more...
---
A cloud in your data centre
CCTV Handbook 2020 , IT infrastructure
Fully managed and configurable racks of AWS-designed hardware let customers in South Africa run their workloads on-premises and seamlessly connect with the broad array of AWS services in the cloud.
Read more...
---
AI and self-healing
Issue 7 2020 , IT infrastructure
Storage infrastructure that has in-built capacity as well as the ability to self-heal and self-tune is critical.
Read more...
---