printer friendly version
Radio remote control system helps save lives in Afghanistan
October 2002
IT infrastructure
Cattron-Theimeg Portable Radio Remote Controllers are helping make Afghanistan safe for residents of the war-torn country and the military operators of anti-personnel minesweepers.
An armoured minesweeper, the Mini-Flail, is controlled by the Cattron-Theimeg AT (Advanced Technology) Series System to flail and sweep the mines. Operators, generally combat engineers, usually stand 150 to 300 m from the Mini-Flail, far enough away from mine explosions.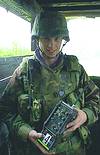 Cattron-Theimeg's Mini-Flail in use in Afghanistan
The Mini-Flail is covered with a Spectra Shield armour and based on a skid steer loader. More than 80 chains, which are mounted on a rotating spindle at the front of the machine, move clockwise in a rotating, flailing motion to imitate a person's step. The movement either detonates the mine or enables it to be pulled from the ground. The remote control operator, who has line of sight of all Mini-Flail movements, is out of harm's way. When the chains move counterclockwise, the Mini-Flail sweeps the device from the surface. The sweeper can remove mines from hard surfaces, heavy grass and open fields.
Because of the Mini-Flail's armoured protection, usually the damage is limited to a chain if a mine explodes. The chain is easily replaced. Cattron-Theimeg application engineers successfully adapted the AT remote control system to meet the needs of the Defence Department where officials describe the remote control as 'outstanding and trouble free'. The AT Series has an extensive history of successful applications for overhead cranes, furnace doors, shiploading, mining and agricultural equipment. It is designed for use in harsh environments.
The Mini-Flail is also used in Bosnia and Kosovo where they were successfully deployed for anti-personnel mine removal. The Mini-Flail used in Afghanistan has been enhanced by the manufacturer, Marion Metal Works, to meet the demands brought about by higher elevation and difficult terrain equipment.
Cattron-Theimeg has operations worldwide, including South Africa, the USA, UK and Brazil and is able to draw on over 50 years experience within the industrial market.
For more information contact Justin Benniman, Cattron-Theimeg Africa, 011 425 1123, cattron@iafrica.com
Further reading:
A smart start for South African cities
Integrated Solutions IT infrastructure
Cameras and sensors can kick off smart city strategies in cities around South Africa, leading to not only improved security and safety, but also better service delivery in areas like electricity and water provisioning.
Read more...
---
The smart foundation of the digital business
IT infrastructure
Autonomous networks take an advanced step beyond merely automating components: they use artificial intelligence (AI), machine learning to self-configure, self-manage, and self-heal, ideally becoming better all the time.
Read more...
---
Converged infrastructure: Beyond the hype
IT infrastructure Products
Technical teams no longer have to sit and try to work through a magnum opus of manuals for every layer of computing, networking, and storage, largely thanks to the growing popularity and increasing success of converged infrastructure.
Read more...
---
Blurring the lines between data management and cybersecurity
Cyber Security IT infrastructure
In the past, data management and cybersecurity would fall under separate domains, but with more organisations making the shift to the cloud, data management and data protection have merged, essentially blurring the lines between the two.
Read more...
---
Top skills young people need to get ahead in the tech industry in 2023
IT infrastructure
The rise of remote working, e-commerce, artificial intelligence and cloud computing means that software developers are, and will continue to be, at the coalface of the fourth industrial revolution.
Read more...
---
Storage trends for 2023
IT infrastructure
As a leader in the enterprise storage market, Infinidat sees five storage trends unfolding in 2023. Looking ahead, 2023 is shaping up to be an exciting year in the storage market.
Read more...
---
Remote cloud management support for access points
TRENDnet IT infrastructure Products
TRENDnet Hive is an advanced network cloud management solution, designed to save users time and cost by simplifying and centralizing the management and monitoring of a network(s) and networked devices.
Read more...
---
How to avoid a wipeout
Arcserve Southern Africa IT infrastructure Security Services & Risk Management
Wiper malware aims to delete your data permanently and cause as much destruction as possible. Byron Horn-Botha, Business Unit Head at Arcserve Southern Africa offers readers three steps to protect the organisation from these malicious applications.
Read more...
---
Hardening physical security against cyberattacks
Genetec Editor's Choice Cyber Security IT infrastructure
As the world becomes increasingly interconnected through the move to cloud computing and Internet of Things (IoT) devices, cybercrime has risen steadily, along with tools to combat it. Geopolitical tensions have the potential to rapidly unleash devastating cyberattacks worldwide.
Read more...
---
Fast, reliable and secure cloud services
Technews Publishing Editor's Choice Cyber Security IT infrastructure
Security and speed are critical components of today's cloud-based services infrastructure. Cloudflare offers a range of services supporting these goals beyond what most people think it does.
Read more...
---