printer friendly version
Digital detection system
September 2002
Asset Management, EAS, RFID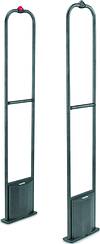 Sensormatic recently announced the launch of its RF detection system, the Digital RFX-100, which will be deployed in specific EMEA and Latin American markets. The new Digital RFX-100 boutique system provides reliable RF anti-shoplifting protection in a sturdy, tubular, open-look pedestal design. It can be installed in either exit or food/aisle applications. The system consists of a transmitter pedestal and receiver pedestal, each with full electronics, and a multivoltage power supply. It operates at the typical RF frequency of 8,2 MHz and features digital signal processing (DSP) to ensure optimum performance and minimal phantom alarms.
Key advantages include:
* Automatic gain control (AGC). The system continually adjusts to the environment, blocking out electrical noise that may hinder detection or cause false alarms.
* Modular electronics. Electrical circuits are sealed inside rectangular modules that can be removed easily from the transmitter or receiver PC boards. This enables easy upgrades as technology advancements occur.
* Performance. The Digital RFX-100 system uses advanced digital technology to ensure peak detection performance across exits up to 1,8 m (6 ft) wide with hard tags and 1,2 m (4 ft) with 4x4 paper labels.
* Built-in alarm light. An alarm light is built into the receiver pedestal's vertical frame near the top.
* Tag and label compatibility. The system works best with typical 4x4 cm and 5x5 cm adhesive labels and a variety of hard tags.
* Easy installation. The system is pre-assembled and factory-tuned to keep installation costs to a minimum. Adjusting system sensitivity is typically the only manual adjustment required.
* Multiple configurations. The system can be used in two, three and more pedestal configurations. Multiple pedestals of five or more may require a synchronisation unit (CSU), available with either plastic fibre-optic (PFO) or coaxial cable.
Target markets
The Digital RFX-100 system is available to:
* Tier three customers who want a low priced EAS system. Typically, these customers accept lower performance (exit width, pick), RF defeat issues (detuned labels, tag shielding, etc) and increased false alarms.
* Customers who want a single source of EAS (RF, AM and/or EM) supply.
For further details contact Dave Pople, DNA Sensormatic on tel: 021 559 4425.
Further reading:
Argility showcases SkyData IoT Platform
Issue 6 2020 , Asset Management, EAS, RFID
SkyData, a device agnostic IoT cloud platform, is transforming asset and resource monitoring and management.
Read more...
---
IoT security seal
Issue 4 2020 , Asset Management, EAS, RFID
With the current lockdown and ports operating at reduced capacity, the need for automation has been taken to a new level.
Read more...
---
Managing outputs, attendance and time
Issue 5 2020 , Asset Management, EAS, RFID
What started out as a great idea to bring structure, order, measurement and accountability to fieldwork, has virtually overnight turned into an indispensable tool.
Read more...
---
ZKTeco offers touchless access for people and vehicles
Issue 4 2020, ZKTeco , Asset Management, EAS, RFID
ZKTeco sports a range of touchless entrance control solutions from licence plate recognition cameras through to facial recognition and multi-modal access solutions.
Read more...
---
Li-ion UPS battery from Schneider Electric
Issue 2 2020 , Asset Management, EAS, RFID
Schneider Electric has announced the launch of the APC Smart-UPS Lithium-Ion UPS Battery to South Africa, offering double the lifespan of VRLA batteries.
Read more...
---
Taking identity management seriously
Issue 2 2020 , Asset Management, EAS, RFID
The most important and critical part of identity management is the enrolment/registration part of the process. This is where the real-world human being must be linked to the cyber world digital identity with forensic proof.
Read more...
---
Reducing identity fraud with a selfie
Access & Identity Management Handbook 2020, Technews Publishing , Asset Management, EAS, RFID
Authenticating your identity remotely via an app has become a reality with a new solution from South African company iiDENTIFii.
Read more...
---
Schneider Electric launches EcoStruxure Asset Advisor
Issue 2 2020 , Asset Management, EAS, RFID
Vendor-neutral asset risk management via sensors and cloud-based monitoring tools offers 24/7 data-driven predictive service for business continuity.
Read more...
---
Security enhancements at Sharm El-Sheikh
November 2019 , Asset Management, EAS, RFID
ADANI Systems supplied the X-ray screening equipment, including combined high-energy and low-energy systems, for Sharm El-Sheikh.
Read more...
---
Learn from their mistakes
October 2019 , Logistics (Industry), Asset Management, EAS, RFID
One of the cardinal rules of business is to learn from the mistakes you make during your journey, but sometimes another company's error can be just as instructive.
Read more...
---