printer friendly version
Digital radio to transform efficiency
May 2002
Infrastructure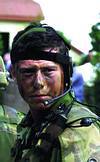 The efficiency of combat forces - and potentially agencies engaged in rescue and urgent humanitarian operations - could be transformed by the use of a new low-cost digital radio system produced in the United Kingdom.
It comes in the form of a lightweight headset linked to a radio and powerpack the size of a personal stereo.
Known as the Bowman personal role radio (PRR), and produced by Marconi Mobile of Essex, PRR is a new capability that allows combat troops to relay information at section level simply by speaking into the hands-free low-cost radio.
PRR will equip combat formations across all three services including the Royal Marines, the Royal Air Force Regiment and army infantry, engineer and artillery units. The £20 million contract for 45 000 personal role radios was awarded to Marconi in February 2001 and deliveries began in July 2001.
In addition to voice communications, the system provides a tactical Internet and automatic position locating, navigation and reporting.
Further reading:
Cloud platform for cyber resilience in the hybrid enterprise
Infrastructure
The Commvault Cloud brings together data protection, security, intelligence, and recovery on one platform, offering AI capabilities to defeat cyber threats, and includes integration with Microsoft Azure OpenAI Service.
Read more...
---
Rapid rise in DNS attacks drives demand for new approach
Infrastructure Risk Management & Resilience
As ransomware grows more sophisticated and DNS attacks become more frequent, businesses are increasingly trying to protect themselves by adopting innovative approaches and technologies to bolster the integrity and security of their backup systems.
Read more...
---
Majority of South African companies concerned about cloud security
Information Security Infrastructure
Global and local businesses share a common concern when it comes to cloud security. 95% of global businesses and 89% of local businesses are concerned about the security of public clouds.
Read more...
---
Consolidated cybersecurity management
Technews Publishing Editor's Choice Information Security Infrastructure
SMART Security Solutions spoke to Gareth Redelinghuys, Country Managing Director, African Cluster at Trend Micro, to find out what makes Trend stand out from the crowd and also its latest market offerings.
Read more...
---
Access to data centre secured
Suprema Access Control & Identity Management Infrastructure
GBM required a modern access control system to increase the security of its facilities in a productive environment without affecting the operation of the offices and the data centre, which are carried out 24/7/365.
Read more...
---
Africa's growth lies on shoulders of renewable energy
News & Events Infrastructure
The Africa Tech Festival from 13 to 16 November in Cape Town will unpack the challenges and discuss the pivotal role of sustainability & renewable energy in advancing technological development in Africa.
Read more...
---
Commvault appoints Graham Brown as Channel Manager for South Africa/SADC
News & Events Infrastructure
Commvault announced the appointment of industry veteran Graham Brown as Channel Manager for the South Africa/South African Development Community (SADC) region.
Read more...
---
Five considerations when using AI
AI & Data Analytics Infrastructure
Helm CEO, Dawood Patel, offers readers some insights and principles that should be considered by any organisation thinking about implementing an AI solution to leverage its power to shape a better future.
Read more...
---
Does your data hygiene pass the cleanliness test?
Information Security Infrastructure
In today's data-driven world, where every click, swipe and tap generates a trail of data, the safeguarding of information is paramount. It's no longer a case of paying a ransom, but rather defending against attacks by maintaining the hygiene of data.
Read more...
---
The complexity of data sovereignty in a multi-polar world
Infrastructure
The importance of data sovereignty and security creates complexity in a world where sharing such information across borders generates huge social and economic benefits, says Andrew Cruise, Managing Director of Routed.
Read more...
---