printer friendly version
IRCA established alliance Down Under
May 2002
News
IRCA (International Risk Control Africa) of South Africa has established a worldwide training alliance with the Box Hill Institute of TAFE (technical and further education) in Melbourne, Australia.
Box Hill Institute is one of the largest polytechnic institutes in Australia and provides vocational training and bridging courses into university for students worldwide. Box Hill Institute will provide IRCA with accreditation, assessment delivery and multimedia support for safety, health, environmental and quality (SHEQ) risk management training/development programmes internationally, including South Africa both for its short-term programs and for in depth competency achievement company specific requirements, in line with the online type graduate diploma level programmes running through the Web.
After due diligence assessments, Box Hill Institute has fully accredited the IRCA developed training programmes to promote and deliver internationally recognised diploma courses in SHEQ risk management.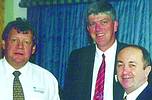 From l to r: Carel Labuschagne MD of IRCA with the centre manager for Box Hill Institute's International Risk Control Academy, David Gaulke and the programme co-ordinator, Larry Arnost, attended the recent launch in South Africa, of the new training alliance with IRCA.
"Education in Australia is competency-based in line with our National Quality Framework and this fits right in with our fundamental approach, one towards which South Africa will increasingly be obliged to move to stay world competitive," says Carel Labuschagne, MD of IRCA.
Further reading:
Quantum secret sharing
Issue 6 2020 , News
Wits researchers have demonstrated a new quantum approach for sharing a secret amongst many parties, setting a new record for the highest dimensions and parties to date.
Read more...
---
Three cash-in-transit heists in half an hour
Issue 6 2020, Fidelity Security Group , News
Over the past six weeks the cash-in-transit industry has experienced a spike in the number of heists across the country.
Read more...
---
Programme to assist smaller MSSPs
Issue 6 2020 , News
Networks Unlimited launches new MSSP partnership with SentinelOne to make endpoint defence more accessible.
Read more...
---
Fake uniforms and using falsely branded security vehicle
Issue 6 2020 , News
On Monday 10 August, six to ten armed suspects driving what appeared to be a branded Fidelity ADT vehicle and wearing security uniforms entered a business park.
Read more...
---
From the editor's desk: Covid consolidation
Issue 6 2020, Technews Publishing , News
The global security industry has seen quite a few high-profile mergers and acquisitions over the past year or two, with an even greater number of smaller companies that don't get the headlines also merging, ...
Read more...
---
ONVIF adopts open source development
Issue 6 2020 , News
ONVIF announced it is open sourcing its network interface specifications for physical security technology.
Read more...
---
Hored networking solutions now in South Africa
Issue 6 2020, LD Africa , News
LD Africa is the sole South African distributor for Hored smart networks and smart transmission solutions.
Read more...
---
Suprema wins SIA award
Issue 6 2020, Suprema , News
Suprema Airfob Patch wins Judges' Choice Award from SIA New Product Showcase.
Read more...
---
Digitisation during COVID-19
Issue 6 2020, PSIRA (Private Security Ind. Regulatory Authority) , News
The COVID-19 pandemic has forever changed how business is conducted globally and PSIRA adapted to serve its community.
Read more...
---
Datacentrix boosts security portfolio
Issue 6 2020 , News
Datacentrix has joined the Tenable Assure Partner Programme, strengthening its security portfolio with cyber exposure solutions from Tenable.
Read more...
---