printer friendly version
Fleet solutions company continues to prosper
November 2001
Asset Management
DigiCore recently received the Vehicle Security Association of South Africa (VESA) award for outstanding product innovation and loss reduction in fleet management. Competing against eight other reputable contenders, DigiCore took the prestigious award with our C-Track fleet solutions system.
The company's business is to provide and disseminate pertinent management information to its customers, both commercial and industrial, for the efficient management of mobile assets such as vehicle and cargo, for logistic and security purposes. DigiCore currently has an installed base of over 75 000 systems globally.
Furthermore, the 12 months to 30 June 2001 marked DigiCore's third year as a JSE-listed company in which it exceeded its forecast by achieving a R308m annual turnover. This was a 217% increase compared to the R97,3m recorded in the previous year and reflects the successful completion of phase one of the five-year debis fleet management contract, worth R150m. Operating profit increased reaching R35,0m and exports accounted for 15,5% of all the C-Track units sold during the period.
The company considers qualified and experienced people crucial in designing appropriate solutions for fleet management issues. Ongoing development and training have been further enhanced by the launch of an in-house training programme during the year.
International recognition
In line with this corporate focus The Australian Waterways Authority NSW, a DigiCore Australia customer, received a prestigious global award for excellence in applying geographic information system (GIS) technology in protecting and managing Australia's navigable waters. The Waterways Authority competed against 6000 organisations worldwide. The award was presented in San Diego, California at the annual ESRI international user conference, with DigiCore's C-Track brand receiving international recognition. The C-Track system was at the heart of the Sydney Olympics' security measures, ensuring the safety of the public and contestants.
DigiCore places great emphasis on the research and development of more competitive products in meeting market demands for value added, flexible, feature-rich and cost-efficient technology. C-Track 2000, DigiCore's new base station and back-office application for our C-Track realtime fleet management and tracking system, was launched at the recent Auto Africa show. C-Track 2000 allows for integration with smartcards and bar code scanners, as well as the implementation of business automation systems based on enterprise resource planning software (ERP).
Relentless fuel price increases have resulted in fuel now comprising between 30% and 40% of primary costs when calculating the life-cycle costs of a commercial fleet vehicle. In light of this, DigiCore has formed a dedicated division, DigiCore Fuel Solutions, and purchased locally developed home base fuel technology as a foundation for future developments. With strong market response, this division already has an order book of several fuel sites.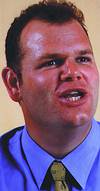 Bruce Richards
For further details contact Bruce Richards, DigiCore Holdings on tel: (012) 665 7300.
Further reading:
Simplify AARTO compliance for fleets
Guardian Eye IoT & Automation Asset Management Transport (Industry) Logistics (Industry)
While there are challenges around the management and implementation of the AARTO Amendment Act, there are also benefits that need to be understood today to ensure compliance and value tomorrow.
Read more...
---
Logistics operators stand up to safety challenges
Logistics (Industry) Asset Management Transport (Industry)
The second annual Webfleet Road Safety Report for 2023 outlines common safety factors, challenges and solutions that South African transport operators face; deteriorating roads, poor vehicle maintenance, congestion and driver fatigue are common challenges.
Read more...
---
People screening goes mobile
Xscann Technologies News & Events Asset Management
Xscann Technologies has delivered a new mobile solution with added value for people screening. This turnkey solution requires no civil works as it is an all-in-one complete body scanning solution built in a shipping container.
Read more...
---
Securing road transport across Africa
Technews Publishing Editor's Choice Asset Management Transport (Industry) Logistics (Industry) Risk Management & Resilience
SMART Security Solutions spoke to Filipe de Almeida, the Portugal & Spain Regional TAPA EMEA Lead, and Massimo Carelle, the TAPA EMEA Africa Region Lead, about securing transport and logistics in hostile environments.
Read more...
---
Electronic Document Centre uses Synology
Infrastructure Asset Management
Electronic Document Centre (EDC), a semi-government company operating under Emirates Post Group, opted for Synology to streamline its data management infrastructure. This decision has led to improved operational efficiency and enhanced collaboration.
Read more...
---
Telematics help protect SA trucks against expanding risks
Logistics (Industry) Asset Management
South Africa's road freight transport sector currently accounts for about 85% of all goods transported in the country and is growing rapidly annually. "To ensure that goods are delivered safely, promptly, and affordably is a challenge," says Justin Manson of Webfleet.
Read more...
---
The right security solution removes the opportunity
Asset Management Retail (Industry)
South African retailers are facing a multitude of challenges, including economic fluctuations, changing consumer behaviour, increased competition, supply chain disruptions, regulatory changes and the need to adapt to digital transformation, not to mention theft.
Read more...
---
Tips for successful fleet management
Asset Management Transport (Industry)
Fleet Domain, part of the Argility Technology Group, has announced best practices aimed at reducing fleet management costs and delivering a successful fleet management programme.
Read more...
---
Château Gâteaux optimises delivery process through MultiTRAX
Asset Management Logistics (Industry)
With twenty outlets and still growing, Château Gâteaux has implemented an Argility solution in its primary locations to streamline deliveries and allow customers to track their delivery in real time.
Read more...
---
Making cash management more intelligent
Deposita Retail (Industry) Asset Management Products & Solutions
By using state of the art SaaS cash and payment management solutions, keeping a close eye on the situation is a breeze. In fact, it'll save you loads of stress, time, and overhead costs.
Read more...
---