printer friendly version
New vibes in body search techniques
August 2001
Security Services & Risk Management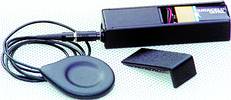 Guartel UK has just launched its latest cutting edge product, the Palm PD1 hands free metal detector, in South Africa. The search head of the PD1 is a lightweight stopwatch shaped coil which is less than 50 mm in diameter and only 5 mm thick. The detection fits snuggly into the palm of the hand of the user being held in place with a wrist band incorporating a PVC location pin which locates into the detector head. If required gloves can be worn by security personnel to eliminate visual evidence of the device.
The power and electronics pack for the PD1 is a compact moulded housing (105 x 32 x 20 mm) that can be attached to the belt or in the pocket of the user, or concealed by strapping around the upper arm. This high sensitivity detector provides visual, audio and vibrating alarms. When switched on the LED on the power-pack glows green and this changes to red on detection of any metal by the user. At the same time the power pack incorporates a vibration that provides a powerful stimulatory (and covert) warning of the presence of metal. If required an earpiece is provided which through an auxiliary cable will provide an audio signal.
A three-way switch allows the user to select any combination of vibrating and audio alarms, the visual alarm always being active.
The PD1 can easily detect a 20c (SA) piece at 50 mm and the wrapping in a cigarette box at over 100 mm. A single staple provides an alarm at 10 mm. The Palm is powered by a single 9 V PP3 battery, the alkaline type being preferred. The only controls are the on/off switch and a volume control for the earpiece. While the Palm can be used in place of wand detectors in any search situation a major application is less overt search situations for VIPs or in nightclubs.
As the detector is located within the palm of the hand normal 'pat-down' search techniques are highly effective as the detector coils are in much closer proximity to the suspect objects than any other type of sweep detector. The hands of the searcher are of course also totally free. Operated covertly (or discreetly) under gloves provides even more of a deterrent as potential perpetrators are not aware who is actually using the Palm. It is also a very less aggressive approach to effective body searching for shops, conferences and exhibitions.
The sole distributor of the Palm PD1 in southern Africa is Guartel SA of Pretoria. The Guartel range of products include a variety of metal and mine detectors.
For further details contact Guartel SA on tel: (012) 329 4116.
Further reading:
Putting secondary storage to work
September 2019 , IT infrastructure, Security Services & Risk Management
By 2022, more than 80% of enterprise data will be stored in scale-out storage systems in enterprise and cloud data centres, up from 40% in 2018.
Read more...
---
ContinuitySA offers Complete Continuity Practitioner in October
September 2019, ContinuitySA , Training & Education, Security Services & Risk Management
ContinuitySA is offering its popular five-day Complete Continuity Practitioner Programme on 21-25 October 2019 at its offices in Midrand.
Read more...
---
Security workforce compliance tool
September 2019 , Security Services & Risk Management
To maintain service excellence across a security workforce is impossible without the help of information systems and technology.
Read more...
---
Call back the past
September 2019, SCAN RF Projects , Security Services & Risk Management
Two-way radios are still very relevant in the security world and have gone through significant advances over the past few years to enable them to keep up with the expectations of people in today?s connected world.
Read more...
---
Proficient operational security management
September 2019 , Security Services & Risk Management
The quest to establish an organised and integrated security operations programme based on a Plan-Do-Check-Act (PDCA) cycle for continuous improvement is paramount for a successful security operation.
Read more...
---
Increase security efficiency, decrease costs
September 2019 , Security Services & Risk Management, Integrated Solutions
Trackforce offers customisable mobile and web applications to increase security operational efficiency and lower costs.
Read more...
---
Accurate guard tracking and management
September 2019, Secutel Technologies , Security Services & Risk Management, Products
There are many challenges when it comes to effectively managing and tracking a guarding workforce in real time.
Read more...
---
X-rays in 3D
September 2019, XPro Security Solutions , Editor's Choice, Security Services & Risk Management
Hi-Tech Security Solutions asked Greg Dixon, director of XPro, for some insights into X-ray scanning and its pros and cons in today?s volatile world.
Read more...
---
Smart Inspection Unit developed by Roteck
September 2019 , Editor's Choice, Security Services & Risk Management
Roteck has announced a portable personnel and bag scanning unit that can easily be transported, set up and used in almost any location.
Read more...
---
Mobile guards on patrol
September 2019, Dahua Technology South Africa , CCTV, Surveillance & Remote Monitoring, Security Services & Risk Management
Dahua Technology developed mobile ?Video Guards? along with a complete solution for a security service company in Germany.
Read more...
---