printer friendly version
Improved fire safety
June 2012
Fire & Safety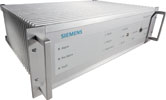 The Siemens Building Technologies Division is introducing the next generation of its line type heat detection system FibroLaser. This completely redesigned fire safety solution offers even faster and more precise detection over a detection area of up to 2x 10 kilometres in length. The technology is based on a fibre-optic cable and is equally suited for road and train tunnels as well as for industrial applications.
With more than 2000 installed kilometres of sensor cable and more than 1200 controllers in operation, the Siemens Building Technologies Division's FibroLaser system is the most successful line type heat detection system on the market. The third generation of this proven fire safety solution more than doubles the maximum detection distance to 10 km while offering up to 1000 alarm zones for even more precise and faster detection. Each of these alarm zones can be configured for different alarm criteria and used to control a variety of functions such as alarm elements, ventilation, or lighting.
The next-generation controller can be equipped with up to 40 inputs and 106 relay outputs, greatly increasing the available control options compared to the previous version. With its integrated Ethernet interface, the controller can easily be added to any network; it also has an RS-232 interface to facilitate the upgrade of older systems. The FibroLaser III controller operates in an ambient temperature range from -10 to 60°C and requires no fans for cooling, which makes the entire system even more impervious to outside influences.
The fire safety solution is complemented by the new FibroManager control software which is designed to make commissioning as smooth as possible using country-specific defaults and provides wizard-based support to make it easier for service technicians to perform tests and checks. In addition, the software offers extensive visualisation of the FibroLaser installation on a local terminal or over the Internet.
The new generation retains all the proven features of the FibroLaser System, including 100% maintenance-free sensor technology, wear-free sensor design, and an optical system impervious to dirt, dust, moisture, corrosive environments, electromagnetic fields, and radioactive radiation. As before, the system is modular, allowing controllers, cables, and network components to be replaced and upgraded individually.
FibroLaser III is sensitive to both thermal radiation and convection, providing for rapid and deception-free fire detection over large distances with a spatial resolution of 0,5 m. This makes this rugged system eminently suitable for use in rough environments, including road and train tunnels, as well as industrial applications such as conveyor belts, cable trays, and production lines. FibroLaser III is VdS-certified to be compliant with prEN 54-22.
For more information contact Siemens South Africa, +27 (0)11 652 2412, keshin.govender@siemens.com, www.siemens.co.za
Further reading:
Fire Beam Xtra covers up to 160 metres
October 2019, Technoswitch , Products, Fire & Safety
The Fire Beam overcomes traditional beam detection challenges where building movement and accessibility made beam detection unreliable and laborious to commission and maintain.
Read more...
---
Emergency voice communication system
October 2019, Technoswitch , Products, Fire & Safety
The Technoswitch Emergency Voice Communication Systems concept offers fire telephone and disabled refuge systems, as well as integrating emergency assist alarm systems in a single solution.
Read more...
---
Fast detection of smoke and flames
October 2019, Bosch Building Technologies , Editor's Choice, CCTV, Surveillance & Remote Monitoring, Fire & Safety
Video-based fire detection AVIOTEC from Bosch has been optimised for tunnels to provide early and reliable detection of smoke and flames in these dark environments.
Read more...
---
Choosing the right fire detection system
August 2019, FDIA (Fire Detection Installers Association) , Fire & Safety
Charles Thiong'o from the FDIA highlights important factors to consider when choosing a fire detection system.
Read more...
---
Local security technology manufacturer
August 2019, Technoswitch , Fire & Safety
Technoswitch, a South-African manufacturer, importer and distributor of fire detection and suppression equipment turned 45 this year.
Read more...
---
Fire detection and suppression for server cabinets
August 2019, Technoswitch , Fire & Safety
The TEC601, designed and manufactured by Technoswitch, is an all-in-one fire and extinguishing rack-mountable control system designed to protect electronic equipment in 19-inch server room cabinets.
Read more...
---
ORYX conventional fire panel range
August 2019, Technoswitch , Fire & Safety
The ORYX range of conventional panels from Technoswitch offers 2, 4 and 8 zone options, including weatherproof versions (with or without DIN rail) specifically suited to industrial applications.
Read more...
---
Next generation BlazeCut T-series
August 2019, Technoswitch , Fire & Safety
Designed to protect small enclosed spaces with greater risk of fire, the BlazeCut T-series system is easy to install.
Read more...
---
Emergency lighting and fire detection combination
August 2019 , Fire & Safety, Products
Hochiki Europe has launched FIREscape+, a system which combines emergency lighting, fire detection and wayfinding technology.
Read more...
---
Introducing Gulf Security Technology
August 2019, UTC Fire & Security SSA , Fire & Safety
Gulf Security Technology manufactures more than 16 million detectors and modules and more than 120 thousand control panels per year, making it one of the largest fire detection manufacturers in the world.
Read more...
---