printer friendly version
AC2000 intelligent security management system
June 2012
Access Control & Identity Management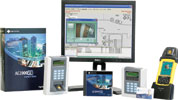 CEM Systems, part of Tyco Security Products, has announced the release of version 6.5 of AC2000 SE (Standard Edition) integrated access control and security management software. This latest release offers a range of new features including video integration, additions and enhancements to AC2000 WEB, integration to Microsoft Active Directory and much more. The new features and functionality of AC2000 SE v6.5 increase performance, simplicity and scope.
"AC2000 SE is an integrated security management system that is designed with the customer in mind, providing flexible solutions that help to increase security and improve business efficiency and operational effectiveness," says Andrew Fulton, senior director of global sales, CEM Systems. "The latest release of AC2000 SE further reinforces this, offering additional powerful video integration capabilities that complement the existing range of supported integrations, making AC2000 SE a seamless security management solution for access control, video, fire and intrusion. Also, the increased web functionality that comes with AC2000 SE in this latest release enables users to access vital system information quickly and easily from anywhere in the world."
AC2000 WEB is a suite of powerful and fully integrated browser-based applications for the CEM AC2000 access control and security management system. In addition to the current suite of AC2000 WEB applications which includes Web Visitor Management, Web Alarm Status Display, Web Device Status Display, Web Report and Web Dashboard, in v6.5 AC2000 WEB now provides additional Web Oneshot/Broadcast and Web Mimic functionality. Web Oneshot/Broadcast and Web Mimic provide instant access to remote door opening functionality and viewing of current system alarms which can then be easily filtered and cleared from the system.
Complementing the range of existing American Dynamics integrations, the latest version of AC2000 SE is also fully integrated with the ADTVR giving the ability to associate access control alarms with digital video clips and to view live camera footage. This enables AC2000 SE to become a single user interface acting as a security management system and removes the need for multiple separate systems.
The new integration of AC2000 SE v6.5 with Microsoft Active Directory enables single sign on using Windows credentials, allowing for instant access to the AC2000 SE software without the need to enter a user name and password. The directory synchronisation allows for import and continual updating of card holder details, increasing operational efficiency by removing the need for duplication of data entry.
AC2000 SE v6.5 also offers a range of additional features and improvements including personnel batch card printing and data import tool. Further increasing the convenience and time saving functionality of AC2000, Personnel batch card printing allows for multiple badges to be printed from AC2000 SE.
For more information contact Tyco Security Products, +27 (0)82 566 5274, emallett@tycoint.com, www.tycoacvs.com
Credit(s)
Further reading:
A contact-free hotel experience
Issue 7 2020, Technews Publishing , Access Control & Identity Management
Check-in and go straight to your room without stopping at the reception desk at Hotel Sky in Sandton and Cape Town.
Read more...
---
AI digitises coronavirus management
Issue 7 2020, NEC XON , Access Control & Identity Management
NEC XON is using NeoFace Watch and specialised thermography cameras to measure temperature and identify employees and visitors.
Read more...
---
Combining visual and IR face recognition
Issue 7 2020, Suprema , Access Control & Identity Management
The FaceStation F2 offers face recognition and anti-spoofing performance.
Read more...
---
Anviz unveils FaceDeep5
Issue 7 2020, ANVIZ SA , Access Control & Identity Management
Anviz Global has unveiled its new touchless facial recognition identity management and IoT biometric device.
Read more...
---
Touchless biometric options
Issue 6 2020, Entry Pro , Access Control & Identity Management
When it comes to estate access control management, the foremost topic of conversation at the moment seems to be the importance of touchless biometrics.
Read more...
---
Fast access to Kevro production facilities
Issue 6 2020, Turnstar Systems , Access Control & Identity Management
Employee and visitor access at Kevro's Linbro Park premises in Gauteng is controlled through eight Dynamic Drop Arm Barriers from Turnstar.
Read more...
---
Know your facial recognition temperature scanner
Issue 6 2020, ViRDI Distribution SA , Access Control & Identity Management
Facial recognition with temperature measurement is, for the most part, available in one of two technologies – thermopile and thermography/IRT.
Read more...
---
Suprema integrates with Paxton's Net2 access control
Issue 6 2020, Suprema , Access Control & Identity Management
Suprema has announced it has integrated its devices with Paxton's access control system, Net2.
Read more...
---
Contactless check-in at hotels
Issue 6 2020 , Access Control & Identity Management
Onity has delivered the DirectKey mobile access solution to hotel chains around the globe, which allows for contactless check-in and property access.
Read more...
---
UFace facial recognition now in SA
Issue 6 2020, Trac-Tech , Access Control & Identity Management
Trac-Tech has secured the distribution rights to the UFace range of contactless biometric facial recognition and identity management IoT devices.
Read more...
---