printer friendly version
NFC adoption still far in SA's future
June 2012
Access Control & Identity Management
South African banks and retailers are likely to be slow to adopt near-field communications (NFC) technology for mobile payments because of the high costs of installing point-of-sale terminals and other enabling infrastructure. That is the word from Tim Walter, executive head of marketing at Nashua Mobile, who says that there is little appetite among institutions to drive adoption of yet another new point-of-sale payment technology just as the end of their protracted rollout of the EMV credit card standard is in sight.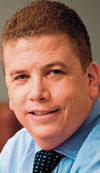 Tim Walter
NFC is a short-range wireless technology that will eventually allow people to use their mobile phone as a wallet. It will enable consumers to make secure payments to compatible point of sale terminals or to another user's smartphone. NFC has proven itself to be a viable technology in field trials in countries such as the US, and South African banks are reportedly also trialing NFC. But, as yet, there are not enough NFC compatible handsets in the market, nor is there a compelling commercial model for the rollout of the technology in South Africa, says Walter.
"Most of the major handset manufacturers are bringing NFC to market in the latest models of their mid to high-end smartphones," Walter says. "Yet we are still a long way off from the critical mass that would really justify massive investment in the technology by banks and retailers."
Walter notes that despite the many experiments with NFC as a payment technology in the international market, it still is an immature technology far from the mainstream. According to research by Berg Insight, global sales of handsets with NFC increased 10-fold in 2011 to 30 million units. Shipments are forecast to touch 700 million units in 2016.
"With just 30 million NFC handsets sold in 2011, these devices represent a tiny fragment of the overall mobile phone market. The growth is exponential, but even in advanced markets, NFC looks like it could be two to three years away from mainstream adoption," says Walter.
In South Africa, it is the capital-intensive process of rolling out point of sales terminals by stores, hotels, restaurants, services firms and other merchants that will be the big barrier to adoption, believes Walter. It took a good 10 years from when banks first started talking about EMV until it become common in South African shops – and even now the rollout is not 100% complete.
Says Walter: "Retailers and banks will need to see some clearly defined benefits in security, convenience and cost-reduction before they adopt NFC in a big way. We will need to see big retail groups, mobile operators and banks cooperate closely to nurture an NFC ecosystem based on a sound business model that works for all of them – and that could take some time."
That does not mean that we will not see other applications for NFC-enabled phones in the next two to three years, says Walter. The technology can be used for applications such as paring devices to establish Bluetooth or WLAN connections, electronic ticketing, loyalty programmes and coupons, parking payment, buying goods for vending machines, and more.
How popular NFC will become for such applications depends on market penetration of enabled devices and the benefits companies see in adopting it. But in the meantime, expect the banks to experiment and investigate NFC very thoroughly during 2012.
For more information contact Nashua Mobile, +27 (0)11 207 8000, timw@nashuamobile.com
Further reading:
Facial access control for ministry
Issue 1 2020, ZKTeco , Access Control & Identity Management
The Ministry of Culture in Saudi Arabia has adopted ZKTeco's facial recognition technology and fingerprint biometrics to manage access control into its building.
Read more...
---
New Door Pilot app from dormakaba
Issue 1 2020, dormakaba South Africa , Access Control & Identity Management
With new dormakaba Door Pilot, automated doors can also now be operated on the basis of remote control technologies. The system, comprising the Door Pilot app for smartphones and a Wi-Fi interface for ...
Read more...
---
Identity lifestyle
Issue 1 2020, Suprema , Access Control & Identity Management
Once the technology of the future, biometrics has quietly snuck into our daily lives through smartphones and access controls into our places of work.
Read more...
---
Securing BP's new head office
Issue 1 2020, ISF SFP , Access Control & Identity Management
ISF SFP was awarded the contract to secure the first development phase for Oxford Parks, the new head office for BP South Africa.
Read more...
---
Combining aesthetics and access control
Issue 1 2020, Turnstar Systems , Access Control & Identity Management
Prestigious law firm Bowman Gilfillan recently upgraded its physical security with the addition of four Turnstar Speedgate Express access control lanes.
Read more...
---
Video doorbells from Ring
Issue 1 2020 , Access Control & Identity Management
Ring has a number of video doorbells available in South Africa that run off batteries or power and enable users to answer their doors from anywhere.
Read more...
---
Centurion to unveil new product
Issue 1 2020, Centurion Systems , Access Control & Identity Management
Centurion Systems will be hosting its third Access Automation Expo this year, with dates confirmed for Durban, Johannesburg and Cape Town.
Read more...
---
Looking ahead with mobile access technologies
Access & Identity Management Handbook 2020, Technews Publishing, HID Global, dormakaba South Africa, Salto Systems Africa, Suprema, Gallagher , Access Control & Identity Management, Integrated Solutions
Given the broad use of smartphones around the world and the numerous technologies packed into these devices, it was only a matter of time before the access control industry developed technology that would ...
Read more...
---
Mobile access is more secure than card systems
Access & Identity Management Handbook 2020 , Access Control & Identity Management
The ability to use mobile phones as access credentials is one of the biggest trends in a market that historically has been slow in adopting new technology.
Read more...
---
This is the future. This is what we do.
Access & Identity Management Handbook 2020, ZKTeco , Access Control & Identity Management
ZKTeco has created a unique range of visible light facial recognition products combined with a flexible Android platform.
Read more...
---