printer friendly version
Malaysia school surveillance
June 2012
CCTV, Surveillance & Remote Monitoring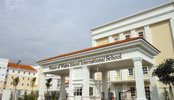 The global economy is currently facing a number of challenges. As such, the onus on many companies to look for a competitive business edge is greater than ever.
Maureen Khoo, project manager at IS Solutions and Consultancy Sdn Bhd in Malaysia (the company responsible for this security project) found this very edge in Hikvision products. Khoo explained: "Chinese products have a reputation for focusing on low cost, yet Hikvision solutions are very different. Hikvision offers us, and our customers, what we are looking for: high-end solutions."
Prince of Wales Island International School
Prince of Wales Island International School provided just such an opportunity for a comprehensive high-end Hikvision solution.
This international school offers many things: a British-based secondary education, full dormitory accommodations, and a large campus that rivals many international schools. With the many amenities Prince of Wales Island International School already provides their pupils, school administrators were keen to add a comprehensive security solution to the package.
In situations like this, Khoo has found a unique solution, "Often our customers are familiar with the concept of a CCTV system. Normally, they are primarily concerned with price, but with Hikvision technology, we can show them the difference in performance."
Khoo does so by a system of customer product awareness. "In Malaysia, it is very important for the customer to see how Hikvision benefits them. For us, first loaning the equipment to the customer is vital. This shows them firsthand. After, they can decide what they want, and they generally see the difference and performance that Hikvision adds."
All-around school solution
With a campus as large as this, the practicability of guards securing the grounds by simply walking is not possible. Khoo uses a number of Hikvision camera models to provide an overall blanket of observation.
In outdoor areas, Khoo selected Hikvision's DS-2AF1-517-B 36x WDR Speed Dome to provide eyes on areas where feet could not. Khoo noted, "Placed outside in the general campus, this camera offers what we need to secure the common areas. We are able to use the flexibility of this unit and the ability to rotate, adjust and immediately zoom in on objects. Regardless of the time of day, this gives us a very detailed picture of who, or what, we are looking at. Additionally, the ability of Hikvision's WDR technology guarantees image quality – in varying lighting situations – to meet this school's security needs."
The DS-2AF1-517B 36x WDR achieves this through features such as a ¼-inch' Sony high performance CCD, 3D intelligent positioning function, and a proportional zoom function, among others.
Hikvision's DS-2CC195P-A high definition and low-light box camera also provides added eyes in the sky. Again, the aspect of operating in minimal lighting was very important. This is provided by a minimum illumination of 0,02 Lux @ F1.2 (colour), 0,002 Lux @ F1.2 (B/W) and IR cut filter with auto switch which "gives us the ability to see in both day and night in colour, but in black and white if desired," Khoo explained.
Rounding out the camera aspect of this solution is the DS-2CC575P(N), a high definition and low-light dome camera and the DS-2CC577P(N), a high-definition and WDR dome camera. Sharing common features such as a compact design, 1/3-inch Sony CCD, IR cut filter auto switch, digital noise reduction, and a 2,8~11 mm auto iris lens, these two Hikvision models form a tag-team of surveillance protection throughout the school.
With over 150 units between these two models on campus, they secure both general and niche-type areas. Residing both indoors and outdoors, "they are great because with high definition, we are really able to identify who exactly is at a specific location – regardless of area," Khoo related.
While camera placement is an important issue because direct sunlight can diminish the quality of the picture, both of these cameras excel based on the fact that they only require a minimum of light to function. This, combined with a high-definition picture, ensures that security personnel always have an excellent view of who is entering, or leaving, a facility.
The control room
Attaching these many Hikvision cameras into a central control room is the DS-9016HFI-SH Embedded Hybrid DVR. This DVR was integral to the overall solution, as Khoo related: "This is the highest level DVR and it is the brain of everything we do, security-wise. We absolutely could not compromise on the quality of the DVR we chose, so we decided upon the DS-9016HFI-SH. Like most DVRs, the DS-9016HFI-SH offers the ability to record, and view, in real-time – but in both analogue and IP. On top of this, with hybrid DVRs, it is a very simple process to add additional network cameras onto this solution."
Additionally, supporting up to eight SATA hard disk drives, and up to 2 TB each, has given the school "the ability to easily store HD video and quickly retrieve it. This cannot be understated. Most local manufactures cannot come close to matching Hikvision's storage space," Khoo added.
Complementing this DVR as both an efficiency measure, and a tool to improve security productivity is the DS-6308DI decoder server.
If there is a power failure to the school – which periodically happens in Malaysia – the DS-6308DI will automatically reboot the security system with the programmed security settings.
This server boasts high-performance hardware decoding and standard H.264/MPEG4 video codec, and is compatible with Hikvision DVR and network cameras; offering up to 720p resolution decoding, as well as VGA and composite output simultaneously.
For more information contact Hikvision, +86 571 8700 6060, wulin@hikvision.com, www.hikvision.com
Credit(s)
Further reading:
Efficient storage for security
Issue 7 2020, Dell EMC , CCTV, Surveillance & Remote Monitoring
There is a dramatic increase in the amount of storage and computing power required to support today's safety and security systems.
Read more...
---
Safe restaurant reopening technology
Issue 7 2020, Dahua Technology South Africa , CCTV, Surveillance & Remote Monitoring
Denmark's Arkaden Food Hall makes use of Dahua People Counting and Flow Control solution for safe reopening.
Read more...
---
Forbatt SA invests in South Africa's security industry
Issue 7 2020, Forbatt SA , CCTV, Surveillance & Remote Monitoring
Forbatt SA is set to offer an improved service to the industry by making sure it has the products and solutions the industry needs, as well as a new showroom.
Read more...
---
Professional device management for the installer/service provider
Issue 7 2020, Hikvision South Africa , Products
Hik-ProConnect is a convergent, cloud-based security solution that helps manage services for your customers and expand your business though subscription services.
Read more...
---
New Hikvision AcuSense solution
Issue 7 2020, Hikvision South Africa , Products
AcuSense series products are aimed to be the ideal choice for accessible and intelligent security systems.
Read more...
---
Cost-effective face recognition terminal
Issue 7 2020, Hikvision South Africa , Products
New face recognition terminal is an access control device integrated with a temperature screening function.
Read more...
---
Analytics with your existing cameras
Issue 7 2020, Secutel Technologies , CCTV, Surveillance & Remote Monitoring
With SecuVue from Secutel Technologies, it is possible for any business to monitor their offices, warehouses or stores remotely, from any part of the world.
Read more...
---
Consolidating control rooms and service delivery within a COVID-19 environment
Issue 6 2020, Leaderware , CCTV, Surveillance & Remote Monitoring
It is essential to have informed, coordinated and professional responses within control rooms at this time of increasing turmoil.
Read more...
---
Technology driving the healthcare industry
Issue 6 2020, Duxbury Networking , CCTV, Surveillance & Remote Monitoring
Seeing cameras as sensors opens up new possibilities, and each one of them responds to typical demands inside a hospital, clinic or nursing home.
Read more...
---
Turn cameras into traffic sensors
Issue 6 2020, Duxbury Networking , CCTV, Surveillance & Remote Monitoring
Safer communities and cities are achieved through a mixture of technology and human resources, working together in a holistic manner.
Read more...
---