printer friendly version
Integration of security systems
June 2012
Integrated Solutions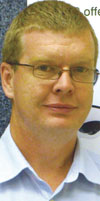 As with most articles about technology, let us start with an acronym, PSIM (physical security information management). This is one of the newer acronyms hitting our industry.
Instead of going in to all kinds of long definitions around what PSIM is (after all, you can Google that), let us stick to the short version. There are essentially two parts to PSIM. The first is the integration of physical security systems and the second is the introduction of applications that help make the most of all of the integrated data; the workflows and logic that help ensure that the right information gets to the right people so that the correct/appropriate action can be taken.
For example, an access control violation could be verified by video. If the violator is a staff member who has just forgotten his/her RFID tag, then possibly it is only an incident for the HR department to investigate. If the violator is wearing a ski mask and carrying a shotgun, the action needs to be significantly different.
It is important to note at this stage that this information management part of PSIM is not necessarily an application. The most important aspect is the definition of processes and procedures to follow based on different events. An IT application can be considered (depending on the size and complexity of the processes) to help support and enforce this.
At this stage, where technology plays a stronger role is in the physical integration of security systems.
Why security integration?
What are the benefits of integrating security systems? Security is definitely a case of the sum of the parts being worth more than the individual parts themselves. Video surveillance, intrusion detection, fire and access control all play very important roles. They also all have their own specific drawbacks:
* Video surveillance records hours of 'useless' footage which consumes expensive disk space and makes it difficult to find the not so 'useless' bits. Intelligent analytics go a long way to mitigating this, however integration with other security systems can help even more by allowing the video management system to record (and mark/highlight) footage associated with a particular event.
* Intrusion detection systems can help minimise the impact of break-ins but are not so effective during office hours when people are around. These need to be combined with video surveillance.
* Fire systems can tell you that you have a problem. They can also tell you approximately where the problem is, but what happens then. Do you dispatch a security guard to go and check? Do you evacuate the building in the meantime? What does it cost the business to evacuate all staff unnecessarily?
* Access control helps to control the comings and goings of people, but this too has limitations. Buddy clocking, tailgating and missing/stolen RFID tags are just some of the problems. Instant video verification can help to eliminate these issues.
Integrated systems can also start providing benefits beyond security management. HR departments already use access control systems for time and attendance control. Video Surveillance can be integrated with process control systems in order to monitor their efficiency. This is when the security systems can start showing significantly more value – when they are not just used for security.
Where to start?
As with any new project in your organisation, the first thing you need to do is define what you want to get out of the system. Do you want to reduce the human error factor in your security systems? Do you want to reduce the number of screen gazers? Have there been specific incidents you need to prevent from reoccurring? Or have you simply identified specific security loopholes that need to be closed? Alternatively you may be looking to increase the value you get from your security system by also using it for HR (time and attendance) management or for monitoring production processes.
Once you have this 'where I want to be' picture, you need to build the 'where am I now' picture. What security systems do I have in place? Is it all current or reaching the end of its life? How could it be integrated? Is it IP connected or a completely analogue system?
It is important to understand that the integration of security systems does not need to be a massively complex and expensive task, after all, simply connecting a basic alarm panel to the arm input port on analogue DVR is a form of integration already. Depending on equipment already in place, this could be as simple as running a wire and doing some configuration on the DVR and alarm panel. Although it will not give all of the benefits and flexibility of tightly integrated IP systems, this approach still has its merits.
Video management systems
You may have noticed in the points mentioned above, the central role played by video surveillance. Video is the part of the security ecosystem that provides the most information. It is also the most complex. For this reason it is recommended that the integrated security solution be built around the video management system (VMS). It is easier to integrate alarm signals into a video management system than it is to integrate video into an alarm system.
So, the short version of all this:
* Integration of security systems can provide more value than the individual systems themselves.
* Focus on the business goals you hope to achieve through integration of your security systems.
* Typically the integrated solution would be built around the video management system.
* Be creative. Think beyond security into other business areas that could benefit from the information provided.
For more information contact Richard Hepplestone, surveillance solutions manager at IDS on +27 (0)31 705 1373, richard.h@inhep.com
Further reading:
Keep your distance with PeopleCounter and DistanceGuard
Issue 6 2020 , Integrated Solutions
Using 2D and 3D LiDAR sensors from SICK, people can easily uphold the recommended minimum distance in public and pre-defined spaces.
Read more...
---
Critical control management
Issue 5 2020 , Integrated Solutions
The critical control management process is an excellent practical approach to ensure effective controls over potentially catastrophic events.
Read more...
---
Adjusting to a new reality
Issue 5 2020, Technews Publishing , Integrated Solutions
COVID-19 to accelerate adoption of technology-enabled smart city resilience approaches: robotics, digital twins, and autonomous freight.
Read more...
---
Remote oversight imperative for smart buildings
Issue 5 2020 , Integrated Solutions
Duran Viera, CEO of Amecor, says one of South Africa's biggest drivers for smart building development is security.
Read more...
---
Shaping today's smart cities
Issue 5 2020, ZKTeco , Integrated Solutions
As our physical and digital worlds become intertwined, the absorption of new technologies in smart cities is inevitable.
Read more...
---
The evolution of security in residential estates
Residential Estate Security Handbook 2020 , Editor's Choice, Integrated Solutions, Security Services & Risk Management
Two large estates discuss their security processes and the ever-expanding scope of responsibilities they need to fulfil.
Read more...
---
Home-grown, cloud-based safety and security solutions
Residential Estate Security Handbook 2020 , IT infrastructure, Integrated Solutions
BeSecure has taken security and communications technologies and turned them into what is best described as care and safety solutions for the estate community in South Africa.
Read more...
---
Integrated security management system
Residential Estate Security Handbook 2020, Protoclea Advanced Image Engineering , Products, CCTV, Surveillance & Remote Monitoring, Integrated Solutions
Phorcas is a security information system developed by Protoclea designed to integrate multiple sub-systems into a powerful crime fighting solution.
Read more...
---
Critical control management is essential for quality surveillance
Issue 6 2020 , Integrated Solutions
The demand for effective surveillance remains a priority for security and line management involved with the day to day protection of assets.
Read more...
---
Your partner in contemporary business continuity
Issue 3 2020 , Integrated Solutions
Horizon Risk Management aims to provide optimum contemporary, but affordable, business continuity techniques for business in South Africa and abroad through stable, durable and incorruptible practices.
Read more...
---