printer friendly version
Do not gamble on security
April 2012 CCTV, Surveillance & Remote Monitoring, Entertainment and Hospitality (Industry)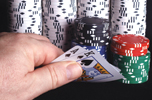 Pierre Malan, a director of SV Solutions spoke to Hi-Tech Security Solutions about the current state of security threats in the casino industry. SV Solutions was formed seven years ago to provide industry with sustainable systems integration services and is based on the 30 years' gaming security experience of its directors, complemented by the capabilities and experience of the SVS team.
"The nature of the risks experienced in the casino industry has not changed over the past five years, but what has changed is the incidence of certain trends. While there has been a marked absence of armed robberies in the past 12 months, fraud and scam incidents have fluctuated," he says.
"We saw a definite ramping up of criminal activity until the early months of 2011 then the curve flattened out substantially," Malan says. He attributes a generalised overall lowering of crime to the implementation of increased security measures and the intention to anticipate and counteract the actions of the criminal element.
"We find that scams have become more sophisticated due to criminals having increased access to technology and information. So similarly, it has been necessary to up the ante by sourcing increasingly high-tech counter measures. It is never easy to completely predict criminal patterns, but with access to high-end technology, supplemented by appropriately trained security personnel and the provision of behavioural analysis information, the industry has been able to gain valuable ground in this respect," Malan adds. "It is important that security personnel are trained in the detection of trends and react quickly to the threat to minimise its effect. An integrated approach to problem solving is critical."
Technology first?
Malan emphasises that there has been an acceleration in the convergence between the physical investigation and technology elements within the industry. "The risk or security manager no longer operates in isolation from the technology. The first source of information is derived from the installed technology and once a potential threat has been identified, the incident will be passed on to the investigation department for individualised attention and action."
He says that, currently, video analytics and content analysis predominate. "Information acquired is used for both personal identification purposes and for detection of criminal trends. We are seeing integration of data from gaming machines and point of sale devices with the surveillance cameras. Data mining is becoming more sophisticated and provides greater feedback for increased verification."
"All casinos are governed by the regulations of the Gaming Board, which stipulates, amongst other prerequisites, that any recorded material needs to have a title, and a date and time stamp, in order to be considered valid and binding. In addition, the control room is required to be onsite, is accessible only to authorised personnel who pass through a number of access control systems to reach it, and it may not have any Internet access."
Apart from the fact that surveillance cameras and high-definition recording devices provide recorded footage that can be used in criminal apprehension and prosecution, their role in highlighting trends has also increased.
"Many casinos see the inherent value of employing behavioural analysis specialists to train their security personnel in the detection of irregularities in behaviour patterns by patrons," says Malan. "By being able to proactively detect a trend, control room personnel and even security officers on the floor, can alert security managers who will then provide the investigation team with the required information to take further action."
Into the future
While wireless systems are proving increasingly popular in industrial, residential and commercial applications, hardwired installations are the preferred norm in the casino environment. "This is relevant for a number of reasons, predominantly because of the sensitivity around the possible hacking of systems within the casino environment.
"I have no doubt that the incorporation of IP technology for surveillance will become an industry standard. This is a reflection of the industry's move towards a more electronically-controlled environment," Malan concludes.
Because of the direct monetary risks involved, casinos will generally use more sophisticated technology than in many of the commercial installations. Casinos deal in large amounts of money, so the risk is noticeably and unavoidably larger. This requires a concomitant requirement for superior and failsafe security systems to ensure that assets are protected at all times and risks are minimised.
Credit(s)
Further reading:
Video technology can improve crowd management
CCTV, Surveillance & Remote Monitoring Entertainment and Hospitality (Industry) Products
Stadium operators can use video technology to implement effective crowd management in different areas, avoiding fines, reputational damage and injury or loss of life.
Read more...
---
Security BIS named AxxonSoft's Distributor of the Year 2021
News CCTV, Surveillance & Remote Monitoring
With its focus on AxxonSoft solutions and technical support, Security BIS secured the title of AxxonSoft Distributor of the Year again for 2021.
Read more...
---
Penguins enhance fan experience with smart camera applications
CCTV, Surveillance & Remote Monitoring Entertainment and Hospitality (Industry)
The Pittsburgh Penguins are implementing Azena's application platform for smart cameras in their home arena to provide analytics for heatmapping, queue detection and POS data integration to maximise the gameday experience for fans and stadium management
Read more...
---
Passion, drive and hard work
Technews Publishing Editor's Choice CCTV, Surveillance & Remote Monitoring Security Services & Risk Management
Colleen Glaeser is a leader in the security market, having made her mark in the male-dominated security industry through determination and hard work, along with a vision of making the world a safer place.
Read more...
---
New full-colour Smart Dual Illuminators camera series
Dahua Technology South Africa Products CCTV, Surveillance & Remote Monitoring
Using deep learning to accurately detect targets, the cameras can intelligently switch between the IR mode when there is no target, and full-colour mode when a target is detected.
Read more...
---
2022 trends in video surveillance
Eagle Eye Networks Editor's Choice CCTV, Surveillance & Remote Monitoring Integrated Solutions
Eagle Eye Networks predicts what will impact the video surveillance industry in the coming year and how to seize opportunities and forge a path to success, even amid ongoing uncertainties.
Read more...
---
Dahua launches thermal monocular camera series
Dahua Technology South Africa CCTV, Surveillance & Remote Monitoring
Dahua has launched its Thermal Monocular Camera Series, the M Series, for outdoor scenarios, sporting a 12 µm Vox sensor that offers a maximum resolution of 640 x 512.
Read more...
---
Solar-powered cameras keep construction site safe
Hikvision South Africa CCTV, Surveillance & Remote Monitoring
In the midst of a rise in building material thefts, construction company DECHO used Hikvision's solar-powered wireless cameras to guard the construction site for its much-anticipated Coast Garden project.
Read more...
---
The impact of AI-enhanced video analytics on control room personnel
Leaderware Editor's Choice CCTV, Surveillance & Remote Monitoring
What impact do AI-capable detection systems have on control room staff, and do they mean a change in the demands on operators and the type of people you have in the control room?
Read more...
---
Integrated technology ecosystem for safe hospitals
Avigilon CCTV, Surveillance & Remote Monitoring
SSM Health chooses Motorola Solutions Safe Hospitals' integrated technology ecosystem, an end-to-end security ecosystem that unifies voice, video, data and analytics on one single platform.
Read more...
---