printer friendly version
Pioneering spirit lays solid foundation for Camsecure
February 2012 News, Mining (Industry)
In 2003, Danie Malan, Francois Malan and Dewald van Breda saw an opening in the market for a company able to supply high-quality products and superior technical expertise for integrated security solutions. With years of experience as a promoter of sports in the country, Malan had the intuition necessary to find the winning solution, coupled with a strong team to bring the solution to market.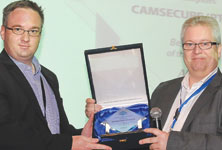 Francois Malan accepts the award for Milestone Partner of The Year 2011
Camsecure took the plunge into the fairly new arena of IP security technology. In spite of the fact that IP surveillance technology was in its infancy and, at that time, was less refined and subject to performance issues, Camsecure persevered and entrenched itself in becoming a specialist player in the IP surveillance field in South Africa.
From the outset, quality was the differentiating factor in the successful growth of the company. This focus on providing the mining industry with products and systems that were sourced from quality-driven companies and installed to the highest standards, has paid dividends and today the company has extrapolated the knowledge and experience gained in this arduous and demanding market sector to its extensive and diverse customer base.
Danie Malan said that initial acceptance of IP-based surveillance solutions in the market was slow, but as awareness grew, companies were able to see the advantages of using the technology to mitigate against risk factors. Camsecure's determination to share IP' based surveillance benefits has secured the company's position as a pioneer in southern Africa. Interestingly, Camsecure's growth has paralleled that of its principal suppliers, Milestone and Axis.
Malan points out that the company grew slowly but consistently in the early years and its presence today is due in no small part to the investments made into researching and learning how best to implement this new technology. The passionate belief in the creation of a supply channel driven by superior technology started with the installation and testing of any new products at Camsecure's offices before sharing them with the market. In this way, only best practice solutions are introduced to the company's clients.
Malan acknowledges that even the best products are irrelevant without a competent team to support and install them. "We believe not only in recruiting people who are knowledgeable and passionate about the products and services we supply, but who are able to work proactively and intuitively to discern and accommodate the needs of our clients."
Camsecure is focused on making sure its staff are the best trained in the industry and comply with the highest international standards. Camsecure recently made a substantial investment in educating 11 staff members with the tools required to conceptualise, design and implement customer-oriented IP video surveillance systems. The company flew an International Milestone Systems Trainer to South Africa from the USA to conduct the requisite Milestone Systems Advanced Certification Training.
Camsecure takes its relationships with its principals very seriously, as is evidenced by the two Partner of the Year awards received from Milestone Systems in 2009 and 2011. These awards stand as testament to Camsecure's focus on professionalism. "We have an excellent infrastructure, provide our employees with comprehensive training and have a large footprint of blue chip clients who demand excellence. In addition, our solutions are future-proof, since we introduce technology to market some two to three years ahead of most of our competitors," said Malan.
Underlining its commitment to bring value-added benefits to its clients, the company is now the first and largest specifier and installer of the NASA-endorsed DDN media storage solution in South Africa. This is the storage solution of choice for media rich environments and high performance computers.
"It is our aim to research superior solutions from all over the world and bring them together in a unified client offering. We are able to customise the software to suit specific client needs and integrate it with these select products, thus serving as a total solutions provider to a discerning client base," Malan concludes.
For more information contact Camsecure, +27 (0)11 781 1341, francois@camsecure.co.za, www.camsecure.co.za
Further reading:
Milestone cancels APAC/EMEA MIPS conference in Dubai
Issue 2 2020 , News
In response to increasing concern for potential health risks from COVID-19 (Coronavirus), Milestone Systems has cancelled the APAC/EMEA MIPS Conference scheduled for April 20-22 in Dubai.
Read more...
---
The reality of load shedding
Issue 2 2020, Technews Publishing , News
It may be that I am a bit slow on the pick-up, but recent events and conversations have driven the reality of what rolling blackouts (called load shedding by Eskom to make it sound less devastating) are ...
Read more...
---
Ongoing profile and specification development in 2020
Issue 2 2020, Technews Publishing , News
Per Björkdahl says ONVIF has over 500 member companies and around 15 000 conformant products.
Read more...
---
£28 million X-ray agreement for ADANI
Issue 2 2020 , News
ADANI announces £28 million framework agreement with the UK Ministry of Justice for the supply, installation and support of X-ray transmission body scanners.
Read more...
---
Security issues under the spotlight
Issue 2 2020 , News
Security, at all levels, continues to be a major concern across the African continent in 2020.
Read more...
---
Comodo and CONDYN announce strategic partnership
Issue 2 2020, Condyn , News
CONDYN has signed a partnership to offer Comodo's advanced endpoint threat prevention platform to South African enterprise and SMB clients.
Read more...
---
Arcules and Milestone deliver hybrid VMS solution
Issue 2 2020, Milestone Systems , News
Powerful functionality meets hyper-scalability with the introduction of the Arcules-XProtect Hybrid VMS Solution.
Read more...
---
Forbatt SA is an official FLIR distributor
Issue 1 2020, Forbatt SA , News
Forbatt SA has announced that it now has official distribution rights for the FLIR range of products.
Read more...
---
IFSEC rescheduled to 8-10 September 2020 due to coronavirus fears
Issue 2 2020, Technews Publishing , News
IFSEC and co-located shows have been rescheduled to take place on 8–10 September 2020 at London ExCeL.
Read more...
---
Amazon Web Services achieves Level 1 BBBEE status
Issue 2 2020 , News
AWS also invites 100 percent black-owned South African small businesses to apply for the AWS Equity Equivalent Investment Programme.
Read more...
---