printer friendly version
Radar surveilance over 40 km
October 2011
Perimeter Security, Alarms & Intruder Detection
Hi-Tech Security Solutions attended the launch of a new radar surveillance system.
A new range of radar security systems has been introduced to the South African market by Cassidian, the defence and security division of the European Aeronautic Defence and Space Company (EADS). Aimed at systems integrators, the SPEXER range offers high performance AESA (active electronically scanned array) and DBF (digital beam forming) radar surveillance systems for the monitoring of ground, sea and low flying air targets over distances up to 40 km. Drawing on years of experience in the military field, Cassidian is now applying this expertise in the homeland security area, offering new capabilities to the civil security world.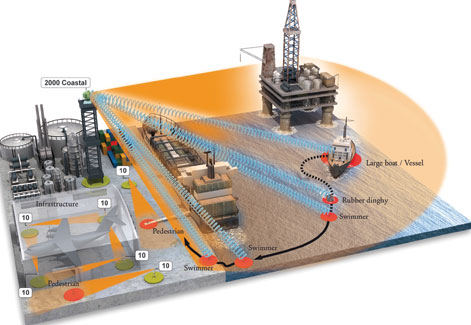 The security systems have a broad range of applications in border, coastal, perimeter and industrial surveillance of large areas and over long distances. They can also monitor oil refineries or airfields. A local application which has attracted a lot of attention from conservationists is the apprehension of rhino poachers.
SPEXER radars detect and track multiple targets such as illegal immigrants, smugglers, or a swimmer in a harbour and provide a very early warning and therefore a high level of situational awareness which allows timely counter-measures to be taken for the protection of critical infrastructure.
The SPEXER range has a number of operational advantages over conventional radar systems. The radar units can detect, track and classify even small and slowly moving objects such as pedestrians or buck, as well as low flying air targets.
The multimode and dual beam capability enable a time-multiplex and parallel operation (multisector scanning, point surveillance and target tracking). This even makes it possible to replace several conventional radars by only one SPEXER radar.
Emissions are very low, the safety zone is minimal and they are medically certified. Power consumption is low and they can plug into a 20 V DC power supply in a car. They are small and easy to install.
SPEXER radars allow 24/7 surveillance in all weather conditions and can detect swimmers in rough seas up to 1 km; people up to 18 km; small boats up to 20 km; low-level helicopters up to 36 km; and ships up to a 40 km range. They can be mounted on masts/towers, on tripods or on trucks and more than 100 moving objects can be tracked at once in a sector of 120° and an area of 1600 square kilometres. This significantly reduces the requirement for CCTV and movement detectors. Virtual alarm zones such as a runway can be defined, reducing the need for extra fences or security sensors in the monitored area. The false alarm rate is very low. All these features are complementary to existing security sensors and add to the efficiency of current measures.
By using Cassidian's multisensor data fusion software, which is state of the art in military applications, systems integrators can also combine the advantages of different sensors such as cameras and radar into a system which can integrate all data into a user friendly display.
Data fusion confirms the presence of an entity such as an aircraft, car, animal or person as it enters an area. It then supplies kinematic information on the position, speed, and dynamics of the movement to give an assessment of the potential threat.
For more information contact Complete Security Intelligence South Africa (CSISA), +27 (0)12 348 9819, [email protected], www.csisasecurity.co.za
Further reading:
June Coetzer joins Olarm as Partner Manager
News Perimeter Security, Alarms & Intruder Detection
Armed with a solid background in sales and business development, June Coetzer recently joined Olarm as an additional Partner Manager covering Gauteng and the surrounding areas.
Read more...
---
No missed alarms and reduced false alarms
Perimeter Security, Alarms & Intruder Detection Products
Remote sites have always been more vulnerable to opportunistic intrusion, but over the last two years in particular, sites such as solar farms or industrial parks have become more common targets for criminals.
Read more...
---
Olarm launches Olarm LINK
Olarm News Perimeter Security, Alarms & Intruder Detection Products
Olarm LINK extends the Olarm PRO communicators smart control with additional sensing and control, allowing multiple users to control a wide range of devices, including gate access, garage motors, boom gates, water pumps and more.
Read more...
---
Olarm launches the Olarm LINK
Olarm Perimeter Security, Alarms & Intruder Detection News Products
Building on the success of smart-enabling, monitoring and controlling alarm panels and electric fences, Olarm has a new solution for customers to integrate gates, garage doors, pumps and other electrical products with the Olarm APP and Olarm PRO communicator.
Read more...
---
Ultimate smart monitoring and reliability
Olarm Perimeter Security, Alarms & Intruder Detection News Products
Olarm is gearing up to unveil its latest product, the Olarm MAX, set to be available in late 2023, which will redefine smart monitoring by offering unparalleled connectivity options and functionality.
Read more...
---
New distributed acoustic sensors in EMEA
Perimeter Security, Alarms & Intruder Detection Products
OPTEX introduces new EchoPoint Distributed Acoustic Sensors (DAS) for advanced point location intrusion detection, using intelligent detection algorithms to provide point detection of +/- 6 m in a range of up to 100 km.
Read more...
---
Matt De Araujo joins Ajax Systems
Ajax Systems News Perimeter Security, Alarms & Intruder Detection
Matt De Araujo has joined Ajax Systems as Head of Sales in sub-Saharan Africa with a goal to strengthen the local team and exceed expectations.
Read more...
---
RDC expands its production capabilities
Radio Data Communications Perimeter Security, Alarms & Intruder Detection Products
Local electronics manufacturer, RDC, recently acquired a new SMT (surface mount technology) machine to boost its manufacturing output and meet the needs of its global customer base.
Read more...
---
Invisible connection and tangible protection via cloud
Dahua Technology South Africa Perimeter Security, Alarms & Intruder Detection CCTV, Surveillance & Remote Monitoring Products
Dahua Technology has launched its AirShield security solution that uses advanced, stable and reliable RF communication technology and cloud services, integrating alarm hubs, various detectors and accessories, with several software apps.
Read more...
---
Protecting perimeters and open spaces
XtraVision Perimeter Security, Alarms & Intruder Detection
XtraVision provides some insight into the use of drone technology with the SAMM Fotas fibre detection systems to secure perimeters and other remote assets and locations.
Read more...
---