printer friendly version
In a land of cash, security is king
October 2011 Security by Industry Sector, Security Services & Risk Management, Retail (Industry)
Security must balance technology, business processes and human resources.
With almost R80-million in banknotes in circulation, cash remains the primary currency in South Africa. And when cash is king, security is key. However, the dynamic nature of risk combined with the evolving methods of criminals make the effective protection of cash a significant challenge, particularly for businesses operating within the retail sector.
Against this backdrop, a proactive approach to security and risk management is essential to keep organisations safe and secure, prevent losses and, where losses do occur, limit its impact, particularly on the bottom line.
While the liquid nature of cash means no business can entirely secure itself against loss due to criminal activity, there are a number of processes and systems that can and should be introduced to achieve an acceptable measure of risk mitigation.
Given that the real value of effective cash security measures is loss prevention rather than a tangible return on investment, it can be tempting for businesses to skimp on security or base their decisions on costs rather than effectiveness. But, while it can be argued that loss prevention is essentially a grudge purchase, there can be no denying that a substantial loss due to security failure is a highly tangible expense. So, while the true value of investment in effective security is usually far clearer in retrospect, the prudent business owner or manager knows that it is far better never to have his or her eyes opened in this manner.
Despite this apparent intangibility of sound cash security, its value can be assessed by asking two simple questions:
1. Would the financial impact of a significant loss warrant the marginal cost saving of not having good security?
2. How would this balance be affected by repeat or frequent losses?
Spending even a moment considering the answers to these two questions will invariably highlight the very tangible value of effective cash security for any business. Add to this the fact that the preventative nature of security reduces the time and cost involved in investigating losses, managing insurance claims and resolving disputes, and the value of good security becomes distinctly more tangible.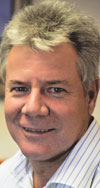 Grant Dunnington, CEO, SBV Group
And this preventative potential of any security solution should be the primary consideration when choosing a security service provider. That is why the assessment of a security partner should include, at least, investigation into the level of technological functionality, willingness to share or shoulder risk, depth of information and reporting offered, ability to consult and advise on security processes and systems, and, possibly most importantly, credibility and reliability of staff.
While debate continues to rage around the fairness of screening employees for criminal records, the importance of vetting the credibility of staff members is non-negotiable within the cash services industry. This fact is reinforced by the 2010 screening statistics released by EMPS, SA's oldest screening and vetting company, which showed that more than 13% of screened job applicants in that year had a criminal record – 25% of these were for theft-related convictions and 33% of those found to have criminal records were repeat offenders.
SBV's policy is that systematic personnel security vetting is used to determine each employee's security competence and identify possible personality or circumstantial vulnerabilities. All employees also agree to ad hoc voice stress procedures that measure stress-induced changes to vocal muscles. These are particularly useful in assessing employees' knowledge of or involvement in criminal situations. In addition, ongoing credit and criminal checks are a condition of employment.
This culture of thorough employee assessment is at the heart of SBV's excellent risk profile and saw our business rated by Lloyds of London as 'the CIT Company that best manages its risk, in the world'.
And while quality of staff, investment in technologically and superior intelligence networks, are key to the effectiveness of any cash risk management provider, they are just as important to all participants in South Africa's cash-intensive retail industry.
Which is why the value of a solid partnership between a retailer and its security company extends way beyond the typical client/service provider relationship. Ultimately, at SBV, we recognise that the key measure of our business success is the level of security and peace of mind we offer our clients. Their success is our success and, as such, we guard it fervently.
Further reading:
Is AI the game-changer for streamlining anti-money laundering compliance?
Financial (Industry) Security Services & Risk Management
In the aftermath of South Africa's recent grey listing, companies are now confronted with the imperative to address eight identified strategic deficiencies, while simultaneously reducing their financial crime risk through anti-money laundering compliance processes.
Read more...
---
Client satisfaction boosted by 85% at Thungela Mine
Thorburn Security Solutions News Security Services & Risk Management Mining (Industry)
Thorburn Security, a division of Tsebo Solutions Group, has announced its recent collaboration with Kwa-Zulu Natal security company, Ithuba Protection Services, as part of its Enterprise Supplier Development (ESD) initiatives across Africa.
Read more...
---
The right security solution removes the opportunity
Asset Management, EAS, RFID Retail (Industry)
South African retailers are facing a multitude of challenges, including economic fluctuations, changing consumer behaviour, increased competition, supply chain disruptions, regulatory changes and the need to adapt to digital transformation, not to mention theft.
Read more...
---
Migrating to the cloud? Beware the many hurdles
IT infrastructure Security Services & Risk Management
While there are undoubtedly many benefits, there are also numerous hurdles to cloud adoption. Some of the biggest challenges revolve around managing cloud spend, understanding the cost components of cloud infrastructure, and how those costs can scale.
Read more...
---
Key strategies for businesses in the face of cyber threats
Cyber Security Security Services & Risk Management
Businesses face severe financial and reputational consequences due to data breaches and daily website hacks, and not all organisations are adequately prepared to combat these escalating threats.
Read more...
---
Protecting South African systems through XDR cybersecurity
Cyber Security Security Services & Risk Management
Carlo Bolzonello, Country Lead for Trellix South Africa, discusses how the country can protect its valuable digital assets through the artificial intelligence-enabled Extended Detection and Response (XDR) cybersecurity approach.
Read more...
---
[Sponsored] Protecting Against Ransomware Attacks: Lessons from Recent POPIA Fine
Cyber Security Security Services & Risk Management
According to Sophos' most recent ransomware report, an alarming 78% of the South African organisations that Sophos surveyed experienced ransomware attacks in the past year.
Read more...
---
Kaspersky launches Professional Services Packages for SMBs
News Cyber Security Security Services & Risk Management
Kaspersky has announced the launch of a range of Professional Services Packages for SMBs, offering tailored support products that help customers get the most out of their cybersecurity resources.
Read more...
---
AI-driven drones unleash new opportunities and risks
IT infrastructure Security Services & Risk Management
As AI-driven technologies continue to evolve, the incorporation of AI in drone capabilities has become a significant point of interest for many drone operators.
Read more...
---
Six cybersecurity mistakes to avoid
Cyber Security Security Services & Risk Management
Safeguarding sensitive data and maintaining robust cybersecurity practices has become paramount for businesses of all sizes, with the global costs of cybercrime expected to reach US$13 trillion within the next five years.
Read more...
---