printer friendly version
NOSA Safety and Security Manager of The Year Award
October 2011
News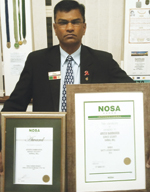 Servest security manager, Arveen Rambhuron, was awarded the local NOSA Safety and Security Manager of The Year Award 2010 at the Elangeni Hotel in Durban on 14 July 2011. He has also been awarded the international NOSA Safety and Security Manager of The Year Award 2010, which he received at the Champagne Sports Resort in the Drakensburg on 25 August 2011.
Rambhuron says he joined Servest Security (then Gremick) in May 2009 at a time when the security department at the Tongaat Hulett Sugar, Darnall Mill Site was in a chaotic state and on the verge of the contract being terminated.
"I took about a week to plan my strategies to try and change a negative and near hopeless situation to a positive and confident one. Also this was my first time to be working on a NOSA Contractor System in terms of compliance."
Through determination, diligence and hard work, which he had developed throughout his career in the law enforcement sector, he managed to slowly turn the mindset of his staff around and make the project a success.
He says, "On 19 March 2010 I had been audited for compliance and obtained an overall effort score of 87,9% which was 0,9% up from the 2009 audit score of my predecessor. On 11 March 2011 I was audited again, being a yearly compliance audit, and this time received an effort score of 96%."
The following activities are conducted by Servest Security on site:
* Access and egress control of vehicles and personnel.
* Alcohol testing.
* Factory patrols.
* CCTV monitoring.
* Alarm monitoring.
* Radio communications>
* Searches of employees and other personnel entering and leaving the site.
* The reporting of incidents that occur on site.
I always encourage my staff to be focused in what we are mandated to do and not to deviate from the policies and standards that formed the basis of our task, such as the protection of personnel, property and information, as well as detection and prevention of crime.
Further reading:
Spend on cloud to accelerate across Africa in 2023
News
More than two-thirds of companies using cloud computing across major African markets plan to increase their spending on cloud services in 2023.
Read more...
---
ChatGPT's impacts will be social, not technical
News
ChatGPT is truly a remarkable achievement, an artificial intelligence (AI) that you can have a conversation with and ask to do everything from writing essays to coding computer programs.
Read more...
---
Artificial intelligence in Africa: levelling the narrative
News
While AI can benefit multiple industries, in Africa the key sectors that stand to gain are financial services (specifically fintech) and agriculture.
Read more...
---
Improving data security for a hybrid society
News
Researchers from Tokyo University of Science develop a method that can perform computations with encrypted data faster and at a lower cost than conventional methods, while also improving security.
Read more...
---
Cybersecurity in 2023: The latest trends and developments
News
In 2023, experts predict that several trends will shape the cybersecurity landscape, including the growing use of artificial intelligence (AI), the increasing focus on the Internet of Things (IoT), and the rise of quantum computing.
Read more...
---
SAN market set for growth
Technews Publishing News IT infrastructure
Storage-area network (SAN) market to hit US$ 26,86 billion in revenue by the end of 2029 due to factors like widespread adoption of Hybrid SAN-NAS solutions.
Read more...
---
Enterprise threats in 2023
News Cyber Security
Large businesses and government structures should prepare for cybercriminals using media to blackmail organisations, reporting alleged data leaks, and purchasing initial access to previously compromised companies on the darknet.
Read more...
---
Trends in the proptech industry for 2023
News
By mixing real estate with technology to optimise industries, create new ones, and generate efficiencies or capabilities that improve revenue generation, something as fundamental as the concept of parking has been turned on its head.
Read more...
---
31 percent of all IoT SIMs managed with third-party IoT CMPs
News Integrated Solutions
Berg Insight recently released new findings about the market for IoT connectivity management platforms (CMPs), a standard component in the value proposition from mobile operators and IoT MVNOs around the world.
Read more...
---
Off-highway vehicle telematics systems
News
The installed base of off-highway vehicle telematics systems to reach 12.2 million units worldwide by 2026, says Berg Insight.
Read more...
---