printer friendly version
NOSA Safety and Security Manager of The Year Award
October 2011
News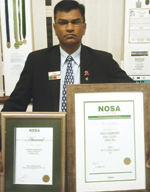 Servest security manager, Arveen Rambhuron, was awarded the local NOSA Safety and Security Manager of The Year Award 2010 at the Elangeni Hotel in Durban on 14 July 2011. He has also been awarded the international NOSA Safety and Security Manager of The Year Award 2010, which he received at the Champagne Sports Resort in the Drakensburg on 25 August 2011.
Rambhuron says he joined Servest Security (then Gremick) in May 2009 at a time when the security department at the Tongaat Hulett Sugar, Darnall Mill Site was in a chaotic state and on the verge of the contract being terminated.
"I took about a week to plan my strategies to try and change a negative and near hopeless situation to a positive and confident one. Also this was my first time to be working on a NOSA Contractor System in terms of compliance."
Through determination, diligence and hard work, which he had developed throughout his career in the law enforcement sector, he managed to slowly turn the mindset of his staff around and make the project a success.
He says, "On 19 March 2010 I had been audited for compliance and obtained an overall effort score of 87,9% which was 0,9% up from the 2009 audit score of my predecessor. On 11 March 2011 I was audited again, being a yearly compliance audit, and this time received an effort score of 96%."
The following activities are conducted by Servest Security on site:
* Access and egress control of vehicles and personnel.
* Alcohol testing.
* Factory patrols.
* CCTV monitoring.
* Alarm monitoring.
* Radio communications>
* Searches of employees and other personnel entering and leaving the site.
* The reporting of incidents that occur on site.
I always encourage my staff to be focused in what we are mandated to do and not to deviate from the policies and standards that formed the basis of our task, such as the protection of personnel, property and information, as well as detection and prevention of crime.
Further reading:
Paxton opens first experience centre in South Africa
Paxton News Access Control & Identity Management
The new Paxton Experience Centre in Johannesburg is now open and welcoming security installers and end users who want to see Paxton's products in action.
Read more...
---
Paratus signs re-seller agreement with Starlink for Africa
News IT infrastructure
Pan-African telco and network services provider Paratus Group announced it has entered an agreement as a distributor for Starlink's high-speed services across the African continent, available immediately in Mozambique, Kenya, Rwanda and Nigeria.
Read more...
---
4IR is opportunity
News
In South Africa, digitalisation remains 'at a nascent stage' which means significant work still has to be done when it comes to addressing skills development around 4IR in the country.
Read more...
---
Five ways to reduce your cyber insurance premiums
Security Services & Risk Management News
With the global costs of cybercrime expected to soar to $13 trillion within the next five years, cyber insurance is booming as organisations try to mitigate the risk of financial losses.
Read more...
---
Client satisfaction boosted by 85% at Thungela Mine
Thorburn Security Solutions News Security Services & Risk Management Mining (Industry)
Thorburn Security, a division of Tsebo Solutions Group, has announced its recent collaboration with Kwa-Zulu Natal security company, Ithuba Protection Services, as part of its Enterprise Supplier Development (ESD) initiatives across Africa.
Read more...
---
Fidelity SecureFire steps into critical fire response space
News Fire & Safety
With the majority of fire stations around the country being crippled by a lack of resources to offer effective responses, Fidelity Fire Solutions has launched its own 'first responder' model, Fidelity SecureFire.
Read more...
---
The state of edge security report
News IT infrastructure
Edge computing has grown from being a niche use case in a handful of industries to offering a major opportunity for enterprises across industries to spread computing power around the world.
Read more...
---
CHI selects NEC XON as trusted cybersecurity partner
News Cyber Security Industrial (Industry)
CHI Limited, Nigeria's leading market player in fruit juices and dairy products, has engaged in a strategic cybersecurity partnership with NEC XON, a pan-African ICT systems integrator.
Read more...
---
Collaboration delivers integrated and holistic security
Guardian Eye CCTV, Surveillance & Remote Monitoring News Integrated Solutions
Guardian Eye and Lytehouse have partnered to integrate their speciality solutions and provide a holistic security offering that overcomes the fragmentation of security systems and services.
Read more...
---
Kaspersky appoints new GM for Africa
News Cyber Security
Kaspersky has announced the appointment of Andrew Voges as the new General Manager for Africa to boost regional market positioning and enterprise protection.
Read more...
---