printer friendly version
Bytes acquires Security Partnerships
October 2011 News, Cyber Security
Bytes Technology Group, wholly owned by the JSE-listed Altron Group, has acquired UK-based IT security specialist Security Partnerships for an undisclosed sum. The purchase consideration comprises both up-front and deferred components, the latter dependent on achievement of future profitability thresholds.
Security Partnerships provides secure IT solutions and related managed services to corporate and public sector organisations.
While Bytes already holds various accreditations with and is a significant partner to a number of global security vendors, this acquisition extends the current offering to include implementation and support services to customers. Bytes' capabilities will now include data security, secure e-mail and Web communications, security risk and IT compliance solutions, end-point security, cloud security solutions and full implementation and support services.
"IT security remains high on our customers' agenda," says Neil Murphy, group MD, Bytes UK. "What particularly attracted us to Security Partnerships was their long-standing customer relationships and their emphasis on knowledge and customer service. It is a focused operation with a proven track record of profitable growth and a dynamic workforce. It drives most of its revenues through annuity contracts with some of the market's leading security specialists."
Key management have agreed to long-term service agreements, thereby ensuring management continuity for the business.
"This transaction is in line with our objective to grow organically and through acquisition," says Bytes Technology Group CEO, Rob Abraham. "We are looking to replicate our successful South African business model in the UK, and thereby stimulate overall group growth. Despite recessionary market conditions, we are seeing excellent growth in the security space."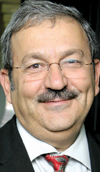 Rob Abraham, MD Bytes Document Solutions
For more information contact Bytes Technology Group, +27 (0)11 236 9561, [email protected], www.bytes.co.za
Further reading:
Spend on cloud to accelerate across Africa in 2023
News
More than two-thirds of companies using cloud computing across major African markets plan to increase their spending on cloud services in 2023.
Read more...
---
ChatGPT's impacts will be social, not technical
News
ChatGPT is truly a remarkable achievement, an artificial intelligence (AI) that you can have a conversation with and ask to do everything from writing essays to coding computer programs.
Read more...
---
Artificial intelligence in Africa: levelling the narrative
News
While AI can benefit multiple industries, in Africa the key sectors that stand to gain are financial services (specifically fintech) and agriculture.
Read more...
---
Improving data security for a hybrid society
News
Researchers from Tokyo University of Science develop a method that can perform computations with encrypted data faster and at a lower cost than conventional methods, while also improving security.
Read more...
---
Cybersecurity in 2023: The latest trends and developments
News
In 2023, experts predict that several trends will shape the cybersecurity landscape, including the growing use of artificial intelligence (AI), the increasing focus on the Internet of Things (IoT), and the rise of quantum computing.
Read more...
---
SAN market set for growth
Technews Publishing News IT infrastructure
Storage-area network (SAN) market to hit US$ 26,86 billion in revenue by the end of 2029 due to factors like widespread adoption of Hybrid SAN-NAS solutions.
Read more...
---
Enterprise threats in 2023
News Cyber Security
Large businesses and government structures should prepare for cybercriminals using media to blackmail organisations, reporting alleged data leaks, and purchasing initial access to previously compromised companies on the darknet.
Read more...
---
Trends in the proptech industry for 2023
News
By mixing real estate with technology to optimise industries, create new ones, and generate efficiencies or capabilities that improve revenue generation, something as fundamental as the concept of parking has been turned on its head.
Read more...
---
CA Southern Africa unmasks container security
Technews Publishing IT infrastructure Cyber Security
Adoption of software containers has risen dramatically as more organisations realise the benefits of this virtualised technology.
Read more...
---
31 percent of all IoT SIMs managed with third-party IoT CMPs
News Integrated Solutions
Berg Insight recently released new findings about the market for IoT connectivity management platforms (CMPs), a standard component in the value proposition from mobile operators and IoT MVNOs around the world.
Read more...
---