printer friendly version
Clean agent fire suppression system
September 2011 Fire & Safety, Products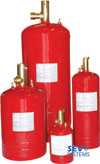 The SEVO 1230 FORCE500 Clean Agent Fire Suppression System is a new technology for clean agent systems that uses 3M Novec 1230 Fire Protection Fluid and can be pressurised to 500 psi.
It allows for longer pipe runs and smaller pipe diameters in addition to its cost saving benefits of using less clean agent in smaller and/or fewer cylinders per project. Along with these new engineering capabilities, it includes standard monitoring components such as an integrated pressure switch, pressure gauge and gauge guard. The low vapour pressure of Novec 1230 fluid allows for use of low pressure welded cylinders and Schedule 40 piping.
The higher flow rate of the FORCE500 system allows for enhanced piping limitations. When protecting a main and subfloor hazard with a 360 psi system, a minimum additional 5% agent is required in the subfloor to compensate due to these piping limitations.
The higher pressure of the FORCE500 system allows the use of smaller cylinder sizes compared to 360 psi systems. In large, multicylinder systems, the FORCE500 requires fewer cylinders than the equivalent 360 psi systems due to its added pressure.
The FORCE500 features longer pipe lengths between the cylinder and nozzle as well as longer distances between the first and last nozzle. This allows for complex nozzle layouts with smaller pipe sizes and longer pipe runs.
The SEVO CAPS (Clean Agent Pumping System) fill and recharge station is an easy to use, highly portable pumping and pressurisation system. This closed filling operation provides a SEVO approved method for filling and pressurisation. It eliminates the need to remove agent storage cylinders requiring service by providing the user with a lightweight, tray mounted pump that can be taken into the field.
With zero ozone depletion potential, extremely low global warming potential and short atmospheric lifetime, Novec 1230 Fluid is the first chemical halon replacement to offer a viable, long-term, sustainable technology for special hazards fire protection.
Brigit Fire is the SEVO Systems sole distributor for Africa.
For more information contact Brigit Fire, +27 (0)87 754 5623, deon@brigit.co.za
Credit(s)
Further reading:
Three new portable power stations to ease load shedding
News Security Services & Risk Management Products
EcoFlow has launched three portable power stations that provide sufficient power for consumers wherever they are; the DELTA 2 and RIVER 2 Series are feature-filled power solutions to the volatile electricity supply.
Read more...
---
Recharge and top up for pre-paid SIM cards
Asset Management, EAS, RFID Products
Businesses of all sizes are challenged by the administrative nightmare of reporting on the costs associated with airtime recharges on pre-paid and top-up SIM cards, which are often procured from multiple sources, including carriers and retail outlets.
Read more...
---
Introducing adaptive active adversary
Cyber Security Products
New adaptive active adversary protection; Linux malware protection enhancements; account health check capabilities; an integrated zero trust network access (ZTNA) agent for Windows and macOS devices; and improved frontline defences against advanced cyberthreats and streamline endpoint security management.
Read more...
---
Qognify VMS adds support for Pelco IP camera series
CCTV, Surveillance & Remote Monitoring Products
The latest IP camera series from Pelco can now be used with Qognify's advanced video solution for corporate and enterprise projects, increasing the overall number of camera models and third-party devices supported in Qognify VMS to more than 6 500.
Read more...
---
Off-grid power solution for residential estate
Editor's Choice Security Services & Risk Management Residential Estate (Industry) Products
Coral Beach Estate, an upmarket residential estate based in East London, has been struggling with load shedding and power outages due to South Africa's energy crisis, as well as the vandalism of its power infrastructure.
Read more...
---
Choosing an inferior lithium battery can be detrimental and unsafe
Uniross Batteries Security Services & Risk Management Products
South Africans looking to mitigate the impact of load shedding by installing a solar system for their home must do so through an accredited installer or electrician to avoid insurance claims being rejected.
Read more...
---
VIVOTEK launches VAST Security Station
CCTV, Surveillance & Remote Monitoring Products
VIVOTEK officially launched its AI security system, VAST Security Station (VSS), in March, available to users in three flexible tiers: VSS Lite, VSS Standard, and VSS Professional.
Read more...
---
Converged infrastructure: Beyond the hype
IT infrastructure Products
Technical teams no longer have to sit and try to work through a magnum opus of manuals for every layer of computing, networking, and storage, largely thanks to the growing popularity and increasing success of converged infrastructure.
Read more...
---
Heightening physical security at military base
Turnstar Systems Access Control & Identity Management Government and Parastatal (Industry) Products
Turnstar Systems recently installed two 3-metre Velocity Raptor traffic spikes at the South African National Defence Force (SANDF) Randfontein military base on Gauteng's West Rand.
Read more...
---
Boosting digital-intelligent transformation and AI applications
Dahua Technology South Africa CCTV, Surveillance & Remote Monitoring Products
2022 has been a year full of development and innovation for Dahua. The company has launched various upgrades to its existing product portfolio as well as an artillery of new products and solutions that address specific needs/problems in society.
Read more...
---