printer friendly version
Clean agent fire suppression system
September 2011 Fire & Safety, Products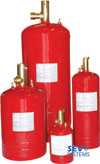 The SEVO 1230 FORCE500 Clean Agent Fire Suppression System is a new technology for clean agent systems that uses 3M Novec 1230 Fire Protection Fluid and can be pressurised to 500 psi.
It allows for longer pipe runs and smaller pipe diameters in addition to its cost saving benefits of using less clean agent in smaller and/or fewer cylinders per project. Along with these new engineering capabilities, it includes standard monitoring components such as an integrated pressure switch, pressure gauge and gauge guard. The low vapour pressure of Novec 1230 fluid allows for use of low pressure welded cylinders and Schedule 40 piping.
The higher flow rate of the FORCE500 system allows for enhanced piping limitations. When protecting a main and subfloor hazard with a 360 psi system, a minimum additional 5% agent is required in the subfloor to compensate due to these piping limitations.
The higher pressure of the FORCE500 system allows the use of smaller cylinder sizes compared to 360 psi systems. In large, multicylinder systems, the FORCE500 requires fewer cylinders than the equivalent 360 psi systems due to its added pressure.
The FORCE500 features longer pipe lengths between the cylinder and nozzle as well as longer distances between the first and last nozzle. This allows for complex nozzle layouts with smaller pipe sizes and longer pipe runs.
The SEVO CAPS (Clean Agent Pumping System) fill and recharge station is an easy to use, highly portable pumping and pressurisation system. This closed filling operation provides a SEVO approved method for filling and pressurisation. It eliminates the need to remove agent storage cylinders requiring service by providing the user with a lightweight, tray mounted pump that can be taken into the field.
With zero ozone depletion potential, extremely low global warming potential and short atmospheric lifetime, Novec 1230 Fluid is the first chemical halon replacement to offer a viable, long-term, sustainable technology for special hazards fire protection.
Brigit Fire is the SEVO Systems sole distributor for Africa.
For more information contact Brigit Fire, +27 (0)87 754 5623, [email protected]
Credit(s)
Further reading:
All-mobile people management solution with facial recognition
Editor's Choice Integrated Solutions Security Services & Risk Management Products
The new mobile Incident Desk People Management platform with facial recognition combines identification data on suppliers, staff, sub-contractors and even people on watch lists, for less than the cost of traditional service management tools.
Read more...
---
Gallagher releases Command Centre v8.70
Gallagher News Integrated Solutions Products
Command Centre v8.70 introduces a range of features and enhancements to create operational efficiencies and improved site security, including a next-generation integration with HALO Smart Sensors.
Read more...
---
GJD launches the GEM external curtain detector
Perimeter Security, Alarms & Intruder Detection Products
The GEM is a wired outdoor PIR curtain detector with up to 12 m selectable detection range and a narrow invisible curtain beam, making it highly effective in protecting properties against crime.
Read more...
---
Four cameras in one
Duxbury Networking CCTV, Surveillance & Remote Monitoring Products
The new M5000 multidirectional 15 MP camera from Axis features three 5 MP sensors and one PTZ camera with 10x optical zoom and HDTV 1080p, delivers sweeping overviews and zoomed-in details.
Read more...
---
Surveillance for net zero container showroom
CCTV, Surveillance & Remote Monitoring Products
VIVOTEK tailored a surveillance solution specifically for a net zero showroom by addressing the most critical part of access control as well as corner-to-corner indoor and outdoor surveillance.
Read more...
---
Enabling safety in communities
Security Services & Risk Management Products
Many Hytera devices are equipped with personal safety features, including emergency calling, Man Down and Lone Worker alerts, and GPS to enable users to be monitored and tracked.
Read more...
---
Solving coworking front-desk drama
Access Control & Identity Management Products
Flexible, shared and coworking offices have taken off with great success, but because occupational churn is high, the front-desk can be a difficult place to manage.
Read more...
---
Video technology can improve crowd management
CCTV, Surveillance & Remote Monitoring Entertainment and Hospitality (Industry) Products
Stadium operators can use video technology to implement effective crowd management in different areas, avoiding fines, reputational damage and injury or loss of life.
Read more...
---
Securing business information more important than ever
Cyber Security Products
SMBs need to operate safely within the physical and virtual boundaries created by work-from-home business practices, as well as in-office operations.
Read more...
---
Turnkey data loss prevention solution
IT infrastructure Cyber Security Products
Acronis's expertise in data protection and the managed service provider market yields an innovative, fast-track approach for the prevention of catastrophic data leaks.
Read more...
---