printer friendly version
Expanded public address and voice alarm
September 2011 Security Services & Risk Management, Products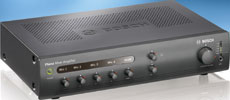 Bosch extends its public address and voice alarm system.
Bosch Security Systems has recently extended its Plena Easy Line range with three mixer amplifiers. Available in 60 watt, 120 watt and 240 watt versions, the new Plena Economy units feature five inputs, including four mic/line inputs and one background music input, to provide a variety of easy solutions for broadcasting announcements and music.
The units are designed for out-of-the-box use and feature a highly user-friendly user interface, preferred-setting indicator pins and standard labels for the inputs. Moreover, a variety of back panel connection points allow for true application flexibility.
The mixer section has integrated equalisers for regulating the treble and bass inputs that are easily adjusted with a simple turn of a dial. In addition, a built-in limiter prevents overload of the amplifier output signal.
The system can automatically take priority over other calls and music during announcements. It also features a 100 volt call-only output which can be used as an additional third output for eg, volume override or as an extra zone for announcements only.
The functionality of the new Plena Economy mixer amplifiers can be extended by connecting Plena Solutions equipment such as a message manager, a DVD/CD-player and tuner, a timer unit, a feedback suppressor, as well as many other Bosch products.
These new extensions to the Plena Easy Line range mean that Bosch is able to offer high quality and easy-to-use public address solutions for applications such as retail shops, restaurants, small businesses, offices and schools. Although aimed at these cost-sensitive markets, the Plena Economy is nevertheless a professional system meeting the same high quality standards as Bosch's other public address and background music systems and comes with a three year Bosch warranty.
For more information contact Bosch Security Systems - South Africa & Sub-Sahara Africa, +27 (0)11 651 9818, elaine.ogorman@za.bosch.com, www.boschsecurity.co.za
Credit(s)
Further reading:
Introducing adaptive active adversary
Cyber Security Products
New adaptive active adversary protection; Linux malware protection enhancements; account health check capabilities; an integrated zero trust network access (ZTNA) agent for Windows and macOS devices; and improved frontline defences against advanced cyberthreats and streamline endpoint security management.
Read more...
---
Qognify VMS adds support for Pelco IP camera series
CCTV, Surveillance & Remote Monitoring Products
The latest IP camera series from Pelco can now be used with Qognify's advanced video solution for corporate and enterprise projects, increasing the overall number of camera models and third-party devices supported in Qognify VMS to more than 6 500.
Read more...
---
Off-grid power solution for residential estate
Editor's Choice Security Services & Risk Management Residential Estate (Industry) Products
Coral Beach Estate, an upmarket residential estate based in East London, has been struggling with load shedding and power outages due to South Africa's energy crisis, as well as the vandalism of its power infrastructure.
Read more...
---
SafeCity Guarding rolls out across 14 suburbs in Johannesburg
News Security Services & Risk Management
In a major drive to provide communities across Johannesburg with additional safety, Vumacam, in partnership with Fidelity ADT and other security providers across the region, rolled out the innovative SafeCity Guarding initiative in 14 suburbs.
Read more...
---
FleetDomain underpins Afrirent's value proposition
Logistics (Industry) Security Services & Risk Management
Afrirent, a 100% female black-owned fleet management company, has been relying on FleetDomain software for a number of years to help it deliver outstanding service to a growing number of clients.
Read more...
---
Choosing an inferior lithium battery can be detrimental and unsafe
Uniross Batteries Security Services & Risk Management Products
South Africans looking to mitigate the impact of load shedding by installing a solar system for their home must do so through an accredited installer or electrician to avoid insurance claims being rejected.
Read more...
---
Employee screening, a hiring necessity or an invasion of privacy?
Security Services & Risk Management
There is a fine line between checking a potential employee's qualifications and references, and investigating aspects of their lives that have nothing to do with their job application.
Read more...
---
VIVOTEK launches VAST Security Station
CCTV, Surveillance & Remote Monitoring Products
VIVOTEK officially launched its AI security system, VAST Security Station (VSS), in March, available to users in three flexible tiers: VSS Lite, VSS Standard, and VSS Professional.
Read more...
---
Converged infrastructure: Beyond the hype
IT infrastructure Products
Technical teams no longer have to sit and try to work through a magnum opus of manuals for every layer of computing, networking, and storage, largely thanks to the growing popularity and increasing success of converged infrastructure.
Read more...
---
Keeping students, staff and communities safe
Vumacam News CCTV, Surveillance & Remote Monitoring Security Services & Risk Management
South African schools are facing increasing security challenges, making effective surveillance systems more important than ever. To address this issue, Vumacam is offering advanced security solutions with security partners, aimed at keeping students, staff, and the community safe.
Read more...
---