printer friendly version
Expanded public address and voice alarm
September 2011 Security Services & Risk Management, Products & Solutions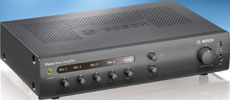 Bosch extends its public address and voice alarm system.
Bosch Security Systems has recently extended its Plena Easy Line range with three mixer amplifiers. Available in 60 watt, 120 watt and 240 watt versions, the new Plena Economy units feature five inputs, including four mic/line inputs and one background music input, to provide a variety of easy solutions for broadcasting announcements and music.
The units are designed for out-of-the-box use and feature a highly user-friendly user interface, preferred-setting indicator pins and standard labels for the inputs. Moreover, a variety of back panel connection points allow for true application flexibility.
The mixer section has integrated equalisers for regulating the treble and bass inputs that are easily adjusted with a simple turn of a dial. In addition, a built-in limiter prevents overload of the amplifier output signal.
The system can automatically take priority over other calls and music during announcements. It also features a 100 volt call-only output which can be used as an additional third output for eg, volume override or as an extra zone for announcements only.
The functionality of the new Plena Economy mixer amplifiers can be extended by connecting Plena Solutions equipment such as a message manager, a DVD/CD-player and tuner, a timer unit, a feedback suppressor, as well as many other Bosch products.
These new extensions to the Plena Easy Line range mean that Bosch is able to offer high quality and easy-to-use public address solutions for applications such as retail shops, restaurants, small businesses, offices and schools. Although aimed at these cost-sensitive markets, the Plena Economy is nevertheless a professional system meeting the same high quality standards as Bosch's other public address and background music systems and comes with a three year Bosch warranty.
For more information contact Bosch Security Systems - South Africa & Sub-Sahara Africa, +27 (0)11 651 9818, elaine.ogorman@za.bosch.com, www.boschsecurity.co.za
Credit(s)
Further reading:
Effective access control
Flow Systems Access Control & Identity Management Products & Solutions
Flow Systems has introduced its new Extra Heavy Duty Industrial Rising Vehicle Barrier, which provides a high level of protection. It is a traditional-looking control barrier with the benefits of high-level physical protection.
Read more...
---
Tech developments lead hologram growth in 2024
News & Events Security Services & Risk Management
Micro-lenses, micro-mirrors and plasmonics are among the rapidly-emerging optical devices that have evolved on the back of holographic and diffractive technologies, and are seen as part of the natural evolution of optical science by R&D teams.
Read more...
---
SafeQuip introduces lithium fire extinguishers
Fire & Safety Products & Solutions
With the use of Lithium batteries increasing in many types of portable devices and battery storage solutions, SafeQuip, in partnership with AVD Lithex, is introducing a fire extinguisher aimed at suppressing and extinguishing, and also preventing re-ignition of lithium fires.
Read more...
---
New generation of cyber-focused controllers
Gallagher News & Events Access Control & Identity Management Products & Solutions
The C7000 gives users an opportunity to leverage their hardware and firmware to build a platform designed to catapult their organisation into the future, with cybersecurity baked in from inception.
Read more...
---
Nextivity CEL-FI ROAM R41 boosts your cell signal
IoT & Automation Products & Solutions
Designed for cars, trucks, and boats, it is the industry's most powerful cellular coverage solution for on-the-go applications. It features the 4th generation IntelliBoost chip to deliver channelised coverage for mobile network operator (MNO) signals.
Read more...
---
Are you leaving money on the table?
Editor's Choice Security Services & Risk Management
How many customers have you helped since starting your business? Where does most of your new business come from? If the answer is not from your database's existing customers, you might have a problem.
Read more...
---
Olarm advances smart security with Texecom integration
Olarm News & Events Perimeter Security, Alarms & Intruder Detection Products & Solutions
Following Olarm's achievement as the OSPA 2023 winner of 'Outstanding Security Integrator', it has taken another significant step in its innovation journey with the announcement of its integration with Texecom Premier Elite.
Read more...
---
Bosch Building Technologies to focus on SI business
Bosch Building Technologies Editor's Choice
Bosch Building Technologies, which includes the security division, aims to "consolidate its capabilities to achieve a globally leading position in the systems integration market", a move that will include selling most of its product business.
Read more...
---
Enhanced security at Xanadu Nature Estate
Turnstar Systems Access Control & Identity Management Products & Solutions
Turnstar Systems recently installed two bicycle turnstiles at the 240-hectare Xanadu Nature Estate, set in the Magaliesberg, the perfect location for secure communal living catering to the lifestyle of residents.
Read more...
---
The business value of ChatGPT
Security Services & Risk Management Risk Management & Resilience
Transparency, policy and integrity. It is critical for organisations to have a line of sight into processes and procedures that clearly define employee use cases when it comes to ChatGPT, says Lizaan Lewis, Head of the Legal Department at Altron Systems Integration.
Read more...
---