printer friendly version
Networking and connectivity
September 2011
IT infrastructure
The network environment is changing and security installers need to take note.
AxizWorkgroup Networking business development manager, Louis Helmbold says that networks need to be dynamic, adaptable and able to handle a host of users in search of information and applications within a split second.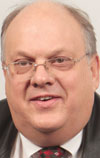 Louis Helmbold
"Connectivity revolves around speed and from an internal Ethernet connection, South Africa is on track. The problem, however, lies in the bottleneck that Internet connectivity creates as far as speed and the cost of it is concerned in South Africa and Africa at large," says Helmbold.
More providers are slowly emerging with international connection initiatives such as Seacom, providing the means for Africa to become connected to the world. "The process will however take time and the access and connectivity landscape is set to undergo a major facelift in the next year or two."
Developments in the networking and connectivity market have propelled network security into the spotlight in the last four to five years, with security being taken to the edge of the network. "The switch at the edge of the network assists to authenticate the user. The process previously occurred at the core of the network which posed its own risks, with research indicating that nearly 80% of breaches in security originate from an internal location," says Helmbold.
He says that user profiles are being created on the central server, which allows administrators to place boundaries on the profile. "You can quite literally shape the identity of the user granting them access from specific locations, placing limits on Internet usage and directing their access to the network. It provides better mobility and enhances security measures substantially, effectively stopping users with malicious intent dead in their tracks."
Another big development that has changed the network environment is the need for the users to be mobile, allowing remote access to the network. "Virtualisation is providing a means to save on costs and optimise usability. Previously the lifespan of a server was pegged at around 18 months to a year, but with optimisation and virtualisation a server lifespan can be extended for up to eight years."
Networks have effectively become more intelligent by allowing access to specific aspects of the network. Previously a large part of the network intelligence was located in the core and has now been moved out to the edge of the network. The fact that there is more intelligence at the edge of the network enables higher security, end point mobility and integrity.
"A virtual desktop grants the IT manager more power to specify and standardise which applications are used. The connection simply serves as a means of refreshing the screen, which allows traffic on the network to be minimised quite substantially," explains Helmbold.
End point integrity plays an important role, especially from a security point of view. "It is possible to run a small application on a user's laptop that is initiated from the network as soon as they log in. It pinpoints possible threats and the switch at the edge of the network will place the user on a quarantine network if a threat is detected. The quarantine network will contain the necessary software to neutralise the threat quickly and effectively without hampering the user," he explains.
It is however very important to design the network correctly from day one. "Choosing your vendor is also important as it will affect costs and performance. Some vendors will give a lifetime warranty and others will specify costs for software upgrades that can be quite substantial. Read the fine print and make sure it complies with the projected lifespan of your network and server from a cost perspective. Every client needs to be assessed in their own right and the network needs to be tailored to suit their specific needs," says Helmbold.
Technology is evolving at a rapid pace. "I foresee the networks and devices we use today changing and becoming smaller, more mobile with a small device such as an iPad acting as a means of connecting to remote workspaces."
Further reading:
A smart start for South African cities
Integrated Solutions IT infrastructure
Cameras and sensors can kick off smart city strategies in cities around South Africa, leading to not only improved security and safety, but also better service delivery in areas like electricity and water provisioning.
Read more...
---
The smart foundation of the digital business
IT infrastructure
Autonomous networks take an advanced step beyond merely automating components: they use artificial intelligence (AI), machine learning to self-configure, self-manage, and self-heal, ideally becoming better all the time.
Read more...
---
Converged infrastructure: Beyond the hype
IT infrastructure Products
Technical teams no longer have to sit and try to work through a magnum opus of manuals for every layer of computing, networking, and storage, largely thanks to the growing popularity and increasing success of converged infrastructure.
Read more...
---
Blurring the lines between data management and cybersecurity
Cyber Security IT infrastructure
In the past, data management and cybersecurity would fall under separate domains, but with more organisations making the shift to the cloud, data management and data protection have merged, essentially blurring the lines between the two.
Read more...
---
Top skills young people need to get ahead in the tech industry in 2023
IT infrastructure
The rise of remote working, e-commerce, artificial intelligence and cloud computing means that software developers are, and will continue to be, at the coalface of the fourth industrial revolution.
Read more...
---
Storage trends for 2023
IT infrastructure
As a leader in the enterprise storage market, Infinidat sees five storage trends unfolding in 2023. Looking ahead, 2023 is shaping up to be an exciting year in the storage market.
Read more...
---
Remote cloud management support for access points
TRENDnet IT infrastructure Products
TRENDnet Hive is an advanced network cloud management solution, designed to save users time and cost by simplifying and centralizing the management and monitoring of a network(s) and networked devices.
Read more...
---
How to avoid a wipeout
Arcserve Southern Africa IT infrastructure Security Services & Risk Management
Wiper malware aims to delete your data permanently and cause as much destruction as possible. Byron Horn-Botha, Business Unit Head at Arcserve Southern Africa offers readers three steps to protect the organisation from these malicious applications.
Read more...
---
Hardening physical security against cyberattacks
Genetec Editor's Choice Cyber Security IT infrastructure
As the world becomes increasingly interconnected through the move to cloud computing and Internet of Things (IoT) devices, cybercrime has risen steadily, along with tools to combat it. Geopolitical tensions have the potential to rapidly unleash devastating cyberattacks worldwide.
Read more...
---
Fast, reliable and secure cloud services
Technews Publishing Editor's Choice Cyber Security IT infrastructure
Security and speed are critical components of today's cloud-based services infrastructure. Cloudflare offers a range of services supporting these goals beyond what most people think it does.
Read more...
---