printer friendly version
PSIM: How it should work
September 2011
Perimeter Security, Alarms & Intruder Detection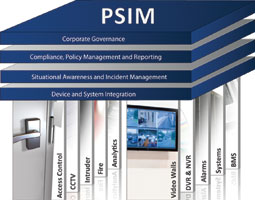 Bernard Senekal continues his series on physical security information management (PSIM).
In the last edition we looked at the state of integration in the physical electronic security industry and how absolutely segmented, not only various sub systems such as fire/CCTV/access etc, are in terms of the management of these through a singular and distributed interface, but also how various vendor products do not conform to specific standards that allow interoperability in order to add business value. The end user demand, however, has created a very specific call for integrated management platforms and this demand is serviced through PSIM solutions.
So how should these systems work and how does one truly realise the benefit of PSIM in an enterprise?
Truly open
PSIM solutions are at their very core, open. Firstly, this means that they can attach to any subsystem, providing that the subsystem can make data available on an IP network. Subsystems come in various forms and mostly every one available today has some form of publishable SDK (Software Development Kit), API (Advanced Programming Interface) or TPDE (Third Party Data Exposure) through the likes of common protocols such as MODBUS, BACNET, etc. So, as a rule, PSIM can connect to any subsystem.
Secondly, a true PSIM solution should facilitate a DDK (Driver Development Kit) that allows a programmer to add subsystems without the need for a dependency on the company who creates the PSIM software solution. A good example of this is a recent case where a South African-based access control system, fire system and surveillance system had to be added to a PSIM solution provided by a global company. Because the PSIM provider has a readily available DDK, the development of these systems could be done locally and without the need for a dependency on the PSIM software solution company's involvement. This is what I classify truly open.
Infinity + Features
Connection to subsystems is one of the key elements of a PSIM solution. However, it should also have the ability to truly offer customisable solutions once these subsystems are connected in order to cater for specific client requirements. It is no good that a PSIM solution is built on feature sets or a specific number of features.
If this was the case it would mean that somewhere along the line the end user is going to have a requirement that cannot be met with one of the many features available in the solution, meaning we are back where we started, only now we are dependent on the software company that supplies the integrated platform rather than the vendors we were dependant on before! No, true PSIM places the control of building features into the hands of the end user by allowing the end user to define exactly what they want out of the system and then having a toolkit that allows for these features to be built dynamically, not for pre created features to define what can and cannot be done. So, a true PSIM solution offers a toolkit that allows for infinity + features to be built, based on user requirement.
Consider the Balance
Other than the key criteria stated above one should also consider that true PSIM offers the following to the investor:
Global recognition
* Google it, study it and ensure that the PSIM solution you select has achieved major success on projects globally.
Total cost
* Ensure that cost for the solution you want to invest in is spelled out prior to purchase. Many integrated solutions offer a very attractive upfront cost for the software, but do not specify the exact services costs against the project plan that will be required in order to drive the project from the point of inception through to end user sign off and acceptance.
Scalability
* Good PSIM solutions can prove, in the field and in stress test environments that they are scalable in terms of the amounts of camera channels they can manage along with the quantity of alarms they are able to also.
* A good test for this is a simple question: 'Show me how you manage 100 000 cameras and 3 million alarms a day'. This is not uncommon when you start including large enterprise environments such as national key points, homeland security controls, large banking and financial estates, international mining estates etc.
Vendor independence
* As is typical with many growing industries, some of the larger vendors have recently purchased some of the up and coming independent PSIM providers. Why? Because they want to sell the vendor brands they manufacture, again trapping the end user.
* Be sure that the PSIM solution you select is a company that is absolutely vendor independent (not owned by a major hardware manufacturer).
Next month we will have a look at how PSIM solutions expand beyond just offering integration to physical electronic security devices.
For more information contact Sentronics, +27 (0)11 312 4147, michelle@sentronics.co.za, www.sentronics.co.za
Further reading:
June Coetzer joins Olarm as Partner Manager
News Perimeter Security, Alarms & Intruder Detection
Armed with a solid background in sales and business development, June Coetzer recently joined Olarm as an additional Partner Manager covering Gauteng and the surrounding areas.
Read more...
---
No missed alarms and reduced false alarms
Perimeter Security, Alarms & Intruder Detection Products
Remote sites have always been more vulnerable to opportunistic intrusion, but over the last two years in particular, sites such as solar farms or industrial parks have become more common targets for criminals.
Read more...
---
Olarm launches Olarm LINK
Olarm News Perimeter Security, Alarms & Intruder Detection Products
Olarm LINK extends the Olarm PRO communicators smart control with additional sensing and control, allowing multiple users to control a wide range of devices, including gate access, garage motors, boom gates, water pumps and more.
Read more...
---
Olarm launches the Olarm LINK
Olarm Perimeter Security, Alarms & Intruder Detection News Products
Building on the success of smart-enabling, monitoring and controlling alarm panels and electric fences, Olarm has a new solution for customers to integrate gates, garage doors, pumps and other electrical products with the Olarm APP and Olarm PRO communicator.
Read more...
---
Ultimate smart monitoring and reliability
Olarm Perimeter Security, Alarms & Intruder Detection News Products
Olarm is gearing up to unveil its latest product, the Olarm MAX, set to be available in late 2023, which will redefine smart monitoring by offering unparalleled connectivity options and functionality.
Read more...
---
New distributed acoustic sensors in EMEA
Perimeter Security, Alarms & Intruder Detection Products
OPTEX introduces new EchoPoint Distributed Acoustic Sensors (DAS) for advanced point location intrusion detection, using intelligent detection algorithms to provide point detection of +/- 6 m in a range of up to 100 km.
Read more...
---
Matt De Araujo joins Ajax Systems
Ajax Systems News Perimeter Security, Alarms & Intruder Detection
Matt De Araujo has joined Ajax Systems as Head of Sales in sub-Saharan Africa with a goal to strengthen the local team and exceed expectations.
Read more...
---
RDC expands its production capabilities
Radio Data Communications Perimeter Security, Alarms & Intruder Detection Products
Local electronics manufacturer, RDC, recently acquired a new SMT (surface mount technology) machine to boost its manufacturing output and meet the needs of its global customer base.
Read more...
---
Invisible connection and tangible protection via cloud
Dahua Technology South Africa Perimeter Security, Alarms & Intruder Detection CCTV, Surveillance & Remote Monitoring Products
Dahua Technology has launched its AirShield security solution that uses advanced, stable and reliable RF communication technology and cloud services, integrating alarm hubs, various detectors and accessories, with several software apps.
Read more...
---
Protecting perimeters and open spaces
XtraVision Perimeter Security, Alarms & Intruder Detection
XtraVision provides some insight into the use of drone technology with the SAMM Fotas fibre detection systems to secure perimeters and other remote assets and locations.
Read more...
---