printer friendly version
PSIM: How it should work
September 2011
Perimeter Security, Alarms & Intruder Detection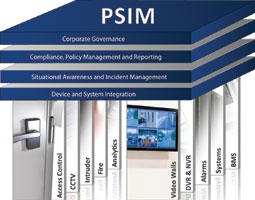 Bernard Senekal continues his series on physical security information management (PSIM).
In the last edition we looked at the state of integration in the physical electronic security industry and how absolutely segmented, not only various sub systems such as fire/CCTV/access etc, are in terms of the management of these through a singular and distributed interface, but also how various vendor products do not conform to specific standards that allow interoperability in order to add business value. The end user demand, however, has created a very specific call for integrated management platforms and this demand is serviced through PSIM solutions.
So how should these systems work and how does one truly realise the benefit of PSIM in an enterprise?
Truly open
PSIM solutions are at their very core, open. Firstly, this means that they can attach to any subsystem, providing that the subsystem can make data available on an IP network. Subsystems come in various forms and mostly every one available today has some form of publishable SDK (Software Development Kit), API (Advanced Programming Interface) or TPDE (Third Party Data Exposure) through the likes of common protocols such as MODBUS, BACNET, etc. So, as a rule, PSIM can connect to any subsystem.
Secondly, a true PSIM solution should facilitate a DDK (Driver Development Kit) that allows a programmer to add subsystems without the need for a dependency on the company who creates the PSIM software solution. A good example of this is a recent case where a South African-based access control system, fire system and surveillance system had to be added to a PSIM solution provided by a global company. Because the PSIM provider has a readily available DDK, the development of these systems could be done locally and without the need for a dependency on the PSIM software solution company's involvement. This is what I classify truly open.
Infinity + Features
Connection to subsystems is one of the key elements of a PSIM solution. However, it should also have the ability to truly offer customisable solutions once these subsystems are connected in order to cater for specific client requirements. It is no good that a PSIM solution is built on feature sets or a specific number of features.
If this was the case it would mean that somewhere along the line the end user is going to have a requirement that cannot be met with one of the many features available in the solution, meaning we are back where we started, only now we are dependent on the software company that supplies the integrated platform rather than the vendors we were dependant on before! No, true PSIM places the control of building features into the hands of the end user by allowing the end user to define exactly what they want out of the system and then having a toolkit that allows for these features to be built dynamically, not for pre created features to define what can and cannot be done. So, a true PSIM solution offers a toolkit that allows for infinity + features to be built, based on user requirement.
Consider the Balance
Other than the key criteria stated above one should also consider that true PSIM offers the following to the investor:
Global recognition
* Google it, study it and ensure that the PSIM solution you select has achieved major success on projects globally.
Total cost
* Ensure that cost for the solution you want to invest in is spelled out prior to purchase. Many integrated solutions offer a very attractive upfront cost for the software, but do not specify the exact services costs against the project plan that will be required in order to drive the project from the point of inception through to end user sign off and acceptance.
Scalability
* Good PSIM solutions can prove, in the field and in stress test environments that they are scalable in terms of the amounts of camera channels they can manage along with the quantity of alarms they are able to also.
* A good test for this is a simple question: 'Show me how you manage 100 000 cameras and 3 million alarms a day'. This is not uncommon when you start including large enterprise environments such as national key points, homeland security controls, large banking and financial estates, international mining estates etc.
Vendor independence
* As is typical with many growing industries, some of the larger vendors have recently purchased some of the up and coming independent PSIM providers. Why? Because they want to sell the vendor brands they manufacture, again trapping the end user.
* Be sure that the PSIM solution you select is a company that is absolutely vendor independent (not owned by a major hardware manufacturer).
Next month we will have a look at how PSIM solutions expand beyond just offering integration to physical electronic security devices.
For more information contact Sentronics, +27 (0)11 312 4147, [email protected], www.sentronics.co.za
Further reading:
Olarm launches PRO 4G communicator
Olarm News Perimeter Security, Alarms & Intruder Detection Products
Olarm has announced an additional 4G/LTE version of its Olarm PRO smart communicator. It is aimed at areas suffering from poor connectivity by providing support for 4G, 2G and Wi-Fi networks.
Read more...
---
Jaco van Wyk joins Olarm in Johannesburg
Olarm News Perimeter Security, Alarms & Intruder Detection
Jaco van Wyk has joined Olarm as its partner manager in Gauteng; he has strong technical security and client service experience in the South African market.
Read more...
---
GJD launches new range of white-light floodlights
Perimeter Security, Alarms & Intruder Detection Products
GJD has announced the launch of its new range of floodlights, combining high-quality LED technology with a modern and aesthetically pleasing design suitable for all outdoor lighting applications.
Read more...
---
Fotech and C3SS launch technology partnership
C3 Shared Services News Perimeter Security, Alarms & Intruder Detection
Fotech has signed a non-exclusive MOU with C3SS, a South Africa-based perimeter and infrastructure security company, to target specific African markets.
Read more...
---
FlipX: new indoor detectors
Perimeter Security, Alarms & Intruder Detection Products
Installers and end-users in EMEA can now take advantage of FlipX, a new range of flexible indoor sensors from OPTEX that feature a bespoke pyroelectric sensor for increased performance.
Read more...
---
JVA Perimeter Patrol 6 monitoring software
Stafix Perimeter Security, Alarms & Intruder Detection
Stafix Electric Fence and Security Centres now provides the latest JVA Perimeter Patrol 6 package for standalone and piggyback electric security fence solutions.
Read more...
---
360° perimeter intruder detection
Technews Publishing Perimeter Security, Alarms & Intruder Detection Residential Estate (Industry) Products
Radar is becoming a more common solution for estates with large open areas and long perimeters to protect, as intruders can be automatically detected and tracked.
Read more...
---
Gallagher launches Tech Talk
Gallagher News Access Control & Identity Management Perimeter Security, Alarms & Intruder Detection
Gallagher has announced the launch of its new Security in Focus podcast series called Tech Talk, hosted by chief technology officer Steve Bell.
Read more...
---
Preventing theft wirelessly
Elvey Security Technologies Perimeter Security, Alarms & Intruder Detection
One hundred MotionCam Outdoor cameras, four HUB2 Plus units and the Desktop Pro 3.0 from Ajax protect a large outdoor environment from theft and vandalism.
Read more...
---
Ajax solves security communication range issues
Elvey Security Technologies Perimeter Security, Alarms & Intruder Detection
A large casino situated in Polokwane required an upgrade of its security system to cater to the needs of the multi-storey building, including reliable wireless communications.
Read more...
---