printer friendly version
PSIM: How it should work
September 2011
Perimeter Security, Alarms & Intruder Detection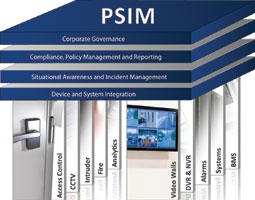 Bernard Senekal continues his series on physical security information management (PSIM).
In the last edition we looked at the state of integration in the physical electronic security industry and how absolutely segmented, not only various sub systems such as fire/CCTV/access etc, are in terms of the management of these through a singular and distributed interface, but also how various vendor products do not conform to specific standards that allow interoperability in order to add business value. The end user demand, however, has created a very specific call for integrated management platforms and this demand is serviced through PSIM solutions.
So how should these systems work and how does one truly realise the benefit of PSIM in an enterprise?
Truly open
PSIM solutions are at their very core, open. Firstly, this means that they can attach to any subsystem, providing that the subsystem can make data available on an IP network. Subsystems come in various forms and mostly every one available today has some form of publishable SDK (Software Development Kit), API (Advanced Programming Interface) or TPDE (Third Party Data Exposure) through the likes of common protocols such as MODBUS, BACNET, etc. So, as a rule, PSIM can connect to any subsystem.
Secondly, a true PSIM solution should facilitate a DDK (Driver Development Kit) that allows a programmer to add subsystems without the need for a dependency on the company who creates the PSIM software solution. A good example of this is a recent case where a South African-based access control system, fire system and surveillance system had to be added to a PSIM solution provided by a global company. Because the PSIM provider has a readily available DDK, the development of these systems could be done locally and without the need for a dependency on the PSIM software solution company's involvement. This is what I classify truly open.
Infinity + Features
Connection to subsystems is one of the key elements of a PSIM solution. However, it should also have the ability to truly offer customisable solutions once these subsystems are connected in order to cater for specific client requirements. It is no good that a PSIM solution is built on feature sets or a specific number of features.
If this was the case it would mean that somewhere along the line the end user is going to have a requirement that cannot be met with one of the many features available in the solution, meaning we are back where we started, only now we are dependent on the software company that supplies the integrated platform rather than the vendors we were dependant on before! No, true PSIM places the control of building features into the hands of the end user by allowing the end user to define exactly what they want out of the system and then having a toolkit that allows for these features to be built dynamically, not for pre created features to define what can and cannot be done. So, a true PSIM solution offers a toolkit that allows for infinity + features to be built, based on user requirement.
Consider the Balance
Other than the key criteria stated above one should also consider that true PSIM offers the following to the investor:
Global recognition
* Google it, study it and ensure that the PSIM solution you select has achieved major success on projects globally.
Total cost
* Ensure that cost for the solution you want to invest in is spelled out prior to purchase. Many integrated solutions offer a very attractive upfront cost for the software, but do not specify the exact services costs against the project plan that will be required in order to drive the project from the point of inception through to end user sign off and acceptance.
Scalability
* Good PSIM solutions can prove, in the field and in stress test environments that they are scalable in terms of the amounts of camera channels they can manage along with the quantity of alarms they are able to also.
* A good test for this is a simple question: 'Show me how you manage 100 000 cameras and 3 million alarms a day'. This is not uncommon when you start including large enterprise environments such as national key points, homeland security controls, large banking and financial estates, international mining estates etc.
Vendor independence
* As is typical with many growing industries, some of the larger vendors have recently purchased some of the up and coming independent PSIM providers. Why? Because they want to sell the vendor brands they manufacture, again trapping the end user.
* Be sure that the PSIM solution you select is a company that is absolutely vendor independent (not owned by a major hardware manufacturer).
Next month we will have a look at how PSIM solutions expand beyond just offering integration to physical electronic security devices.
For more information contact Sentronics, +27 (0)11 312 4147, michelle@sentronics.co.za, www.sentronics.co.za
Further reading:
GJD expands its Clarius Illuminator range
Perimeter Security, Alarms & Intruder Detection
GJD announced the launch of the new Clarius Medium Hybrid IP IR/WL LED illuminator. The Clarius medium Hybrid IP combines advanced Infrared and White-Light LED technology, in one unit for increased functionality and ease of installation.
Read more...
---
What to expect in the physical security world in 2023
BoomGate Systems Perimeter Security, Alarms & Intruder Detection
The unabated increase in crime and experiences from the 2021 riots that destroyed so much value and negatively impacted so many businesses and lives in South Africa means improved physical security measures are the order of the day in 2023.
Read more...
---
Air monitoring with LifeQuality
Ajax Systems Perimeter Security, Alarms & Intruder Detection Products
Ajax Systems has launched LifeQuality, a smart air quality monitor that provides users with data on carbon dioxide pollution, temperature and humidity levels, and helps automate appliances according to these indicators.
Read more...
---
Texecom launches Impaq S G3 shock sensor
Perimeter Security, Alarms & Intruder Detection Products
With full third-party EN Grade 3 compliance, the Impaq S G3 also features the aesthetics demanded for high-end residential and commercial properties while also being extremely easy to install.
Read more...
---
The technology behind Distributed Acoustic Sensing
XtraVision Perimeter Security, Alarms & Intruder Detection Access Control & Identity Management Products
FOTAS is a fibre optic based Distributed Acoustic Sensor; the solution is a combination of optics, electronics, and computer science, which together make this device as effective as it is.
Read more...
---
Stafix introduces the JVA Cloud Router app
Stafix Perimeter Security, Alarms & Intruder Detection Products
The JVA Cloud Router app allows you to arm and disarm energisers, view your electric fence voltages, open and close relays through any Android or iOS device.
Read more...
---
CIAS chosen for complex perimeters
XtraVision Perimeter Security, Alarms & Intruder Detection
The challenge was to guarantee the ROI (return on investment) based on the technological amortization of at least 10 years of service, right from the design phase.
Read more...
---
Texecom launches the Midnight Black Collection
Technews Publishing Perimeter Security, Alarms & Intruder Detection Products
Working in harmony with darker environments, the Midnight Black Collection has been created for businesses and sites that require or prefer a security solution which offers discreet protection that compliments their surroundings.
Read more...
---
XtraVision Facilitates Integration
XtraVision Perimeter Security, Alarms & Intruder Detection
XtraVision, a global distributor of SAMM FOTAS DAS fibre intrusion detection technology and ARTECO Video Even Management Software, in the South African, African, and South American regions, has recently facilitated the integration between the two manufacturers.
Read more...
---
Olarm product highlights for 2022
Olarm Perimeter Security, Alarms & Intruder Detection Products
Olarm rapidly expanded its ecosystem in 2022 with several new products, the launch of its training academy, and a presence in Gauteng.
Read more...
---