printer friendly version
Video security: a driving force
September 2011
CCTV, Surveillance & Remote Monitoring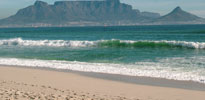 Cape Town reduces traffic congestion with Endura and Sarix.
Bound by the Atlantic Ocean to the west and the Indian Ocean to the east, Cape Town is hailed as one of the most beautiful cities in the world. The city hosted the 2010 FIFA World Cup in June and July 2010 and established the Goodwood Transport Management Centre (TMC)) to manage the influx of traffic during the event and on an ongoing basis.
To do so, existing systems were integrated with a new Pelco Endura Network Video Management System and Sarix cameras that are monitored from the TMC using Pelco workstations. The project was jointly funded by the city and the national government through 2010 FIFA World Cup grants.
The TMC is the first integrated public transport, traffic and security management centre in South Africa, and one of the first of its kind in the world. It is the result of a partnership between the City of Cape Town, the Western Cape Provincial Government and the South African National Roads Agency, which came together with the goals of improving road safety and incident response, reducing congestion and offering live traffic updates to motorists.
Once construction of the TMC building was completed in November 2009, the city employed the help of Bona Electronics Solutions, a company within the Basix Group, to implement its CCTV Freeway Management System. Bona sales manager, Rick de Araujo worked with Pelco supplier, Sentronics, to design a solution that would fully meet the city's needs.
"The purpose of the system is to facilitate the free-flow of traffic," Araujo said. "Operators sit at workstations in front of the video wall and they assess when there is a backup of traffic and then display messages (on Variable Message Signs) to redirect it."
Operators assess traffic with the Endura system using video relayed from nearly 200 high-definition, megapixel Sarix cameras located along the N1, N2 and R300 freeways. Video from existing systems used by the metro police and Integrated Rapid Transit bus system is also monitored at the TMC, making the total number of cameras monitored there more than 600.
Shawn Michaels, national sales manager for Sentronics, said the Endura system and Sarix HD cameras were essential to overcoming viewing challenges the city had experienced in the past using analogue systems. "The installation of the Sarix HD cameras resulted in higher-quality video and improved colour reproduction," he said. "Making identification of vehicles, scenes and objects of interest very easy."
The TMC opened in May 2010, just weeks before World Cup events began. "Joint operations in this high-tech, designed-for-purpose facility will result in improved incident and information management and will ensure effective and efficient traffic and public transport operations in the city of Cape Town," said Cape Town Mayor, Dan Plato in a statement.
Since then, the TMC and Pelco video security system have been credited with helping to ensure the World Cup events ran smoothly and reducing overall traffic congestion that once plagued South African urban freeways.
*Article supplied by Pelco by Schneider.
For more information contact Pelco, +27 (0)12 809 3493, barry.kasselman@schneider-electric.com, www.pelco.com
Credit(s)
Further reading:
Qognify VMS adds support for Pelco IP camera series
CCTV, Surveillance & Remote Monitoring Products
The latest IP camera series from Pelco can now be used with Qognify's advanced video solution for corporate and enterprise projects, increasing the overall number of camera models and third-party devices supported in Qognify VMS to more than 6 500.
Read more...
---
VIVOTEK launches VAST Security Station
CCTV, Surveillance & Remote Monitoring Products
VIVOTEK officially launched its AI security system, VAST Security Station (VSS), in March, available to users in three flexible tiers: VSS Lite, VSS Standard, and VSS Professional.
Read more...
---
Keeping students, staff and communities safe
Vumacam News CCTV, Surveillance & Remote Monitoring Security Services & Risk Management
South African schools are facing increasing security challenges, making effective surveillance systems more important than ever. To address this issue, Vumacam is offering advanced security solutions with security partners, aimed at keeping students, staff, and the community safe.
Read more...
---
Helping to care for zoo animals
Hikvision South Africa CCTV, Surveillance & Remote Monitoring
Zoo keeps an eye on the safety of animals and visitors through the installation of Hikvision 4 MP turret, 12 MP Fisheye cameras, as well as PTZs, NVRs and central management system.
Read more...
---
Boosting digital-intelligent transformation and AI applications
Dahua Technology South Africa CCTV, Surveillance & Remote Monitoring Products
2022 has been a year full of development and innovation for Dahua. The company has launched various upgrades to its existing product portfolio as well as an artillery of new products and solutions that address specific needs/problems in society.
Read more...
---
Arcules and IMMIX announce integration
News CCTV, Surveillance & Remote Monitoring Products
Arcules has announced that its integration with Immix Central Station and Guard Force is available. The integration provides Central Station and Guard Force users a way to manage, verify, and respond to security events, while using Arcules-managed video feeds.
Read more...
---
Developing an effective CCTV control room culture
Leaderware Editor's Choice CCTV, Surveillance & Remote Monitoring Training & Education
Organisational culture in organisations can be seen as the set of values, practices, focus, standards and behaviours, and ways of interacting with others that are accepted and subscribed to by the people who work there.
Read more...
---
Eagle Eye Networks releases 2023 Video Surveillance Trends Report
Eagle Eye Networks News CCTV, Surveillance & Remote Monitoring
Eagle Eye Networks has released the 2023 Trends in Video Surveillance ebook, identifying five trends that will have the largest impact on businesses around the globe in 2023.
Read more...
---
Stainless steel 8 MP dome
Axis Communications SA Products CCTV, Surveillance & Remote Monitoring
Enclosed in marine-grade stainless steel (SS 316L) and DNV-certified, the AXIS Q3538-SLVE can withstand the corrosive effects of seawater and cleaning chemicals.
Read more...
---
Enhanced image clarity and enriched AI functions
Dahua Technology South Africa CCTV, Surveillance & Remote Monitoring Products
The IPC WizMind S series is equipped with multiple intelligent functions, offers adaptability, and comes in plastic-free packaging, enabling better image performance, promoting environmental sustainability, and providing global clients with smarter vision with a stronger surveillance shield.
Read more...
---