printer friendly version
Video security: a driving force
September 2011
CCTV, Surveillance & Remote Monitoring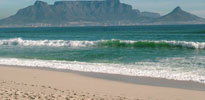 Cape Town reduces traffic congestion with Endura and Sarix.
Bound by the Atlantic Ocean to the west and the Indian Ocean to the east, Cape Town is hailed as one of the most beautiful cities in the world. The city hosted the 2010 FIFA World Cup in June and July 2010 and established the Goodwood Transport Management Centre (TMC)) to manage the influx of traffic during the event and on an ongoing basis.
To do so, existing systems were integrated with a new Pelco Endura Network Video Management System and Sarix cameras that are monitored from the TMC using Pelco workstations. The project was jointly funded by the city and the national government through 2010 FIFA World Cup grants.
The TMC is the first integrated public transport, traffic and security management centre in South Africa, and one of the first of its kind in the world. It is the result of a partnership between the City of Cape Town, the Western Cape Provincial Government and the South African National Roads Agency, which came together with the goals of improving road safety and incident response, reducing congestion and offering live traffic updates to motorists.
Once construction of the TMC building was completed in November 2009, the city employed the help of Bona Electronics Solutions, a company within the Basix Group, to implement its CCTV Freeway Management System. Bona sales manager, Rick de Araujo worked with Pelco supplier, Sentronics, to design a solution that would fully meet the city's needs.
"The purpose of the system is to facilitate the free-flow of traffic," Araujo said. "Operators sit at workstations in front of the video wall and they assess when there is a backup of traffic and then display messages (on Variable Message Signs) to redirect it."
Operators assess traffic with the Endura system using video relayed from nearly 200 high-definition, megapixel Sarix cameras located along the N1, N2 and R300 freeways. Video from existing systems used by the metro police and Integrated Rapid Transit bus system is also monitored at the TMC, making the total number of cameras monitored there more than 600.
Shawn Michaels, national sales manager for Sentronics, said the Endura system and Sarix HD cameras were essential to overcoming viewing challenges the city had experienced in the past using analogue systems. "The installation of the Sarix HD cameras resulted in higher-quality video and improved colour reproduction," he said. "Making identification of vehicles, scenes and objects of interest very easy."
The TMC opened in May 2010, just weeks before World Cup events began. "Joint operations in this high-tech, designed-for-purpose facility will result in improved incident and information management and will ensure effective and efficient traffic and public transport operations in the city of Cape Town," said Cape Town Mayor, Dan Plato in a statement.
Since then, the TMC and Pelco video security system have been credited with helping to ensure the World Cup events ran smoothly and reducing overall traffic congestion that once plagued South African urban freeways.
*Article supplied by Pelco by Schneider.
For more information contact Pelco, +27 (0)12 809 3493, [email protected], www.pelco.com
Credit(s)
Further reading:
Turkish university installs IDIS surveillance
CCTV, Surveillance & Remote Monitoring Products
IDIS video streamlines complex surveillance systems for learning institution, upgrading a 350-camera system with 24/7 control room monitoring to transform security for Social Sciences University of Ankara (ASBU).
Read more...
---
Brighter, greener, and smarter
Dahua Technology South Africa Products CCTV, Surveillance & Remote Monitoring
Dahua Technology released its new Dahua CH II Series Indoor Fine Pixel Pitch LED display, providing visual clarity and promoting energy efficiency and sustainability.
Read more...
---
Smart water management
Axis Communications SA CCTV, Surveillance & Remote Monitoring Integrated Solutions
South Africa is currently facing a water crisis, with scarcity and inefficient water management posing significant challenges to sustainable, consistent access to water. Smart technology and powerful partnerships may offer a proactive solution to SA's water crisis.
Read more...
---
Helping retailers optimise monitoring and security
Guardian Eye Retail (Industry) CCTV, Surveillance & Remote Monitoring
From a smart retail perspective, it is crucial to understand that monitoring stock and other assets through camera surveillance and a variety of Internet of Things (IoT) sensors stretches further than the stores themselves.
Read more...
---
Empowering Istanbul's public transportation
Dahua Technology South Africa CCTV, Surveillance & Remote Monitoring Integrated Solutions
Dahua's intelligent transportation solution, using technologies like DSM and AI-based passenger flow counting, has facilitated an intelligent system upgrade for nearly 6 400 minibuses and electric buses in Istanbul.
Read more...
---
Smart manufacturing redefined
Hikvision South Africa CCTV, Surveillance & Remote Monitoring Industrial (Industry)
AI and intuitive visualisation technology allows managers to monitor manufacturing sites, production, and operational processes, and to respond in real time in the event of an issue – helping to drive efficiency and productivity.
Read more...
---
AI is getting smarter, and critical infrastructure is set to benefit
Axis Communications SA CCTV, Surveillance & Remote Monitoring
With technology advancing at an astonishing pace, AI has emerged as a defining trend in today's business arena. Enterprises across all sectors are prioritising this technology, embracing its transformative potential to drive change and growth.
Read more...
---
Collaboration delivers integrated and holistic security
Guardian Eye CCTV, Surveillance & Remote Monitoring News Integrated Solutions
Guardian Eye and Lytehouse have partnered to integrate their speciality solutions and provide a holistic security offering that overcomes the fragmentation of security systems and services.
Read more...
---
Manage security systems remotely
Hikvision South Africa CCTV, Surveillance & Remote Monitoring IT infrastructure Products
Hikvision launched a new generation of smart managed switches that, in conjunction with the Hik-Partner Pro mobile app, enable installers to remotely deploy and configure security systems with comprehensive operation and maintenance capabilities.
Read more...
---
Synology enhances functions for advanced surveillance integration
Technews Publishing CCTV, Surveillance & Remote Monitoring IT infrastructure Products
With the capability to function as both an API client and server, Surveillance Station offers a versatile platform for integration, whether it's embedding video streams into other platforms or overlaying external data onto recorded video.
Read more...
---