printer friendly version
Security benefits tourism in Oman
September 2011
CCTV, Surveillance & Remote Monitoring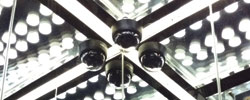 Oman is scenically located between the Gulf of Oman and the Arabian Sea; this nation is undergoing a transformation from an economy based on petroleum and natural gas exports into a more diverse model. Specifically, Oman is betting on tourism to help replace these two long-standing economic pillars. But, in order to capitalise on this lucrative potential, a new breed of international customer must be specifically catered for.
Security as a business model
Customer demands now transcend the traditional reliance on price and luxury. In many cases, the modern-day tourist in Oman considers the level and quality of security systems to be nearly as important as the size of their rooms. Additionally, recent governmental legislation has required public facilities such as hotels to maintain CCTV systems and recording devices as part of an overall pre-emptive strategy to discourage potential crime.
Sachin Srinivasan, senior sales manager at OHI Electronics (the firm that installed the Al Falaj Hotel's security system) relates, "Overall, Oman is experiencing a boom period in security industry growth."
In order to position the Al Falaj Hotel on the leading edge of this trend in customer security awareness, Srinivasan turned to Hikvision for solutions.
The internal solution
The most widely employed Hikvision product in the hotel is the DS-2CC591P-A vari-focal dome camera, placed throughout the interior of the facility. Srinivasan chose this specific camera because of its "ability to see very clearly in environments where lighting levels not only vary from one corner to another, but also change throughout the day."
The specific challenge of having sharp resolution in low-light requirements was the impetus for selection of the DS-2CC591P-A. Srinivasan explains, "With this camera, we are able to identify any person in question, regardless of how dark the particular area might be inside the Al Falaj. For a hotel, this is vital."
Srinivasan also explained the additional importance of the DS-2CC591P-A's unobtrusive appearance: "We can place this camera in virtually any interior area without it sticking out or attracting our unwanted attention. As a hotel, it is very important – from a customer satisfaction standpoint – that we promote a pleasant atmosphere; so the quality of a camera must also be matched by its unobtrusive housing."
The external solution
Obviously, security needs begin before a customer actually steps through the front door. To monitor who is coming and going through the main entrance, Srinivasan chose the DS-2AF1-514 analogue speed dome for its 360° pan range; as well as its 360° coverage of front of the lobby. Srinivasan noted the range of the camera, along with its "ability for tremendous resolution to identify customer's faces, licence plate numbers, and the ability to get a clear image from up to 35 metres to 40 metres out."
Importantly, the issue of quality and durability was a large reason this particular camera was acquired. "The reality is Oman presents very difficult challenges to any structure left outside, let alone electronic security equipment. We needed something that could withstand the huge variance in temperature, especially the heat, and other potentially destructive weather like sandstorms."
For specific and more security-sensitive areas, the Al Falaj Hotel uses the DS-2CC193P-A High Definition Box Camera. One such example is at the hotel's petroleum station where it has deployed this Hikvision HD Box Camera in order to make sure it is always able to immediately, and positively, identify licence plate numbers at any time of the day or night; as well as the driver or passenger's face.
The control room
Each of these components is electronically tied into the main security room located inside the hotel. This centralisation allows security personnel to immediately access any of the above-mentioned devices and respond to any potential situation.
The Al Falaj Hotel uses the DS-8116HDI-S standalone DVR units to ensure enough space is always available for the hotel's sizeable recording needs. Additionally, each unit is connected to its own monitor and keyboard, thereby allowing separate security personnel to continually observe and respond in an independent, and efficient, manner. Additionally, these DVRs are connected to a remote network that allows additional monitoring possibilities from the security manager's office, the general manager's office and the administrative manager's office.
While Srinivasan stresses that the current analogue security solution used at the Al Falaj Hotel is more than adequate to achieve the challenges presented; he says the future of this hotel's security would be in HD.
For more information contact Hikvision, +86 571 8700 6060, wulin@hikvision.com, www.hikvision.com
Credit(s)
Further reading:
Qognify VMS adds support for Pelco IP camera series
CCTV, Surveillance & Remote Monitoring Products
The latest IP camera series from Pelco can now be used with Qognify's advanced video solution for corporate and enterprise projects, increasing the overall number of camera models and third-party devices supported in Qognify VMS to more than 6 500.
Read more...
---
VIVOTEK launches VAST Security Station
CCTV, Surveillance & Remote Monitoring Products
VIVOTEK officially launched its AI security system, VAST Security Station (VSS), in March, available to users in three flexible tiers: VSS Lite, VSS Standard, and VSS Professional.
Read more...
---
Keeping students, staff and communities safe
Vumacam News CCTV, Surveillance & Remote Monitoring Security Services & Risk Management
South African schools are facing increasing security challenges, making effective surveillance systems more important than ever. To address this issue, Vumacam is offering advanced security solutions with security partners, aimed at keeping students, staff, and the community safe.
Read more...
---
Helping to care for zoo animals
Hikvision South Africa CCTV, Surveillance & Remote Monitoring
Zoo keeps an eye on the safety of animals and visitors through the installation of Hikvision 4 MP turret, 12 MP Fisheye cameras, as well as PTZs, NVRs and central management system.
Read more...
---
Boosting digital-intelligent transformation and AI applications
Dahua Technology South Africa CCTV, Surveillance & Remote Monitoring Products
2022 has been a year full of development and innovation for Dahua. The company has launched various upgrades to its existing product portfolio as well as an artillery of new products and solutions that address specific needs/problems in society.
Read more...
---
Arcules and IMMIX announce integration
News CCTV, Surveillance & Remote Monitoring Products
Arcules has announced that its integration with Immix Central Station and Guard Force is available. The integration provides Central Station and Guard Force users a way to manage, verify, and respond to security events, while using Arcules-managed video feeds.
Read more...
---
Top seven trends for the security industry
Hikvision South Africa Editor's Choice
Expect security systems to become even more deeply integrated and comprehensive, expanding with capabilities that are now shouldering tasks that are more intelligent, to improve efficiency in security as well as other operational functions.
Read more...
---
Developing an effective CCTV control room culture
Leaderware Editor's Choice CCTV, Surveillance & Remote Monitoring Training & Education
Organisational culture in organisations can be seen as the set of values, practices, focus, standards and behaviours, and ways of interacting with others that are accepted and subscribed to by the people who work there.
Read more...
---
Eagle Eye Networks releases 2023 Video Surveillance Trends Report
Eagle Eye Networks News CCTV, Surveillance & Remote Monitoring
Eagle Eye Networks has released the 2023 Trends in Video Surveillance ebook, identifying five trends that will have the largest impact on businesses around the globe in 2023.
Read more...
---
Stainless steel 8 MP dome
Axis Communications SA Products CCTV, Surveillance & Remote Monitoring
Enclosed in marine-grade stainless steel (SS 316L) and DNV-certified, the AXIS Q3538-SLVE can withstand the corrosive effects of seawater and cleaning chemicals.
Read more...
---