printer friendly version
Banking on Bank
September 2011 CCTV, Surveillance & Remote Monitoring, Financial (Industry)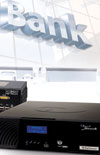 The Dallmeier recorder series Bank receives DGUV Test certificate for use with IP and HD cameras.
Especially for universal banks and savings banks reliable video surveillance systems are indispensable these days. Robberies, burglaries, cheque card fraud at ATMs or vandalism require swift reactions. Very often, video recordings are the only way to get on to the perpetrators. With the recorder range 'Bank' Dallmeier has developed a series of digital recording systems whose certifications and specific system parameters make them ideal for bank applications.
The VideoNetBox Bank as well as the DMS recorders of the Bank series are also certified for use with IP cameras according to DGUV Test. It is therefore now possible to also use HD cameras in banks. "HD cameras provide better image quality, which is especially advantageous with overview cameras. The circumstances of a robbery can thus be reconstructed more clearly and staff can be better protected," explains bank expert Armin Biersack, manager Application Engineering at Dallmeier. "Additionally, if HD cameras are used, it is possible to reduce the number of cameras necessary, which in turn means that infrastructure requirements are lower."
The certificate 'DGUV Test' (formerly UVV-Kassen) guarantees a high-quality standard of digital recording systems for the use in banks and financial institutions. Various requirements have to be met for the DGUV Test certification, eg, pictures cannot be deleted or overwritten unintentionally, it has to be guaranteed that nobody unauthorised can view or change pictures and the system has to provide the opportunity to export pictures to ensure that after a hold up the police are able to save pictures immediately and without any loss.
A highlight of the Bank recorders, which has proven itself in practice many times, is the ATM activity survey where the recorder regularly checks if transactions take place at the ATM. The survey intervals can be set individually. If no transactions take place during the defined interval the recorder issues a warning. This is done so as to prevent an accidental recording failure and to make sure that it does not go unnoticed if it happens. Such failures frequently occur due to changes of ATM protocols. The ATM activity survey ensures that, in case of need, no important data is missing.
For more information contact Dallmeier Electronic, +49 (0) 941 8700 0, [email protected], www.dallmeier.com
Further reading:
Antarctic surveillance
Dahua Technology South Africa CCTV, Surveillance & Remote Monitoring
Dahua Technology donated 15 security cameras to different scientific bases in the Argentine region of Antarctica; the cameras were especially developed to handle the harsh climate and extreme weather conditions in the area.
Read more...
---
Deep learning engine set to supercharge end-to-end solutions
CCTV, Surveillance & Remote Monitoring
IDIS, manufacturer of South Korean-made video technology, will be displaying an exciting line-up of end-to-end video solutions that include the latest advances in AI-powered video analytics for businesses of any size, at this year's Intersec.
Read more...
---
Realistic image quality even in dark environments
Dahua Technology South Africa CCTV, Surveillance & Remote Monitoring
The 4K video surveillance market size is expected to grow at 9 percent CAGR (compound annual growth rate), which is primarily driven by the increasing demand for public safety and security services.
Read more...
---
Cloud-based forensic video searching
CCTV, Surveillance & Remote Monitoring
Arcules introduces Forensic Video Search to empower rapid event identification within its video cloud service, providing a critical tool to help businesses identify specific objects or events in seconds.
Read more...
---
Minimising fire risks in automotive logistics
Hikvision South Africa CCTV, Surveillance & Remote Monitoring Products Logistics (Industry)
Automotive logistics company uses thermal imaging solution from Hikvision to ensure its stores of lithium batteries for electric vehicles never overheat and cause a fire.
Read more...
---
Axis launches P3265-LVE dome camera
Axis Communications SA Products CCTV, Surveillance & Remote Monitoring
Based on ARTPEC-8 — the latest Axis system-on-chip (SoC) — Axis' latest dome high-performance camera includes a deep learning processing unit (DLPU), and cybersecurity features.
Read more...
---
Smart car parking solution eases traffic flow
Dahua Technology South Africa CCTV, Surveillance & Remote Monitoring Integrated Solutions Products
Ethiopia's first smart parking lot, designed to improve traffic flow and management efficiency, has been built and installed using Dahua Technology's smart parking solutions.
Read more...
---
VMS 7.2 supports the investigation process and adds cloud capabilities
CCTV, Surveillance & Remote Monitoring Integrated Solutions Products
Qognify has launched the second release of its VMS, including extended support for body-worn video, additional functionalities to support investigations, and a new web client architecture. VMS 7.2 addresses the increasing use of body-worn video (BWV) across many sectors.
Read more...
---
The future of AIoT
Hikvision South Africa News CCTV, Surveillance & Remote Monitoring
Hikvision hosted its 2022 Shaping Intelligence Summit in Bali, Indonesia, on 29-30 November, where the company, its customers, and technology and solution partners, looked into the future of AIoT and explored paths to shared success.
Read more...
---
A comprehensive video solution for retail
LD Africa Retail (Industry) CCTV, Surveillance & Remote Monitoring Products
Retail Intellect is a comprehensive, flexible solution for retailers that matches technologies to ensure point-of-sale safety and security with video analytics.
Read more...
---