printer friendly version
The lowdown on ONVIF
September 2011
News
Tony Yang, chairman of the ONVIF Communications Committee talks to Hi-Tech Security Solutions.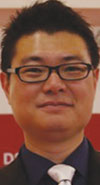 Tony Yang, chairman of the ONVIF Communications Committee
Hi-Tech Security Solutions: Where is ONVIF in terms of the propagation of standards into the user world? Are users including standards within their specifications or is it more something the vendor push?
Tony Yang: ONVIF is currently being specified into security projects around the globe by security consultants and other specifiers who see ONVIF as a way to streamline the system interoperability process and ensure the compatibility of future upgrades to the systems. The life cycle of the bid-spec-build process is such that we expect to hear about ONVIF projects in the coming months as projects move from the specification stage to completion.
HSS: How many companies are backing ONVIF? Why has this standard received so much more buy-in than PSIA?
Yang: As of late July, ONVIF had more than 315 member companies around the world. From its inception, ONVIF benefitted from the backing of Axis, Sony and Bosch and the global leadership in IP video of those founding companies. The momentum grew quickly to the point where we now have reached a critical mass of companies and products for end users and integrators to choose from.
HSS: If a company carries an ONVIF logo, does that ensure buyers its systems are 100% compliant to the standard? How does ONVIF ensure that vendors do not simply use the logo and do the minimum necessary to claim compliance?
Yang: ONVIF recognised early on that a global standard could not successfully be developed without a rigorous testing and conformance mechanism. We have worked hard to develop these checks and balances on product conformance standards, and only ONVIF members that have met these requirements are allowed to claim ONVIF conformance with ONVIF logo.
To keep the dialogue open on the specification and testing and conformance process, ONVIF also holds a series of developer's plug fests each year where members can test their products and discuss best practices when implementing the ONVIF specification in their products.
HSS: When can we expect to see movement on the access control part of ONVIF?
Yang: We anticipate that a draft specification of the access control expansion will be out later in 2011. This is the next natural step for ONVIF in its goal of facilitating the integration of IP-based security and safety devices using a global open standard.
HSS: Has ONVIF made inroads into the South African and African markets? Is the continent a target for the organisation?
Yang: The South African and African markets are definitely a target for ONVIF, as is each market around the world, as ONVIF's global reach is part of its value to the market. With more ONVIF conformant products available, the system integrators and users in the South African and African markets will have more products to choose from to build up a security system based on ONVIF specifications.
HSS: How is the management board of ONVIF structured? Do vendors control the standards process or are users involved?
Yang: ONVIF membership is open to anyone who wishes to have a voice in the development of a global IP interface standard. While the bulk of our membership is manufacturers, we have several distributors and systems integrators who are active in the group. We are currently evaluating ways of allowing members of industry to give their input – such as consultants and end users – without requiring them to become members.
ONVIF is managed by a steering committee, which determines the internal governance of the group. The technical committee and technical services committee oversee the specification and testing and conformance process, respectively. Steering committee membership is by annual election.
HSS: How would you respond to the claim that ONVIF is more Euro-focused and supported mainly by companies in the EU?
Yang: Providing the market with a standard for companies of any size to embrace requires the scope to be truly global. By nature of our founders – Bosch, Axis and Sony – all of which have an extremely strong market presence in Europe, the ONVIF specification gained early traction there. We have also seen end users and systems integrators using the ONVIF specification and ONVIF conformant products in North America and in Asia as the adoption rate of ONVIF continues to increase rapidly around the globe. We will continue to promote the specification as a global answer to today's interoperability issues.
HSS: Will ONVIF be represented at IFSEC SA?
Yang: Many ONVIF members will be exhibiting their ONVIF conformant products at IFSEC SA. ONVIF holds several events each year at major trade shows to demonstrate the interoperability functionality of the specification and to continue to foster an ongoing dialogue with the industry.
Further reading:
Spend on cloud to accelerate across Africa in 2023
News
More than two-thirds of companies using cloud computing across major African markets plan to increase their spending on cloud services in 2023.
Read more...
---
ChatGPT's impacts will be social, not technical
News
ChatGPT is truly a remarkable achievement, an artificial intelligence (AI) that you can have a conversation with and ask to do everything from writing essays to coding computer programs.
Read more...
---
Artificial intelligence in Africa: levelling the narrative
News
While AI can benefit multiple industries, in Africa the key sectors that stand to gain are financial services (specifically fintech) and agriculture.
Read more...
---
Improving data security for a hybrid society
News
Researchers from Tokyo University of Science develop a method that can perform computations with encrypted data faster and at a lower cost than conventional methods, while also improving security.
Read more...
---
Cybersecurity in 2023: The latest trends and developments
News
In 2023, experts predict that several trends will shape the cybersecurity landscape, including the growing use of artificial intelligence (AI), the increasing focus on the Internet of Things (IoT), and the rise of quantum computing.
Read more...
---
SAN market set for growth
Technews Publishing News IT infrastructure
Storage-area network (SAN) market to hit US$ 26,86 billion in revenue by the end of 2029 due to factors like widespread adoption of Hybrid SAN-NAS solutions.
Read more...
---
Enterprise threats in 2023
News Cyber Security
Large businesses and government structures should prepare for cybercriminals using media to blackmail organisations, reporting alleged data leaks, and purchasing initial access to previously compromised companies on the darknet.
Read more...
---
Trends in the proptech industry for 2023
News
By mixing real estate with technology to optimise industries, create new ones, and generate efficiencies or capabilities that improve revenue generation, something as fundamental as the concept of parking has been turned on its head.
Read more...
---
31 percent of all IoT SIMs managed with third-party IoT CMPs
News Integrated Solutions
Berg Insight recently released new findings about the market for IoT connectivity management platforms (CMPs), a standard component in the value proposition from mobile operators and IoT MVNOs around the world.
Read more...
---
Off-highway vehicle telematics systems
News
The installed base of off-highway vehicle telematics systems to reach 12.2 million units worldwide by 2026, says Berg Insight.
Read more...
---