printer friendly version
The lowdown on ONVIF
September 2011
News
Tony Yang, chairman of the ONVIF Communications Committee talks to Hi-Tech Security Solutions.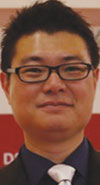 Tony Yang, chairman of the ONVIF Communications Committee
Hi-Tech Security Solutions: Where is ONVIF in terms of the propagation of standards into the user world? Are users including standards within their specifications or is it more something the vendor push?
Tony Yang: ONVIF is currently being specified into security projects around the globe by security consultants and other specifiers who see ONVIF as a way to streamline the system interoperability process and ensure the compatibility of future upgrades to the systems. The life cycle of the bid-spec-build process is such that we expect to hear about ONVIF projects in the coming months as projects move from the specification stage to completion.
HSS: How many companies are backing ONVIF? Why has this standard received so much more buy-in than PSIA?
Yang: As of late July, ONVIF had more than 315 member companies around the world. From its inception, ONVIF benefitted from the backing of Axis, Sony and Bosch and the global leadership in IP video of those founding companies. The momentum grew quickly to the point where we now have reached a critical mass of companies and products for end users and integrators to choose from.
HSS: If a company carries an ONVIF logo, does that ensure buyers its systems are 100% compliant to the standard? How does ONVIF ensure that vendors do not simply use the logo and do the minimum necessary to claim compliance?
Yang: ONVIF recognised early on that a global standard could not successfully be developed without a rigorous testing and conformance mechanism. We have worked hard to develop these checks and balances on product conformance standards, and only ONVIF members that have met these requirements are allowed to claim ONVIF conformance with ONVIF logo.
To keep the dialogue open on the specification and testing and conformance process, ONVIF also holds a series of developer's plug fests each year where members can test their products and discuss best practices when implementing the ONVIF specification in their products.
HSS: When can we expect to see movement on the access control part of ONVIF?
Yang: We anticipate that a draft specification of the access control expansion will be out later in 2011. This is the next natural step for ONVIF in its goal of facilitating the integration of IP-based security and safety devices using a global open standard.
HSS: Has ONVIF made inroads into the South African and African markets? Is the continent a target for the organisation?
Yang: The South African and African markets are definitely a target for ONVIF, as is each market around the world, as ONVIF's global reach is part of its value to the market. With more ONVIF conformant products available, the system integrators and users in the South African and African markets will have more products to choose from to build up a security system based on ONVIF specifications.
HSS: How is the management board of ONVIF structured? Do vendors control the standards process or are users involved?
Yang: ONVIF membership is open to anyone who wishes to have a voice in the development of a global IP interface standard. While the bulk of our membership is manufacturers, we have several distributors and systems integrators who are active in the group. We are currently evaluating ways of allowing members of industry to give their input – such as consultants and end users – without requiring them to become members.
ONVIF is managed by a steering committee, which determines the internal governance of the group. The technical committee and technical services committee oversee the specification and testing and conformance process, respectively. Steering committee membership is by annual election.
HSS: How would you respond to the claim that ONVIF is more Euro-focused and supported mainly by companies in the EU?
Yang: Providing the market with a standard for companies of any size to embrace requires the scope to be truly global. By nature of our founders – Bosch, Axis and Sony – all of which have an extremely strong market presence in Europe, the ONVIF specification gained early traction there. We have also seen end users and systems integrators using the ONVIF specification and ONVIF conformant products in North America and in Asia as the adoption rate of ONVIF continues to increase rapidly around the globe. We will continue to promote the specification as a global answer to today's interoperability issues.
HSS: Will ONVIF be represented at IFSEC SA?
Yang: Many ONVIF members will be exhibiting their ONVIF conformant products at IFSEC SA. ONVIF holds several events each year at major trade shows to demonstrate the interoperability functionality of the specification and to continue to foster an ongoing dialogue with the industry.
Further reading:
4IR is opportunity
News
In South Africa, digitalisation remains 'at a nascent stage' which means significant work still has to be done when it comes to addressing skills development around 4IR in the country.
Read more...
---
Five ways to reduce your cyber insurance premiums
Security Services & Risk Management News
With the global costs of cybercrime expected to soar to $13 trillion within the next five years, cyber insurance is booming as organisations try to mitigate the risk of financial losses.
Read more...
---
Client satisfaction boosted by 85% at Thungela Mine
Thorburn Security Solutions News Security Services & Risk Management Mining (Industry)
Thorburn Security, a division of Tsebo Solutions Group, has announced its recent collaboration with Kwa-Zulu Natal security company, Ithuba Protection Services, as part of its Enterprise Supplier Development (ESD) initiatives across Africa.
Read more...
---
Fidelity SecureFire steps into critical fire response space
News Fire & Safety
With the majority of fire stations around the country being crippled by a lack of resources to offer effective responses, Fidelity Fire Solutions has launched its own 'first responder' model, Fidelity SecureFire.
Read more...
---
The state of edge security report
News IT infrastructure
Edge computing has grown from being a niche use case in a handful of industries to offering a major opportunity for enterprises across industries to spread computing power around the world.
Read more...
---
CHI selects NEC XON as trusted cybersecurity partner
News Cyber Security Industrial (Industry)
CHI Limited, Nigeria's leading market player in fruit juices and dairy products, has engaged in a strategic cybersecurity partnership with NEC XON, a pan-African ICT systems integrator.
Read more...
---
Collaboration delivers integrated and holistic security
Guardian Eye CCTV, Surveillance & Remote Monitoring News Integrated Solutions
Guardian Eye and Lytehouse have partnered to integrate their speciality solutions and provide a holistic security offering that overcomes the fragmentation of security systems and services.
Read more...
---
Kaspersky appoints new GM for Africa
News Cyber Security
Kaspersky has announced the appointment of Andrew Voges as the new General Manager for Africa to boost regional market positioning and enterprise protection.
Read more...
---
AgentZero, the AI that writes emails for you
News
In an age where digital natives dominate the tech scene, two Boomers are proving that it's never too late to innovate; launching an AI business that promises to revolutionise email communication. It is called AgentZero.
Read more...
---
Elvey Group and Technoswitch part ways
Elvey Security Technologies Fire & Safety News
The Elvey Group (a division of the Hudaco Group of Companies) is relinquishing its distributorship of the Technoswitch brand, following Hudaco's acquisition of Brigit Fire.
Read more...
---