printer friendly version
Sacrificing CCTV real-time viewing
August 2011
CCTV, Surveillance & Remote Monitoring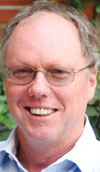 The typical video output in most of the systems we use is based around the PAL 25 frames per second (fps) standard set by TV transmission years ago. Digital transmission complicates this slightly, but we can still use this as the expected quality standard. The point of this frame rate is that it was determined to be sufficient to provide the impression of a natural flow of motion to the human eye for TV broadcasts. What we popularly call 'real-time'. CCTV, however, gives us the potential to change the frame rate for recording purposes and to control the speed that we watch things with on review of this recorded footage. So the question arises, how does 'real-time' relate to the needs of CCTV.
Live viewing in real-time is what we are used to in our everyday lives and is what operators do on a regular basis. However, there are many times in our lives when we see something as a flash of movement, a slight incongruity, or something out of place and then we are on to the next thing without being able to appreciate or understand what happened. The importance of a CCTV system that allows live or follow up review with slow/superslow motion or even frame by frame viewing is that it allows an operator to go back to something that their awareness or intuition may have highlighted, and view it more carefully.
In the past when VCRs were still used and I had the capacity for super slow and frame by frame review, I was approached to look at a diamond theft video in which there was a suspected theft of a diamond. By slowing down the video significantly, we were able to see that not only was a diamond taken, but in the same clip the suspect took two other diamonds that he was not even suspected of. While we expect much of real-time viewing, the truth is it is often not enough. Even some slow motion modes have their limits as you could find out by asking any cricket umpire or rugby referee.
What impact does dropping frame for recording purposes have then?
Because people want to reduce the cost of storage space they introduce a drop in frame per second recording. I have heard figures bandied about of 15, or 12, or four being sufficient. A second, however, is a very long time in some instances. As a company sponsor of two horses (Surf Circuit and Sunset Surfer), I go to show jumping and cross-country eventing shows fairly frequently and find myself taking extensive photos. Even with a 3,5 fps SLR camera, I get only a very limited part of the action of a horse going over a jump – I still have to time my own physical shooting of the picture rather than rely on a continuous exposure setting. A friend and I spent some time with a 12 fps high-end SLR camera trying to take shots of an arrow leaving an archery bow. We got one successful shot after about eight attempts and a few hundred photos.
The important thing in CCTV is that your fps must be fit for purpose. It is pointless having a 5 fps recording on a roulette table for instance. On the other hand, having the camera at a door to identify people coming in would make more sense. However, the critical thing is that once you have recorded data at a reduced fps rate, you cannot ever increase it up again. If you want to review details of a suspected incident, you may well find you simply have not got the shot you wanted because you have sacrificed important information.
Digital processing allows the computer to do things at speed that it would be impossible for a human to do. Once again, however, the higher the quality of recording, the better the video analytics are going to work on recorded data. The ability to search for when an object has been moved from a location over a two hour period is relatively simple for a computer.
More recently, a company exhibiting at IFSEC in the UK demonstrated software that allowed you to speed up viewing of footage to the extent that you could watch a couple of hours over a few minutes. Restricted to a fixed camera, it looks at what moves within the scene over the time period and extracts these elements to a database, and then inserts those elements into the video stream during review at the appropriate time.
A few principles emerge for the implications of fps for CCTV:
1. Always try to record at the highest possible fps rate – you can adjust this for different camera scenes, but to guarantee evidence viewing and availability, and to facilitate video analytics, the best is the best.
2. Make sure that your CCTV system has the options of live review. Not only that, but ensure that it has capabilities that allow control of the speed of playback.
3. Make sure your compression does not ruin what footage you have.
4. Ensure that the system has the best possible features for doing post event review in terms of slowing down or even reversing video playback.
Finally do not take things for granted because you do not see them initially. The power of review can provide important capabilities that will allow you to see things that you never realised were there.
Dr Craig Donald is a human factors specialist in security and CCTV. He is a director of Leaderware which provides instruments for the selection of CCTV operators, X-ray screeners and other security personnel in major operations around the world. He also runs CCTV Surveillance Skills and Body Language, and Advanced Surveillance Body Language courses for CCTV operators, supervisors and managers internationally, and consults on CCTV management. He can be contacted on +27 (0)11 787 7811 or craig.donald@leaderware.com
Credit(s)
Further reading:
Reinventing network camera security
Issue 1 2020, Axis Communications SA , CCTV, Surveillance & Remote Monitoring
Now in its seventh generation and celebrating its 20th anniversary, the Axis ARTPEC chip was launched in 1999 designed to optimise network video.
Read more...
---
Cloud-based fleet and driver management
Issue 1 2020, Graphic Image Technologies , CCTV, Surveillance & Remote Monitoring
Graphic Image Technologies (GIT) has announced the availability of a cloud-based dashcam designed to improve on-the-road behaviour and assist in improving fleet management.
Read more...
---
CCTV surveillance needs are critical in defining types of camera deployment
Issue 1 2020, Leaderware , Editor's Choice
Cameras by themselves do not reduce crime; they need to be implemented as part of a considered strategy of crime prevention and detection.
Read more...
---
Cathexis specialises in integration
Issue 1 2020, Cathexis Technologies , CCTV, Surveillance & Remote Monitoring
The integration of multiple systems is intrinsic and essential to the goal of creating an effective and efficient operational environment.
Read more...
---
Do wireless networks meet modern surveillance demands?
Issue 1 2020, Duxbury Networking, RADWIN , CCTV, Surveillance & Remote Monitoring
It is predicted that video will account for 15,1 zettabytes (1 zettabyte = 1 trillion gigabytes) of data annually, which is more than any other IoT application.
Read more...
---
Traffic doesn't have to be this way
Issue 1 2020, Dahua Technology South Africa, Axis Communications SA , CCTV, Surveillance & Remote Monitoring
More effective traffic management is something that would save us all a lot of frustration and wasted time, and it's one of the areas where AI and big data can have a significant impact.
Read more...
---
Dahua launches Hunter Series
Issue 1 2020, Dahua Technology South Africa , CCTV, Surveillance & Remote Monitoring
Dahua launches a new dual-PTZ camera that enables flexible and multi-scene panoramic monitoring.
Read more...
---
8 MP fisheye camera
Issue 1 2020, Dallmeier Electronic Southern Africa , CCTV, Surveillance & Remote Monitoring
Dallmeier's new 8 MP fisheye camera combines AI-supported object classification and H.265 in a compact design.
Read more...
---
Using ANPR to enhance security
Issue 1 2020, Duxbury Networking , CCTV, Surveillance & Remote Monitoring
Deep learning and AI-based algorithms enable ANPR cameras and their associated software to detect and recognise number plates with an extremely high level of accuracy.
Read more...
---
AI supercharges surveillance
Issue 1 2020 , CCTV, Surveillance & Remote Monitoring
The ability to analyse live video through AI techniques means that untapped footage from existing, passive cameras can be used to identify patterns, trends and anomalies.
Read more...
---