printer friendly version
MST in the spotlight
August 2011
News
Hi-Tech Security Solutions finds out more about MST.
Last month we announced the relaunch of Mustek Security Technologies (MST). In this issue we ask the head of MST, Sergio Pedregal why Mustek took the opportunity to enter the security market now. A tour through the Mustek warehouse is an impressive journey, I suspect we will be hearing from MST much more in the future.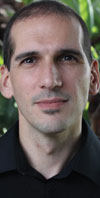 Sergio Pedregal
Hi-Tech Security Solutions: MST was recently launched into a busy and competitive security market. How do you plan to make an impact in this market?
Sergio Pedregal: It is Mustek's intention to offer an unique end-to-end solution consisting of blue chip products with access to professional design and lab testing facilities, which are open to our distribution channel as part of our standard offering. This along with our aggressive pricing model will and already has made an impact.
Hi-Tech Security Solutions: What areas of the security technology market will you be focusing on?
Sergio Pedregal: Initially the physical security areas with CCTV front and back ends, storage, recording and analytical solutions. This is all supported by our access and fire solutions.
Hi-Tech Security Solutions: Why choose to enter the security market now? What value can you add to customers?
Sergio Pedregal: The security market is at present in a shambles. We believe that there is a place for a large, stable, committed distributor of blue chip products and services, and that is where we are positioning ourselves.
Hi-Tech Security Solutions: Can you give us an indication of what brands you will be selling?
Sergio Pedregal: We have a number of quality brands which cover the full spectrum of products and solutions, such as Mobotix, JVC, CEM Systems, Axis, Dedicated Micros, Milestone, NUUO, VIRDI and TOSHIBA.
Hi-Tech Security Solutions: How have you geared up internally to handle sales and potential sales issues?
Sergio Pedregal: You need to know we have been in this business for almost four years now so it is not new to Mustek. Mustek has merely emphasised its focus on this business sector.
We have both internal dedicated staff and external sales staff able to service and support our clients; we also have product specialists that are able to assist with more technical queries. Mustek also has a fully compliant testing and demonstration facility, from which we are able to support our clients nationally.
Hi-Tech Security Solutions: Do you see the potential to integrate Mustek's traditional IT strength with the new security technology?
Sergio Pedregal: This is one of the main driving forces behind this division. There has been a rapid coming together of security and IT with the coming of age of security IP solutions and we intend to use our large distribution channel of IT solutions to enhance our sales of security solutions.
For more information contact Mustek Security Technologies, +27 (0)11 237 1364, Sergiop@mustek.co.za, www.mustek.co.za
Further reading:
Online fleet management system
Issue 1 2020 , News
Fleet Domain's online Fleet Management Information System is reducing operating costs and improving safety for South African logistics firms.
Read more...
---
Digital insurance bundle for assets and devices
Issue 1 2020 , News
My CyberCare is a specialist provider of personal, and SMME online cyber insurance, cyber detection and cyber monitoring solutions for both local and global consumption.
Read more...
---
IDEMIA to supply Morocco's national electronic ID cards
Issue 1 2020, IDEMIA , News
IDEMIA will supply Morocco with national electronic ID cards and introduce a secured digital identity online services platform.
Read more...
---
Rockwell Automation to acquire Avnet
Issue 1 2020, Rockwell Automation , News
Rockwell Automation announced it has signed an agreement to acquire privately held Avnet Data Security, an Israeli-based cybersecurity provider with over 20 years' experience providing cybersecurity services.
Read more...
---
Do we really want simplicity?
Issue 1 2020, Technews Publishing , News
Everything today has to be simple, easy and fast. Even access to your bank account has to fit these adjectives and banks spend significant time and money trying to ensure their web and mobile interfaces ...
Read more...
---
Longse Distribution to become LD Africa
Issue 1 2020, LD Africa , News
Brendon Whelan, sales manager for Longse Distribution, announced that the company officially changed its name to LD Africa as of 20 January 2020.
Read more...
---
Three expos in one
Issue 1 2020 , News
Looking ahead to 2020 Vision: combined Securex South Africa, A-OSH EXPO and Facilities Management Expo 2020 promises to be even bigger and better.
Read more...
---
Security events you can't miss in 2020
Issue 1 2020, Technews Publishing , News
Hi-Tech Security Solutions will host a number of focused events in 2020 to highlight the latest in security technology and the operational benefits they deliver.
Read more...
---
David Shapiro to chair ESDA
Issue 1 2020, ESDA (Electronic Security Distributors Association , News
The Electronic Security Distributors' Association (ESDA), established in 1989, has elected David Shapiro as its chairperson for 2020.
Read more...
---
Dimension Data debuts fifth business
Issue 1 2020 , News
Dimension Data has launched its fifth business in the MEA region, Dimension Data Security, aimed at helping organisations in the region address the challenges of today's rapidly evolving threat landscape.
Read more...
---