printer friendly version
The product-service evolution II
June 2011
News
Michael Howard continues the discussion of the product-service evolution in the security industry.
In the past, manufacturers of products were quite content, generating profitable revenues through development, manufacture and distribution of products for direct sale or resale through a sales channel. Never had the manufacturers to worry about much else, except perhaps for minimal support when occasionally a product would fail and some training would be required to ensure that customers could cope with most of the product support topics themselves. This has been the legacy of product-centric companies in the technology environment; the security industry is no exception.
In recent times, the rapid evolution of high-end technology has accelerated the overall complexity of equipment supply. Customers, now often increasingly turning towards the manufacturers for relief, demanding higher levels of support from suppliers to achieve the same successes they were accustomed to achieving in the past.
Manufacturers in technology markets have had no choice but at least to begin adapting to this paradigm by structuring their offerings to include value-added elements, which serve to ensure continuity and sustainability of sales in the longer term, as product alone no longer meets expectations of end-users.
With the phenomenon of convergence, many manufacturers attempt to increase their strategic leverage by offering converged solutions, or even so called 'full' or complete solutions, to promote their products above other competitors, where the market not only demands better product, but also demands relief from technical topics such as system design, integration and support, now critical for successful solutions.
Evolutionary technological trends in the security industry are not unique, yet behave according to trends already experienced in other technology markets for many years prior. What was once regarded as higher-end sophisticated technology, will most probably evolve to become lower-end business in the future. The higher-end of the technology scale will feed the lower-end and what is high-end product today, will be lower-end product tomorrow. High-end product will become less important as high-end solutions become more important.
To remain competitive, not only will good quality products be required and supported by R&D investment, but a well thought out strategy towards services will be central to maintain and support the complexity of solutions as convergence and shift towards IT accelerates. Manufacturers remain central to the development of any solution which not only consists of product, but must incorporate the services strategy for conceptualisation, planning, design, implementation and operation of a solution. Therefore the difference between a product and a solution is service. The product is only part of the solution and not a solution in itself and the security industry will eventually follow with respect to the product-service evolution.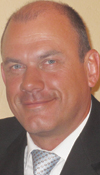 Michael Howard Pr. Eng. B. Eng. SAIEE, ECSA
Michael Howard is the author of the work titled 'Product-Service Evolution', providing insight into the service-centric approach to the implementation of complex technology in the security industry. He is a registered professional engineer with the Engineering Council of South Africa (ECSA) and the SA Institute of Electrical Engineers (SAIEE). He currently heads the Security Systems business for Bosch in Sub-Saharan Africa, a leading global manufacturer. He can be contacted at cellplansa@gmail.com
Further reading:
The latest security trends at Securex South Africa 2023
Securex South Africa News Conferences & Events Training & Education
Security technology evolves at a blistering pace, so it's important to keep up to date with changing trends in order to ensure maximised safety of human and personal assets. The Securex Seminar Theatre, powered by UNISA, is the place to be.
Read more...
---
Sustainability School opens for enrolment
Education (Industry) News Security Services & Risk Management
Three-part programme, first developed for Schneider Electric employees, is now available for free for companies worldwide. Attendees learn how to future-proof their businesses and accelerate their decarbonisation journeys.
Read more...
---
From the editor's desk: Get Smart
Technews Publishing News
      Welcome to the fourth issue of Hi-Tech Security Solutions for 2023, which is also the first issue of Smart Security Solutions. As noted in previous issues, Hi-Tech Security Solutions has been rebranded ...
Read more...
---
Matt De Araujo joins Ajax Systems
Ajax Systems News Perimeter Security, Alarms & Intruder Detection
Matt De Araujo has joined Ajax Systems as Head of Sales in sub-Saharan Africa with a goal to strengthen the local team and exceed expectations.
Read more...
---
Elvey partners with HALO
Elvey Security Technologies News CCTV, Surveillance & Remote Monitoring
Elvey Group has partnered with HALO Europe to provide Africa's first body-worn solution with zero upfront costs. This includes an IP68-certified body camera and a 4G-connected device.
Read more...
---
Accenture Technology Vision 2023
Editor's Choice News
New report states that generative AI is expected to usher in a 'bold new future' for business, merging physical and digital worlds, transforming the way people work and live.
Read more...
---
Cyber attackers used over 500 tools and tactics in 2022
Cyber Security News
The most common root causes of attacks were unpatched vulnerabilities and compromised credentials, while ransomware continues to be the most common 'end game' and attacker dwell time is shrinking – for better or worse.
Read more...
---
Economists divided on global economic recovery
Editor's Choice News
Growth outlook has strengthened in all regions, but chief economists are divided on the likelihood of a global recession in 2023; experts are concerned about trade-off between managing inflation and maintaining financial stability, with 76% anticipating central banks to struggle to bring down inflation.
Read more...
---
AI face recognition OEM module
Suprema News Access Control & Identity Management Products
Suprema AI, a company specialized in artificial intelligence–based integrated security solutions, recently launched its high-performance face recognition OEM module called 'Q-Face Pro' in response to the growing need for contactless security solutions.
Read more...
---
Disrupting power generation for the future
News
What if, instead of taking up 400 hectares to build a solar power plant, you could generate the same number of kilowatts on land the size of a basketball court?
Read more...
---