printer friendly version
The value of visual alarm verification
June 2011
Perimeter Security, Alarms & Intruder Detection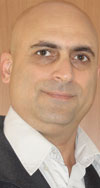 Preventing false alarms saves time and money.
Today's advanced home security systems are highly sensitive, which is of course, a good thing. However, the reverse side of the sensitivity coin is that many alarms are activated when there is no actual security event – the dreaded false alarm.
The security industry has long been looking for ways to reduce the hassle and costs of dealing with false alarms, focusing efforts in two main areas: developing advanced detectors and systems that can more accurately determine whether movement is a real threat or not; and developing solutions that enable monitoring services to verify whether an alarm is false or not without actually having to physically visit the premises.
This article focuses on the latter, and specifically on visual alarm verification. That is, the ability to see from a remote site, in real-time, what is happening inside a monitored premises whenever an alarm is triggered.
Frequent, annoying and costly
False alarms are a bugbear for everyone – security monitoring services, police, home owners, and the general public. They cause unnecessary disruption, bother and cost. And, when there are frequent false alarms at a particular residence, it is all too natural for people to assume that it is 'just another false alarm', undermining the system's effectiveness.
For central monitoring stations, false alarms hit them where it hurts them the most – the bottom line. In addition to the obvious hard costs of sending out response teams (staffing costs, petrol, vehicle wear and tear, etc), there is also the indirect cost of resource diversion. A team sent to Customer A, to what turns out to be a false alarm, is not available for immediate response to a real event at Customer B.
Real pictures, real events
The key to limiting the impact of false alarms is alarm verification. That is, the ability to remotely assess whether an alarm event was triggered by a real intrusion or safety threat, or by something innocuous, such as a window left open, a family member forgetting to disarm the alarm upon returning home, and similar.
Alarm verification can be as simple – and as limited – as a telephone call to the home owner or other designated contact, such as a neighbour, to check if there is a valid reason for the alarm event. This is limited by the possibility that no one will be available to answer or the person will not be able to confirm the status of the premises.
Visual alarm verification, which is becoming increasingly popular, offers a far more reliable and effective approach. With visual alarm verification, cameras installed in strategic locations inside protected premises, are activated upon an alarm event, capturing images that are then sent to the monitoring station. The central station can then view the images and accurately assess the situation inside the premises and thus immediately establish whether it is a real emergency or a false alarm. This eliminates unnecessary site checks – ultimately saving time and expenses and protecting field staff from arriving unprepared to cope with potentially dangerous situations. It also ensures that police are called only when truly needed.
Advanced visual alarm verification
One of the most advanced and comprehensive visual alarm verification solutions available is Visonic's RealAlarm, which includes the NEXT CAM PIR device: a PIR motion detector coupled with a camera in a single housing. When detection occurs, the camera is triggered automatically and captures clear images, day or night. The instant capture technology guarantees snapshots of even fast-moving intruders. This means that homeowners get the best of both worlds – privacy and security. As in the case of intrusion events, the solution also enables visual verification of fire and panic alarms, ensuring the response is handled by the appropriate emergency service: police, ambulance or fire department.
Based on the PowerG technology, RealAlarm offers a low-cost way to visually verify alarm situations. It is easily and cost effectively installed as a standalone or as add-on to existing alarm systems. Enrolment, configuration and diagnostics of panel, peripherals and RF link quality, and walk test can all be done remotely.
Also, due to the use of PowerG, RealAlarm delivers a much longer battery life of 5-8 years for the system's peripherals, greater transmission range of 2 km (LOS), robustness to interferences, and simpler installation process. Two-way wireless Frequency Hopping Spread Spectrum technology provides robustness and reliability closer than ever to wired systems.
Benefits that all can see
With an advanced visual alarm verification solution, homeowners can be more confident in the effectiveness of their home security system; security monitoring services can eliminate the costs of unnecessary response to false alarms; and police and emergency services can better direct their resources where they are truly needed.
For more information contact Eran Shoham at Visonic, eransh@visonic.com
Further reading:
Different fences for different farmers
Gallagher Perimeter Security, Alarms & Intruder Detection Agriculture (Industry)
Far beyond the simple delineation of boundaries, fencing serves as a dynamic solution to address various needs, from ensuring the security of farms and protecting livestock to defining property lines and enhancing aesthetic appeal.
Read more...
---
Protect remote sites with volumetric thermal detectors
OPTEX Perimeter Security, Alarms & Intruder Detection
Remote sites have always been more vulnerable to opportunistic intrusion, but over the last two years in particular, sites such as solar farms or industrial parks have become more common targets for criminals.
Read more...
---
Stafix focuses on local manufacturing
Perimeter Security, Alarms & Intruder Detection
Stafix Security Centres is a South African-owned company committed to providing customers with a choice of quality imported and locally manufactured products that meet the needs of the electronic security market.
Read more...
---
Texecom launches latest SmartCom 4G Communicator
Perimeter Security, Alarms & Intruder Detection
Texecom announced the upgraded and enhanced version of its SmartCom 4G communicator. Signal sensitivity on all the main bands has also been improved, increasing the usable range from masts, in some instances, by up to four times.
Read more...
---
Olarm advances smart security with Texecom integration
Olarm News & Events Perimeter Security, Alarms & Intruder Detection Products & Solutions
Following Olarm's achievement as the OSPA 2023 winner of 'Outstanding Security Integrator', it has taken another significant step in its innovation journey with the announcement of its integration with Texecom Premier Elite.
Read more...
---
Texecom increases support in the EMEA with key appointments
Editor's Choice Perimeter Security, Alarms & Intruder Detection News & Events
Texecom announced two new appointments to its EMEA sales team: Thomas Vanden Wyngaerdt as Head of EMEA Sales and Tom Wright as EMEA Account Manager.
Read more...
---
JVA electric fence systems
Perimeter Security, Alarms & Intruder Detection
JVA offers a wide range of perimeter-monitored fence solutions (including low and high voltage, amperage, taut wire, and vibration monitoring), as well as a variety of fence line accessories designed for the South African market.
Read more...
---
A good security system starts outside
OPTEX Perimeter Security, Alarms & Intruder Detection
Outdoor intrusion detectors have been specifically designed to expand the security coverage beyond the confines of a building and to warn of anyone approaching as early as possible.
Read more...
---
Simple panic system for estates
Perimeter Security, Alarms & Intruder Detection
RDC's Panic Packs, combined with remote panic buttons, offer a simple and affordable panic solution that ensures residents can access immediate help in times of distress.
Read more...
---
June Coetzer joins Olarm as Partner Manager
News & Events Perimeter Security, Alarms & Intruder Detection
Armed with a solid background in sales and business development, June Coetzer recently joined Olarm as an additional Partner Manager covering Gauteng and the surrounding areas.
Read more...
---