printer friendly version
Small screen, big opportunity
June 2011
Perimeter Security, Alarms & Intruder Detection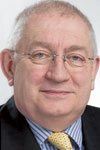 Tony Makosinski, of the Honeywell Security Group, analyses another consumer technology trend impacting the future of the security industry.
There is no denying that smartphones have revolutionised the consumer technology market. Adoption of smartphones has been astounding with Gartner reporting a 48% increase in sales in Q1 2010 versus the same period last year. Consumers love the way these devices let them intuitively browse through icons, customise their screen and download applications using touch screen technology. The phone has expanded way beyond its original purpose, and is thriving as a result.
The effect of this trend on other industries cannot be underestimated and has completely changed a consumer's outlook in terms of what they can expect from a small screen. Digital interfaces are increasingly expected to be touch-screen operated, with multiple layers of information and functionality. From gaming devices through to satellite navigate systems; no one expects to read a manual before operating technology any more.
The impact of smartphones on the security industry could be profound. Indeed, we are already seeing the effects. At Honeywell, there has been strong consumer interest in our TouchCenter keypad, with feedback from security managers and installers that the touch screen option has been popular among users. In response, we launched an updated version of the product in August 2010. So what can touch screen keypads offer, and why should installers consider them over and above the cheaper conventional options?
Traditionally alarm keypads have been made up of two lines of 16 characters. Using this limited template, all combinations of alarm programming and setting, user management, log requests and any other commands must be controlled. As any regular user knows, it involves a lot of scrolling between options and often requires a reference to the printed instruction manual for commands that are not routine. In a world with touch technology, apps and icons galore, there will increasingly be limited patience for this kind of tool among customers, particularly among more technology savvy people.
Touch-operated keypads represent a significant step in the growth of the security industry. They enable users to see clearly on screen which alarms are set and unset and which areas are locked using icons and plain English. Adding and removing users is simplified with a self-explanatory menu and layered levels of information providing in-depth detail on the user who is operating the system. Logs are easy to read and understand on the screen, showing who did what, when. A bigger screen and more readily accessible information combine to make the user experience more intuitive.
Another key benefit of touch screen keypads is that they provide an on-screen version of an instruction manual that is readily accessible to the end-user. In the same way most employees are used to clicking on the blue question mark that triggers a help menu in Microsoft Word, the same approach is integrated into the keypad, making it more logical and natural. With the best will in the world, keeping a printed manual in a prominent place and ensuring it is stored there permanently is very difficult to do. The touch keypad help menu is a 21st century solution to that age-old problem.
Taken together the simplification of alarm operation and easy-to-access help tools mean that touch screen keypads not only provide an enhanced user experience, but also minimise the risk of false alarm activation and unnecessary installer call outs. Time normally spent supporting simple requests can be better used by installers to actually grow their business or support more complex user issues. Reducing false alarms also helps remove the burden from local police so they can focus their resources in an effective way.
Touch screen keypads also offer the option of customisation for the end-user. For a residential system, the customer may wish to display a family photo on the screen. Businesses looking for a professional touch to the keypad could display a logo or branding on the screen so that the keypad adds to the overall look and feel of the professional environment. Finally, even if a customer does not wish to take advantage of customisation, an installer can add his/her contact details and branding so users can quickly contact them for support and new business opportunities can be developed.
Beyond the practical examples outlined above, there is also a more long-term rationale for installers championing the use of touch screen technology. Consumers and businesses are increasingly looking for ways to use one screen as a command centre point to lots of converging technologies. Just as the mobile phone has become a screen used to control messaging, social media and music services, the intruder alarm must also aspire to become more than just another screen in the home with one function. It is already possible for example to integrate lighting or gate controls with an alarm system, allowing all to be controlled from one panel and interface.
This final thought is an exciting one. If the touch screen allows an alarm system to become one of the central digital command centres within a home or business, the opportunities for manufacturers and installers are simply immense. Installers will see demand for touch screen keypads increasing and will be in a position to cross sell other services to the end user. Above all, it means our industry will become more and more indispensable, valued and future proof, and at the forefront of technological progress and innovation. At Honeywell, we are excited to be a part of it.
For more information contact Honeywell Building Solutions, +27 (0)11 695 8000, hsa@honeywell.com, www.honeywell.com
Further reading:
Different fences for different farmers
Gallagher Perimeter Security, Alarms & Intruder Detection Agriculture (Industry)
Far beyond the simple delineation of boundaries, fencing serves as a dynamic solution to address various needs, from ensuring the security of farms and protecting livestock to defining property lines and enhancing aesthetic appeal.
Read more...
---
Protect remote sites with volumetric thermal detectors
OPTEX Perimeter Security, Alarms & Intruder Detection
Remote sites have always been more vulnerable to opportunistic intrusion, but over the last two years in particular, sites such as solar farms or industrial parks have become more common targets for criminals.
Read more...
---
Stafix focuses on local manufacturing
Perimeter Security, Alarms & Intruder Detection
Stafix Security Centres is a South African-owned company committed to providing customers with a choice of quality imported and locally manufactured products that meet the needs of the electronic security market.
Read more...
---
Texecom launches latest SmartCom 4G Communicator
Perimeter Security, Alarms & Intruder Detection
Texecom announced the upgraded and enhanced version of its SmartCom 4G communicator. Signal sensitivity on all the main bands has also been improved, increasing the usable range from masts, in some instances, by up to four times.
Read more...
---
Olarm advances smart security with Texecom integration
Olarm News & Events Perimeter Security, Alarms & Intruder Detection Products & Solutions
Following Olarm's achievement as the OSPA 2023 winner of 'Outstanding Security Integrator', it has taken another significant step in its innovation journey with the announcement of its integration with Texecom Premier Elite.
Read more...
---
Texecom increases support in the EMEA with key appointments
Editor's Choice Perimeter Security, Alarms & Intruder Detection News & Events
Texecom announced two new appointments to its EMEA sales team: Thomas Vanden Wyngaerdt as Head of EMEA Sales and Tom Wright as EMEA Account Manager.
Read more...
---
JVA electric fence systems
Perimeter Security, Alarms & Intruder Detection
JVA offers a wide range of perimeter-monitored fence solutions (including low and high voltage, amperage, taut wire, and vibration monitoring), as well as a variety of fence line accessories designed for the South African market.
Read more...
---
A good security system starts outside
OPTEX Perimeter Security, Alarms & Intruder Detection
Outdoor intrusion detectors have been specifically designed to expand the security coverage beyond the confines of a building and to warn of anyone approaching as early as possible.
Read more...
---
Simple panic system for estates
Perimeter Security, Alarms & Intruder Detection
RDC's Panic Packs, combined with remote panic buttons, offer a simple and affordable panic solution that ensures residents can access immediate help in times of distress.
Read more...
---
June Coetzer joins Olarm as Partner Manager
News & Events Perimeter Security, Alarms & Intruder Detection
Armed with a solid background in sales and business development, June Coetzer recently joined Olarm as an additional Partner Manager covering Gauteng and the surrounding areas.
Read more...
---