printer friendly version
IP on campus
June 2011 CCTV, Surveillance & Remote Monitoring, Education (Industry)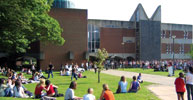 University of Sussex extends its IP camera network to cover further areas of the campus.
The University of Sussex is a single site campus covering 280 acres on the outskirts of Brighton. Its CCTV system, specified by the university in conjunction with specialist installers A.M. Fire and Security, is a Bosch-based solution primarily based on dome cameras to cover critical areas across the entire site.
As Trevor Clifton-Sprigg of A.M. Fire and Security explains: "There are 120 cameras in total, with 35 external cameras, most of which are domes from Bosch's EnviroDome and FlexiDome series. The system runs over IP, with the use of Videojet 10, Vip X1, Vip X2 and Vip X1600 video servers which migrate the existing analogue cameras to IP."
The cameras are controlled and monitored centrally at the university's security office, with resilience monitoring at a separate location should a problem occur. "In addition," Clifton-Sprigg continues, "there are multiple client PCs at the individual buildings running VIDOS viewing software allowing each building user to view their own cameras and recordings.
"The recording equipment consists of two Dell servers (each capable of handling up to 64 cameras), which are connected to the university's atorage attached network (SAN), with Bosch VIDOS networked video recorder (NVR) software (which can handle an unlimited number of cameras and user) to manage the recordings. Each PC uses graphical maps for fast, simple, access to cameras around the site."
The security challenges facing the university are not untypical of a campus environment. Antisocial and criminal behaviour is not uncommon and access to the campus is open to would-be thieves.
Roger Morgan, head of Security at the university explains: "The university has a good rating for security in the National Student Survey and this will in part be due to the presence of our surveillance system which is used very successfully in conjunction with security offices on the ground. It helps us to monitor activities on the campus and prevent incursion from unwanted visitors.
"As an example of how beneficial the system is, recorded CCTV images (and work by our officers on patrol) led to the detention of some youths who were targeting our site and stealing bicycles from the cycle racks over a period of days.
"We constantly review the system to ensure we have the best coverage in the key areas. As a university, changes are often made to how buildings are used, and new buildings being constructed always necessitate a review of surveillance. The latest change to the system involved the addition of cameras to extend surveillance to a newly-built student residence.
"The new building is effectively a satellite site on the other side of the main road, on the boundary of the campus. Cameras will cover the internal and external areas of the new site, including the subway between the campus and the halls of residence."
Morgan was previously head of Operations for Gwent Police and has extensive experience of CCTV from his work with local authorities. "The university has a good system," he continues, "and technically we cannot get much better. "The only way we can improve the system is to develop operationally – become more proactive in our approach to monitoring rather than reacting to an incident. There are many benefits of this system that I look forward to exploiting, like the possibility of facial recognition technology to spot known people who might target the university as walk-in thieves. The only limitations we might currently face come from not knowing what the system is capable of."
For more information contact Bosch Security Systems – South Africa & Sub-Sahara Africa, +27 (0)11 651 9818, [email protected], www.boschsecurity.co.za
Credit(s)
Further reading:
Video technology can improve crowd management
CCTV, Surveillance & Remote Monitoring Entertainment and Hospitality (Industry) Products
Stadium operators can use video technology to implement effective crowd management in different areas, avoiding fines, reputational damage and injury or loss of life.
Read more...
---
Security BIS named AxxonSoft's Distributor of the Year 2021
News CCTV, Surveillance & Remote Monitoring
With its focus on AxxonSoft solutions and technical support, Security BIS secured the title of AxxonSoft Distributor of the Year again for 2021.
Read more...
---
Penguins enhance fan experience with smart camera applications
CCTV, Surveillance & Remote Monitoring Entertainment and Hospitality (Industry)
The Pittsburgh Penguins are implementing Azena's application platform for smart cameras in their home arena to provide analytics for heatmapping, queue detection and POS data integration to maximise the gameday experience for fans and stadium management
Read more...
---
Passion, drive and hard work
Technews Publishing Editor's Choice CCTV, Surveillance & Remote Monitoring Security Services & Risk Management
Colleen Glaeser is a leader in the security market, having made her mark in the male-dominated security industry through determination and hard work, along with a vision of making the world a safer place.
Read more...
---
New full-colour Smart Dual Illuminators camera series
Dahua Technology South Africa Products CCTV, Surveillance & Remote Monitoring
Using deep learning to accurately detect targets, the cameras can intelligently switch between the IR mode when there is no target, and full-colour mode when a target is detected.
Read more...
---
2022 trends in video surveillance
Eagle Eye Networks Editor's Choice CCTV, Surveillance & Remote Monitoring Integrated Solutions
Eagle Eye Networks predicts what will impact the video surveillance industry in the coming year and how to seize opportunities and forge a path to success, even amid ongoing uncertainties.
Read more...
---
Dahua launches thermal monocular camera series
Dahua Technology South Africa CCTV, Surveillance & Remote Monitoring
Dahua has launched its Thermal Monocular Camera Series, the M Series, for outdoor scenarios, sporting a 12 µm Vox sensor that offers a maximum resolution of 640 x 512.
Read more...
---
Solar-powered cameras keep construction site safe
Hikvision South Africa CCTV, Surveillance & Remote Monitoring
In the midst of a rise in building material thefts, construction company DECHO used Hikvision's solar-powered wireless cameras to guard the construction site for its much-anticipated Coast Garden project.
Read more...
---
The impact of AI-enhanced video analytics on control room personnel
Leaderware Editor's Choice CCTV, Surveillance & Remote Monitoring
What impact do AI-capable detection systems have on control room staff, and do they mean a change in the demands on operators and the type of people you have in the control room?
Read more...
---
Integrated technology ecosystem for safe hospitals
Avigilon CCTV, Surveillance & Remote Monitoring
SSM Health chooses Motorola Solutions Safe Hospitals' integrated technology ecosystem, an end-to-end security ecosystem that unifies voice, video, data and analytics on one single platform.
Read more...
---