printer friendly version
Campus security
June 2011 Integrated Solutions, Education (Industry)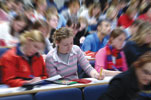 From murder, rape and robbery to alcohol and drug abuse, campuses are vulnerable to the same crimes as the world at large.
In South Africa, wracked by crime throughout its length and breadth, its safest campuses attribute their success to cutting-edge technology in conjunction with trained personnel.
"Without effective systems in place, our universities, colleges, technikons and the like would undoubtedly have descended into disorganised, crime-ridden chaos," avers Zane Greeff, technical director for Elvey Security Technologies. "However, those that keep up with developments in the electronic security field are able to exploit a number of different avenues in their quest to minimise, if not eradicate, trespassing, violence, theft, arson, hate crimes, assault and vandalism."
Ideally suited to this challenging job, he says, is a comprehensive security management system that can be easily and cost-effectively integrated with existing infrastructures such as video, intercoms, intrusion, fire and perimeter detection, and in so doing, deliver powerful end results. The days are long gone for inflexible, one-size-fits-all solutions. In today's security-conscious world, universities want customised systems capable of addressing their unique challenges. The AC2000 SE, for example, has been successfully installed at large facilities around the world including oil refineries, mines, ports, corporate premises and universities. Understanding that each site has its own unique challenges, the manufacturer CEM works continuously to ensure that its product is able to meet the most exacting of security needs.
Registration
Traditionally chaotic, student registration has become far less onerous on staff as a result of innovations such as the visual imaging pass production system (VIPPS), which produces permanent and temporary identification badges for faculty staff, students and visitors. According to Greeff, the VIPPS workstation is linked with the AC2000. Not only does it record and store the details of card holders but it also allows for the speedy retrieval of staff and student records as well as the assignation of access levels and time zones, thereby freeing up administration staff for other activities.
The growing trend to smartcard usage is very evident in the world of degrees and diplomas, which invariably requires complex security situations within relatively limited budgets. Smartcards have enormous benefits since they can be used for multiple applications; it is a 'one card' identity solution for both access control and university management.
Each student and staff member is issued with a card that contains not only registration data but also their course and other information. As a result, they can use their cards in an administrative as well as access capacity. Smartcards allow them entry to libraries as well as access to resources such as cashless vending, photocopying and car parking control, simplifying their lives and simultaneously optimising institutional resources.
Inherent to the system is the card reader, which boasts an LCD display screen as well as an onboard database. In the unlikely event of a server communications failure, says Greeff, the reader will continue to operate and store transactions offline, thus ensuring zero system down time, and – importantly – not locking card holders inside or outside the premises.
Another feature of the AC2000 is its Access Levels application, which allows security personnel to link cardholders to access groups. Within medical school, for example, resident doctors could be assigned to a higher access group than first year medical students. This means the doctors would have access to certain areas such as the pharmacy, which would be off-limits to their junior counterparts. It could even be used to block access for truant or problem students.
The alarm event display module (AED) provides security personnel with a complete graphical and textual representation of the current status of the entire system. For example, says Greeff, if a reader has been tampered with, the AED will relay this to security staff in the form of real-time graphical, audio and text-based alarms. This instant notification allows them to respond to alarm or system error situations immediately. In addition, it provides a dynamic, on-screen interface to external CCTV systems and facilities for CCTV switching and remote door broadcasting.
For more information contact Elvey Security Technologies, +27 (0)11 401 6700, [email protected], www.elvey.co.za
Credit(s)
Further reading:
Storage is essential for a comprehensive cybersecurity strategy
Integrated Solutions Cyber Security
Cyber resilience is the ability of an enterprise to limit the impact of security incidents by deploying and arranging appropriate security tools and processes.
Read more...
---
System integrators and surveillance
Technews Publishing Stallion Security G4S Secure Solutions SA Integrated Solutions
Hi-Tech Security Solutions asked two system integrators if they are seeing an upturn in the market and if projects are back on track despite the economic slowdown and supply chain chaos?
Read more...
---
2022 trends in video surveillance
Eagle Eye Networks Editor's Choice CCTV, Surveillance & Remote Monitoring Integrated Solutions
Eagle Eye Networks predicts what will impact the video surveillance industry in the coming year and how to seize opportunities and forge a path to success, even amid ongoing uncertainties.
Read more...
---
Leaning into the edge
Technews Publishing Axis Communications SA Forbatt SA Hikvision South Africa Editor's Choice CCTV, Surveillance & Remote Monitoring Integrated Solutions IT infrastructure
Video storage and analytical processing, with the help of artificial intelligence on the edge, is simple today with the powerful and advanced camera technology we have available.
Read more...
---
Brewing a surveillance solution
CCTV, Surveillance & Remote Monitoring Integrated Solutions Products
VIVOTEK architects a surveillance enhancement solution for a century-old Japanese brewery comprising 260 devices, including 10 PoE network devices managed using the VAST 2 video management system.
Read more...
---
Supporting security officers
Betatrac Telematic Solutions CCTV, Surveillance & Remote Monitoring Integrated Solutions
Body-worn cameras provide a wide range of benefits to security companies and BetaTrac has recently seen a substantial increase in demand.
Read more...
---
Edge AI helps you re-imagine your security
CCTV, Surveillance & Remote Monitoring Integrated Solutions
Edge AI is a system that uses machine learning algorithms to process data generated by a local hardware device to make independent decisions in real time, without having to connect to the cloud or the internet.
Read more...
---
AI in video analytics
Axis Communications SA CCTV, Surveillance & Remote Monitoring Integrated Solutions
AI (artificial intelligence), has been developed and debated ever since the first computers were invented, and while the most revolutionary incarnations are not yet here, AI-based technologies are widely used today.
Read more...
---
An open OS and camera app store
CCTV, Surveillance & Remote Monitoring Integrated Solutions
Need new AI analytics? Azena's open OS and app market allows you to pick and choose AI apps and install them on your camera with ease.
Read more...
---
Tracking surveillance into the future
Technews Publishing Bosch Building Technologies Cathexis Technologies Axis Communications SA Arteco Global G4S Secure Solutions SA Editor's Choice CCTV, Surveillance & Remote Monitoring Integrated Solutions
Hi-Tech Security Solutions asked six industry experts to join us around a table to discuss the state of the surveillance industry and where it is going.
Read more...
---