printer friendly version
Cable quality versus image quality
May 2011
IT infrastructure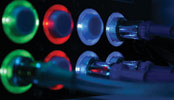 Graham is the project manager for a CCTV systems integration company in Johannesburg. While trying to commission a CCTV system Graham just could not get the cameras into focus. The cameras were all focused on a test monitor at the camera and they all appeared to be in-focus, yet at the recorder the cameras were all out-of-focus. The more puzzling question Graham had was, why were the pan-tilt-zoom (PTZ) cameras out of focus? The PTZ cameras all had auto-focus lenses and no matter what the PTZ cameras were looking at they looked out of focus.
Graham was at his wits' end. He had replaced the PTZ cameras, then he replaced the digital video recorder (DVR) along with the monitor and still the camera images were out of focus.
Graham then decided to bench test the equipment. He removed the PTZ cameras, a few static cameras, the DVR and the monitor and plugged the systems together at his office on short fly-leads. Surprise, surprise, all the components worked and Graham had an operational system. The cameras, the DVR and the monitor were not at fault.
After much testing and investigating we found that Graham had two challenges with this installation:
1. Graham had used poor quality video baluns.
2. Graham had installed poor quality cable.
The solution to the above challenges was resolved by doing the following:
1. The video baluns were replaced with BFR Digital's Video CAT products and the video image improved but was still out-of-focus.
2. It was only after the installation was re-cabled that the problem was successfully resolved.
What Graham learnt from this experience can be summed up in one sentence. Even if you use high quality equipment such as BFR Digital's Video CAT with a leading brand camera and DVR, connecting these components with a poor quality cable will always result in a poor quality video image.
Do IP CCTV systems fail to deliver when poor quality CAT5 or CAT6 is used?
Absolutely! The digital high-speed data stream will experience signal attenuation and crosstalk just like an analogue video signal did on poor quality cable. This always results in reduced data throughput on that particular cable.
Remember, using good quality components installed correctly will produce superb video images every time.
For more information contact BFR Digital, +27 (0)11 786 5575, dionp@bfrdigital.co.za, www.bfrdigital.co.za
Further reading:
Cat S42 enhanced with antimicrobial protection
Issue 9 2020 , IT infrastructure
Every external surface of the Cat S42 has now been enhanced with advanced antimicrobial product protection, making it an anti-bacterial phone.
Read more...
---
Four networking trends for 2021
Issue 9 2020 , IT infrastructure
With the coronavirus continuing its grip on the globe, organisations have to take the experiences and learnings from the previous year and apply them to their IT strategies if they are to find success.
Read more...
---
Arcserve X Series Appliances secured by Sophos
Issue 9 2020 , IT infrastructure
Arcserve introduces multi-petabyte Appliances to secure big data from cyberattacks, IT disasters and large-volume data loss.
Read more...
---
SIM management tool for IoT security devices
Issue 9 2020, Flickswitch , IT infrastructure
SIM management can appear easy when you start off, but quickly becomes complicated as your SIM base grows.
Read more...
---
LD Africa joined forces with Jimi IoT
Issue 9 2020, LD Africa , IT infrastructure
LD Africa is now an approved distributor of Jimi IoT security solutions such as body-worn cameras, PTT walkie-talkies over GSM and specialised CCTV cameras.
Read more...
---
Opportunities on the edge
Issue 9 2020 , Editor's Choice, IT infrastructure
The ability of organisations to realise business value from data increasingly depends on their capacity to collect, process, store and analyse it at the edge.
Read more...
---
Think data protection first, POPIA compliance will come
Issue 9 2020, AVeS Cyber Security , IT infrastructure
Rather than focusing only on compliance, use POPIA as an opportunity to sharpen your organisation's data protection capabilities.
Read more...
---
TRENDnet introduces ONVIF conformant Smart Surveillance switches
Issue 7 2020, TRENDnet , IT infrastructure
Gigabit PoE+ Smart Surveillance switches support PoE self-healing and integrated camera management features, and are ONVIF Profile Q conformant.
Read more...
---
First Distribution to distribute Video Storage Solutions
Issue 8 2020 , News, CCTV, Surveillance & Remote Monitoring, IT infrastructure
First Distribution has signed an agreement to distribute the entire Video Storage Solutions (VSS) product line of video surveillance appliances.
Read more...
---
COVID-19 will foster much needed collaboration in the future of work
Issue 7 2020 , IT infrastructure
Business leaders are starting to discuss the lessons learnt from these challenging times and how they can be used to shape the future world of work.
Read more...
---