printer friendly version
Cable quality versus image quality
May 2011
IT infrastructure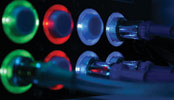 Graham is the project manager for a CCTV systems integration company in Johannesburg. While trying to commission a CCTV system Graham just could not get the cameras into focus. The cameras were all focused on a test monitor at the camera and they all appeared to be in-focus, yet at the recorder the cameras were all out-of-focus. The more puzzling question Graham had was, why were the pan-tilt-zoom (PTZ) cameras out of focus? The PTZ cameras all had auto-focus lenses and no matter what the PTZ cameras were looking at they looked out of focus.
Graham was at his wits' end. He had replaced the PTZ cameras, then he replaced the digital video recorder (DVR) along with the monitor and still the camera images were out of focus.
Graham then decided to bench test the equipment. He removed the PTZ cameras, a few static cameras, the DVR and the monitor and plugged the systems together at his office on short fly-leads. Surprise, surprise, all the components worked and Graham had an operational system. The cameras, the DVR and the monitor were not at fault.
After much testing and investigating we found that Graham had two challenges with this installation:
1. Graham had used poor quality video baluns.
2. Graham had installed poor quality cable.
The solution to the above challenges was resolved by doing the following:
1. The video baluns were replaced with BFR Digital's Video CAT products and the video image improved but was still out-of-focus.
2. It was only after the installation was re-cabled that the problem was successfully resolved.
What Graham learnt from this experience can be summed up in one sentence. Even if you use high quality equipment such as BFR Digital's Video CAT with a leading brand camera and DVR, connecting these components with a poor quality cable will always result in a poor quality video image.
Do IP CCTV systems fail to deliver when poor quality CAT5 or CAT6 is used?
Absolutely! The digital high-speed data stream will experience signal attenuation and crosstalk just like an analogue video signal did on poor quality cable. This always results in reduced data throughput on that particular cable.
Remember, using good quality components installed correctly will produce superb video images every time.
For more information contact BFR Digital, +27 (0)11 786 5575, [email protected], www.bfrdigital.co.za
Further reading:
ALM a key element of data security
IT infrastructure
ALM is core to any data security framework in the digital age and it is an element that no business can afford to be careless with.
Read more...
---
Integrate, integrate, integrate
IT infrastructure
Security and speed will always war for dominance in DevOps but it's time to integrate the two as the landscape becomes increasingly fractious and complex.
Read more...
---
The benefits of Managed File Transfer
IT infrastructure Products
Blue Turtle Technologies looks into how a Managed File Transfer platform benefits businesses, as opposed to the usual FTP or SFTP suspects.
Read more...
---
Accelerating your Zero Trust journey in manufacturing
IT infrastructure Cyber Security Industrial (Industry)
Francois van Hirtum, CTO of Obscure Technologies, advises manufacturers on a strategic approach to safeguarding their businesses against cyber breaches.
Read more...
---
Cyber resilience is more than cybersecurity
Technews Publishing Editor's Choice Cyber Security Integrated Solutions IT infrastructure
Hi-Tech Security Solutions held a round-table discussion focusing on cyber resilience and found that while the resilience discipline includes cybersecurity, it also goes much further.
Read more...
---
Keeping devices in check
Cyber Security Asset Management, EAS, RFID IT infrastructure
Kaspersky patents new technology for analysing relationships between electronic devices to counter cyberattacks launched through connected IoT devices.
Read more...
---
IQ WiFi 6 supporting users and security installers
IT infrastructure Products
The IQ WiFi 6 is a new purpose-built mesh router solution for homes and businesses with security, automation and Wi-Fi devices.
Read more...
---
Considering cloud downtime insurance?
Arcserve Southern Africa Cyber Security IT infrastructure Security Services & Risk Management
Byron Horn-Botha, business unit head, Arcserve Southern Africa, reveals three vital steps that you must consider to ensure business continuity before you buy insurance.
Read more...
---
A robust OT cybersecurity strategy
Editor's Choice Cyber Security IT infrastructure Industrial (Industry)
Cyber experts are still struggling to convince senior management to spend money to protect their control system assets, resulting in a lack of even basic measures to protect control systems.
Read more...
---
IT security at the core of smart cities
Cyber Security IT infrastructure Government and Parastatal (Industry)
The success of service delivery and public access to universal Wi-Fi, home automation and smart sensors is based on increased IT security.
Read more...
---