printer friendly version
Wireless home
May 2011
Perimeter Security, Alarms & Intruder Detection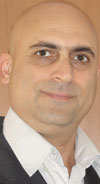 Visonic is raising the bar for wireless home security.
According to the South African Police Service, there were more than 256 000 burglaries at residential premises in the 2009/2010 reporting year, with more than 18 700 termed aggravated robbery. Clearly, this type of challenging home invasion environment requires highly effective and reliable security systems.
Yet, even as they realise the absolute necessity of protecting their homes and families, many consumers are keen to minimise the impact of security measures on their homes and lives. As a result, home security manufacturers understand that homeowners seek a system that minimises disruption to their lifestyles and house décor. Alongside these requirements, and even more importantly, property owners are not willing to compromise on system reliability.
Beyond wired security
It has become obvious that wired security systems cannot fully answer these types of customer demands. Wired security technologies involve complex, expensive and time-consuming installations; and running the wires for new peripherals or system upgrades in existing homes invariably results in a significant mess and some level of disruption to the permanent décor.
With the broad offering of wireless systems and components available today, residential and small commercial customers can be well served by wireless systems. By focusing on wire-free installations, which are invariably faster and simpler than wired, security service providers can handle more installations – while satisfying homeowners' requirements for reliability and ease of use.
PowerG: helping security professionals
Building on over a decade of proven success in the market with the PowerMax family, Visonic is leading the charge to bring wireless security to the next level. With the launch of its new PowerG RF technology for intrusion alarms in November last year, Visonic has raised the bar on virtually every aspect of wireless home security – ease of installation, reliability, range and more.
PowerG, which provides the underlying technology for Visonic's new wireless product family, is based on a combination of three wireless technologies proven in other demanding markets such as cellular and military communications. Combining these core technologies – two-way, low-power frequency hopping spread spectrum (FHSS), TDMA communication and advanced encryption standard security (AES) – PowerG is an innovative RF technology that provides significant benefits to professional installers, central monitoring stations and end-users:
Fast and easy installations and maintenance: Pre-enrolled detectors and other accessories that can be configured from the panel, together with built-in link quality indicators on the devices, enable quick and easy installations. Advanced on-site and remote diagnostics facilitate ongoing maintenance. The system continuously diagnoses the RF environment and interferences, communicating with the central monitoring station, often eliminating the need to send security personnel into the field.
Strength and reliability: With PowerG, signals continuously hop between channels in a random sequence, avoiding interference and jamming. Just as significantly, TDMA communication ensures that RF collisions are eliminated. As for encryption, PowerG surpasses most industry standards, employing the secure AES-128 algorithm, protecting the system from code grabbing and message substitution by hackers and other attackers.
Opportunities to expand: PowerG employs advanced radio and diversity antenna technologies that, when combined with frequency hopping and synchronised TDMA, result in extremely high communication ranges. This enables repeater-free installations even on large premises. Tests reveal a line-of-sight communication range greater than 2 km.
A green, energy-saving solution: Each device continuously measures communication quality and automatically sets its transmission power to the minimum required for reliable communication with the panel. Full, two-way synchronised communication ensures minimum, short transmissions. These significantly extend the battery life of PowerG devices to exceed eight years.
Ease, reliability and versatility: The first control panel based on PowerG is PowerMaster-10. It already supports a wide range of detectors and accessories, including keypads, sirens, intrusion and safety detectors and repeaters. PowerMaster-10 grants all the benefits listed above and most importantly offers installers the simplicity and ease of wireless installation.
Further reading:
The false alarm that's costing money
Guardian Eye Perimeter Security, Alarms & Intruder Detection
Property safety is often a litany of false alarms and fake threats that take up time, cost money and test patience, but it doesn't have to be that way thanks to modern technology
Read more...
---
Load shedding, faulty alarm systems and insurance risks
Perimeter Security, Alarms & Intruder Detection
As South Africa continues to experience frequent bouts of load shedding, security systems can be severely compromised due to the lead-acid batteries still used in security systems.
Read more...
---
Driving reliable wireless security
Elvey Security Technologies Perimeter Security, Alarms & Intruder Detection Industrial (Industry) Products
Ajax wireless technology provides reliable system to provide uncompromising perimeter intruder detection for security at vehicle manufacturing plant.
Read more...
---
Next-generation monitoring and detection
News Perimeter Security, Alarms & Intruder Detection Products
Fotech has launched two next-generation Helios DAS systems. Fotech's DAS technology turns fibre-optic cables into thousands of sensors to enable continuous, uninterrupted and real-time monitoring around the clock.
Read more...
---
Olarm expands integration and connectivity options
Olarm News Perimeter Security, Alarms & Intruder Detection
Olarm introduces Olarm Pro 4G, and support for Nemtek Merlin, Paradox MGSP panels and the new WPS mode.
Read more...
---
Upgrade your customers' outdoor security lighting
ADI Global Distribution Perimeter Security, Alarms & Intruder Detection Products Smart Home Automation
With the soaring cost of living and the nights getting darker, it is so important to make sure your customers' properties are protected against theft and crime.
Read more...
---
Olarm launches PRO 4G communicator
Olarm News Perimeter Security, Alarms & Intruder Detection Products
Olarm has announced an additional 4G/LTE version of its Olarm PRO smart communicator. It is aimed at areas suffering from poor connectivity by providing support for 4G, 2G and Wi-Fi networks.
Read more...
---
Jaco van Wyk joins Olarm in Johannesburg
Olarm News Perimeter Security, Alarms & Intruder Detection
Jaco van Wyk has joined Olarm as its partner manager in Gauteng; he has strong technical security and client service experience in the South African market.
Read more...
---
GJD launches new range of white-light floodlights
Perimeter Security, Alarms & Intruder Detection Products
GJD has announced the launch of its new range of floodlights, combining high-quality LED technology with a modern and aesthetically pleasing design suitable for all outdoor lighting applications.
Read more...
---
Fotech and C3SS launch technology partnership
C3 Shared Services News Perimeter Security, Alarms & Intruder Detection
Fotech has signed a non-exclusive MOU with C3SS, a South Africa-based perimeter and infrastructure security company, to target specific African markets.
Read more...
---