printer friendly version
Beyond security
May 2011
CCTV, Surveillance & Remote Monitoring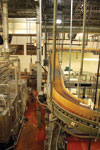 Surveillance technologies serve more than security purposes.
Surveillance and remote monitoring and control are today highly critical to the success of many companies, particularly those whose manufacturing and processing operations are geographically dispersed. Industries such as water and wastewater, oil and gas, mining, mineral extraction and processing, paper and board, chemical and petrochemical frequently cover large areas with distributed systems, exposing workers, contractors and visitors to potentially dangerous materials and situations.
Such operations require solutions that can strengthen site-wide security and tighten access control to secured areas. They also need to monitor critical processes, high-value equipment and strategic production materials closely. Dennis Cox, general manager MES and Scada at Schneider Electric South Africa, says all of these tasks can be accomplished with a new development from Schneider Electric's Vijeo Citect solution that allows video feed from Pelco cameras to be viewed on scada screens.
"This achieves simple, smart security in scada," says Cox. "The ability to interface seamlessly with Pelco cameras is a standard feature of Schneider Electric's Vijeo Citect that makes security solutions simpler, smarter and more secure."
The benefits include greater flexibility and control over the security and management of company assets and the rapid detection of potential security events. Integrated tools help supervise people and equipment and the ability to view remote events centrally assists management to make more informed decisions.
Cox adds that traditional methods of access control and monitoring personnel and equipment in hazardous or secure areas are often difficult to manage. "They are also prone to human error and neglect, and slow to produce critical information. Today, regulatory bodies are becoming involved and there is pressure on site managers to find better ways of addressing these issues."
The integration of camera/video surveillance on operators' scada screens provides a simple yet effective option. Cox says that visual validation of the actual equipment, perimeter, zone or site in question, ensures that the quality of decision-making is markedly improved. "Operators are able to visualise the situation before responding to process or security incidents, which effectively supervises the security of plant and assets and minimises risks to field staff in potentially hazardous situations."
Video integration in scada confines the need for site visits to genuine security or process incidents. Cox says this optimises management of field staff, lowers travel costs and reduces carbon footprint. "The effectiveness of intervention through more informed insight into the scale of a problem and richer, context sensitive assessments reduces risk to staff in potentially hazardous conditions and improves emergency response, resulting in reduced disruption to operations."
Overall, the integration of IP cameras with scada creates a new level of synergies for organisations by complementing scada data with visual information to assist operators to assess security threats. In the hands of experienced operators decision making is more effective, response is quicker and post-incident analysis improves. In the case of a water utility with a multitude of pump stations dispersed across hundreds of kilometres, if leakage of a dosing chemical at a water supply facility is detected, video can show the scale and nature of the problem more intuitively than I/O data alone.
Cox says that when the RTU senses a very low alarm on a chemical tank and the operator observes on Vijeo Citect's Process Analyst that this level drop is abnormal, then a remote visual inspection can ascertain whether the tank has sprung a leak. If it has, the operator can alert field staff to leave their current maintenance tasks to deal with this critical alarm and instruct them to implement safety procedures when accessing the site. In this case, video helps alert operators to the possible risks at the site prior to a first-hand investigation. It means field staff can go in much better prepared for the task.
Alarms triggered by a suspicious or unscheduled entry into a remote pipeline, or by a malfunction in a drilling rig or pump jack at an oil field, prompt an automatic pop-up display of video of the relevant equipment, perimeter, zone or site on the operator's screen. The RTU can trigger immediate recording through a specific camera, helping the operator to make a context-sensitive assessment of the event by linking the scada data to the video being viewed.
"Live video can either confirm what the alarm indicates or prove it to be erroneous," says Cox. "This can save valuable time and money that would otherwise be spent on deploying field staff to what may turn out to be just an inconsequential event."
The ability to integrate Pelco cameras allows live video to be viewed within Schneider Electric's Vijeo Citect solutions. Cox says operators can also control cameras from a Web client to integrate facilities management with remote security monitoring. "With large-scale applications, integrating various security functions with the process control system provides significant added value. For example, an event such as an intrusion can trigger an automatic response such as video feed appearing on an operator's workstation. If predefined alarm conditions occur, the cameras are able to pan to pre-programmed positions to provide views of the areas of interest."
Using Pelco cameras in Vijeo Citect provides the convenience of having video displays directly on operators' scada screens, user-friendly controls such as pan, tilt, zoom (PTZ), brightness and contrast improves operator efficiency. Among additional features are pop-up display for motion/intrusion detection, the ability to link events and remote control of cameras from a web client and easy to use camera and integral streaming interface.
With real-time video surveillance in Vijeo Citect, operators can have live video on their screens direct from IP cameras located across remote, as well as central locations.
Video in Vijeo Citect allows timely, direct situation assessments. Cox says that because it is linked to process data, operators can assess the 'before and after' footage of any incident. "This provides a richer base for event analysis and decision-making and an additional layer of protection that can become a vital part of security, safety and process optimisation, particularly useful in geographically dispersed and unmanned operations."
First published in SA Instrumentation & Control, www.instrumentation.co.za
Further reading:
Hikvision unveils first 'True 8K' NVRs
Hikvision South Africa CCTV, Surveillance & Remote Monitoring Products
The new M-Series NVRs can be used with a host of Hikvision cameras, and are ideal for environments where a wide field of view and extremely high image resolution are needed.
Read more...
---
AI in video analytics
CCTV, Surveillance & Remote Monitoring Integrated Solutions
AI (artificial intelligence), has been developed and debated ever since the first computers were invented, and while the most revolutionary incarnations are not yet here, AI-based technologies are widely used today.
Read more...
---
Milestone flies a Kite for small businesses
Milestone Systems CCTV, Surveillance & Remote Monitoring
Milestone Systems introduces Milestone Kite for small to medium-sized businesses and organisations, supporting 6000+ camera models from 100+ manufacturers.
Read more...
---
Railway AI-enabled video analytics
Rugged Interconnect Technologies CCTV, Surveillance & Remote Monitoring
The Rugged Computing Group has announced the AVA-RAGX, a fanless AIoT video analytics platform for railway applications, paired with Nvidia's Jetson AGX Xavier platform.
Read more...
---
No supply chain delays from Germany
Dallmeier Electronic Southern Africa News CCTV, Surveillance & Remote Monitoring Products
Dallmeier announces that its complete Domera single-sensor camera family is available without delivery problems for installers and channel partners.
Read more...
---
Hikvision releases eDVR Series with eSSD technology
Hikvision South Africa CCTV, Surveillance & Remote Monitoring Products
Hikvision recently added the eDVR Series to its expanding portfolio of security solutions for SMBs, offering compact, durable, easy-to-use and energy-efficient solutions.
Read more...
---
Axis announces W101 body-worn camera
Products CCTV, Surveillance & Remote Monitoring
Axis Communications has designed a body-worn camera, the Axis W101, that has an operating time of up to 17 hours with over 12 hours at 1080p.
Read more...
---
Adding value to SMB applications
Hikvision South Africa CCTV, Surveillance & Remote Monitoring Products
Hikvision designed its PT cameras to provide affordable choices for SMBs, and to pave the way to easy installation and reliable security with flexibility and convenience.
Read more...
---
Going beyond security
Milestone Systems CCTV, Surveillance & Remote Monitoring Products
Milestone Systems reveals plans to bring its pioneering video technology beyond the traditional security market with new specialised solutions, including a special healthcare solution.
Read more...
---
Adding value to SMB applications
Hikvision South Africa CCTV, Surveillance & Remote Monitoring Products
Hikvision designed its PT cameras to provide affordable choices for SMBs, and to pave the way to easy installation and reliable security with flexibility and convenience.
Read more...
---