printer friendly version
Etrovision HD megapixel cameras
April 2011
Products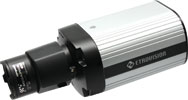 Bandwidth has been a critical issue for megapixel technology. Etrovision's new H.264 megapixel cameras aim to solve the drawbacks of the existing MPEG-4 megapixel cameras. The technology not only dramatically reduces costs, but enhances bandwidth practicality.
On average, an H.264 megapixel camera has double the efficiency of an MPEG-4 megapixel camera. With the newly released H.264 HD cameras, sharp image quality is presented consuming less than 2 MB bandwidth. For higher resolution, a single megapixel camera has the equivalent coverage area of multiple traditional cameras. For instance, a 1,3 megapixel camera is equal to four VGA cameras with a significant reduction of installation cost.
Etrovision provides a complete series of products available in box and dome megapixel cameras. Furthermore, the models support dual streams, two-way audio, PoE, mobile security, wireless, and are ONVIF compliant.
Features
* Full HD (1920 X 1080 @ 25FPS).
* H.264 / MPEG-4/ M-JPEG dual streams simultaneously.
* Four X ROI with independent streaming.
* True day/night IR cut filter.
* Two way audio.
* 802.3af standard A/B compliant PoE.
* Wireless option.
* ONVIF.
Further reading:
The benefits of Managed File Transfer
IT infrastructure Products
Blue Turtle Technologies looks into how a Managed File Transfer platform benefits businesses, as opposed to the usual FTP or SFTP suspects.
Read more...
---
Hikvision unveils first 'True 8K' NVRs
Hikvision South Africa CCTV, Surveillance & Remote Monitoring Products
The new M-Series NVRs can be used with a host of Hikvision cameras, and are ideal for environments where a wide field of view and extremely high image resolution are needed.
Read more...
---
Manage energy usage with Paxton access control
Paxton Access Control & Identity Management Products
Paxton provides access control systems that can integrate with existing infrastructure and manage a building's energy-consuming activities to save energy and costs.
Read more...
---
The next generation of Point of Sale
Commercial (Industry) Security Services & Risk Management Products
New digital point-of-sale (POS) platforms are gaining traction, which means payment providers and investors should take note.
Read more...
---
Kaspersky announces new consumer portfolio
Products Smart Home Automation
Kaspersky has announced availability of its new, simplified consumer solutions portfolio, with an enhanced user interface and experience across multiple platforms.
Read more...
---
DeltaTrak and Ericsson IoT offer real-time cold chain traceability
News Products Logistics (Industry)
Ericsson's Internet of Things (IoT) business and DeltaTrak announced a collaboration through Deutsche Telekom that will drive cold chain traceability enhancements powered by the Ericsson IoT Accelerator platform.
Read more...
---
Industrial outdoor Gigabit PoE+ extender
TRENDnet IT infrastructure Products
Easily extend up to two PoE+ signals an additional 100 m for a total PoE distance of 200 m with this new industrial outdoor gigabit PoE+ extender from TRENDnet.
Read more...
---
GSM intercoms for mobile visitor management
Access Control & Identity Management Products
Controlling who has access to your property is vital, however, who gave that access is also important, if not more so.
Read more...
---
No supply chain delays from Germany
Dallmeier Electronic Southern Africa News CCTV, Surveillance & Remote Monitoring Products
Dallmeier announces that its complete Domera single-sensor camera family is available without delivery problems for installers and channel partners.
Read more...
---
Hikvision releases eDVR Series with eSSD technology
Hikvision South Africa CCTV, Surveillance & Remote Monitoring Products
Hikvision recently added the eDVR Series to its expanding portfolio of security solutions for SMBs, offering compact, durable, easy-to-use and energy-efficient solutions.
Read more...
---