printer friendly version
Linear heat detection
April 2011 Fire & Safety, Products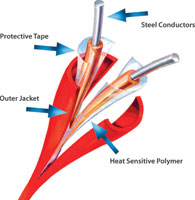 Protectowire Linear Heat Detector is a proprietary cable that detects heat anywhere along its length. The sensor cable is comprised of two steel conductors individually insulated with a heat sensitive polymer. The insulated conductors are twisted together to impose a spring pressure between them, then wrapped with a protective tape and finished with an outer jacket suitable for the environment in which the detector will be installed.
Protectowire is a fixed temperature digital sensor and is therefore capable of initiating an alarm once its rated activation temperature is reached. At the rated temperature, the heat sensitive polymer insulation yields to the pressure upon it, permitting the inner conductors to move into contact with each other thereby initiating an alarm signal. This action takes place at the first heated point anywhere along the detector's length. It does not require that a specific length be heated in order to initiate an alarm nor is system calibration necessary to compensate for changes in the installed ambient temperature. Protectowire Linear Heat Detector provides the advantages of line coverage with point sensitivity.
Features
* Line coverage, continuous sensitivity.
* Withstands severe environmental conditions.
* Approved for hazardous locations.
* Easy to install, test and splice.
* Compatible with other initiation devices on same circuit.
* Separate pre-alarm and alarm actuations (Type TRI).
Credit(s)
Further reading:
Securing business information more important than ever
Cyber Security Products
SMBs need to operate safely within the physical and virtual boundaries created by work-from-home business practices, as well as in-office operations.
Read more...
---
Turnkey data loss prevention solution
IT infrastructure Cyber Security Products
Acronis's expertise in data protection and the managed service provider market yields an innovative, fast-track approach for the prevention of catastrophic data leaks.
Read more...
---
Brewing a surveillance solution
CCTV, Surveillance & Remote Monitoring Integrated Solutions Products
VIVOTEK architects a surveillance enhancement solution for a century-old Japanese brewery comprising 260 devices, including 10 PoE network devices managed using the VAST 2 video management system.
Read more...
---
Axis to create explosion-protected cameras
Axis Communications SA CCTV, Surveillance & Remote Monitoring News Products
Axis Communications has announced its plans to develop its own explosion-protected surveillance cameras and devices across the Axis product portfolio through a new subsidiary, Axis Ex AB.
Read more...
---
Workplace fire detection: early warning is key
Fire & Safety
Workplace fire detection systems should be correctly installed and regularly tested to ensure they provide proper cover and are able to assist staff members to safely escape and alert you before a fire becomes an inferno.
Read more...
---
QR Code passwordless authentication method
News Access Control & Identity Management Products
LogMeOnce introduces a patented QR Code passwordless authentication method allowing users to scan a code with their mobile device for secure authentication.
Read more...
---
Hytera showcases security communications at Securex
News Conferences & Events Products
Hytera will be at Securex South Africa 2022 in Hall 2, Stand A07, where it will showcase a variety of security communications solutions, including its latest DMR communications solution, body-worn cameras and Push-to-Talk over cellular.
Read more...
---
AI Box for retail
Retail (Industry) CCTV, Surveillance & Remote Monitoring Products
IDIS AI Box for retail delivers advanced video intelligence, even for smaller stores. The simple add-on gives retailers powerful business insights without the price tag.
Read more...
---
Fire safety in financial organisations
Financial (Industry) Fire & Safety
The data that drives modern finance is physically stored and processed by banks of equipment in cabinets where they give off a significant amount of heat as a side effect to their furious electronic activity.
Read more...
---
New innovations in bomb protection and cash storage
Fidelity Services Group Security Services & Risk Management Products
The recent increase in retail bombing, grinding and impact attacks on cash acceptance devices (CAD) in the retail sector has prompted a relook at the technology required to protect both staff and assets.
Read more...
---