printer friendly version
Local innovation scores
April 2011
Integrated Solutions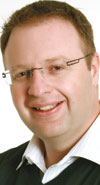 The CCTV components nobody ever thinks about could substantially reduce the costs of installation.
Uday is the owner of a CCTV systems integration company in Tanzania. During the height of the recession in 2009 Uday kept losing CCTV deals to a South African company.
The burning question for Uday was how could these South Africans under quote him? He was the local and after all the South Africans incurred extra costs like flights and accommodation. How could they under quote him when he did not have these extra overheads? Also, the South Africans were quoting on the same camera and digital video recorder (DVR) that he was quoting. So the answer was not that the South Africans were quoting inferior products.
Uday found the answer after many months and the loss of many deals. As these systems aged and required camera maintenance, like cleaning and refocusing, the customers began to call Uday. It just was not feasible for the South Africans to do maintenance on these CCTV systems in Tanzania.
It was on Uday's first maintenance call that he made some startling discoveries. Uday took the opportunity and accompanied his maintenance crew to the customer. Uday was expecting inferior workmanship and product but this was not the case. The product installed was as per the customer's specification, the same specification he had quoted on. To Uday's astonishment the installation was neatly done and to a high standard.
What perplexed Uday was the lack of power supplies, RG59 coax cable and camera power cable. Instead Uday found a 16-channel box (VC-016PR) next to the DVR. The outputs of the VC-016PR were 16 RG59 coax cables connected to the DVR; the inputs were 16 CAT5 cables. At the camera Uday found a little silver box (VC-01PM) that the CAT5 cable from the control room plugged into and on the other side there was a 12 V DC power connector and a BNC connector for the camera.
Uday had discovered what was to him a unique installation methodology. He was astounded at how a camera's video signal and power requirements could be managed on one CAT5 cable to a maximum cable length of 300 m.
You see Uday pays US$1 per metre of RG59 and US$1 per metre of power cable but the price of CAT5 is only US$0,8 per metre. Uday worked out that by using a VC-016PR at the DVR and one VC-01PM per camera, his CCTV infrastructure, ie, cabling, conduiting and trunking, costs would be reduced by 20%.
Uday realised another benefit after using these products for the first time, because he was using less cable and conduiting his labour costs had also reduced. His installation team finished the installation faster than he had expected allowing for a further cost reduction of 5% on labour.
Uday is now a regular BFR Digital customer. Not only has Uday benefitted from our technology but he has also introduced Amar from Kenya and Faisal from the Middle East to BFR Digital's Power CAT products.
Uday is not the only one to understand the benefit of BFR Digital's Power CAT products. We understand that Uday's position is unique and that the cost of doing business in Central Africa is high but many local end-users like Standard Bank and Eskom have specified our Power CAT range of products and reduced the overall costs of their CCTV systems.
Further reading:
Smart car parking solution eases traffic flow
Dahua Technology South Africa CCTV, Surveillance & Remote Monitoring Integrated Solutions Products
Ethiopia's first smart parking lot, designed to improve traffic flow and management efficiency, has been built and installed using Dahua Technology's smart parking solutions.
Read more...
---
VMS 7.2 supports the investigation process and adds cloud capabilities
CCTV, Surveillance & Remote Monitoring Integrated Solutions Products
Qognify has launched the second release of its VMS, including extended support for body-worn video, additional functionalities to support investigations, and a new web client architecture. VMS 7.2 addresses the increasing use of body-worn video (BWV) across many sectors.
Read more...
---
Hytera and KZN Police Service roll out digital call handling system
Government and Parastatal (Industry) Asset Management, EAS, RFID Integrated Solutions
Hytera Communications announced that the municipality of Ray Nkonyeni in the KwaZulu-Natal province of South Africa is now using its digital call handling system for the reporting and recording of crimes.
Read more...
---
Cyber resilience is more than cybersecurity
Technews Publishing Editor's Choice Cyber Security Integrated Solutions IT infrastructure
Hi-Tech Security Solutions held a round-table discussion focusing on cyber resilience and found that while the resilience discipline includes cybersecurity, it also goes much further.
Read more...
---
Johnson Controls releases IQ4
Perimeter Security, Alarms & Intruder Detection Integrated Solutions
New lower cost panel leverages Qolsys IQ Platform targeting residential, SMB, builder, MDU/multi-family and wellness market segments.
Read more...
---
SuperVision biometric access control
Integrated Solutions Access Control & Identity Management Products
SuperVision is a time & attendance (T&A) biometric access control system Fourier IT has been developing and enhancing for 18 years.
Read more...
---
Shift to online driving retail transformation
Retail (Industry) Integrated Solutions
There is a growing demand from retail for an end-to-end solution that helps their digitisation process, integrating finance, procurement, warehouse management, pricing, stock management, point of sale and more.
Read more...
---
AI in video analytics
CCTV, Surveillance & Remote Monitoring Integrated Solutions
AI (artificial intelligence), has been developed and debated ever since the first computers were invented, and while the most revolutionary incarnations are not yet here, AI-based technologies are widely used today.
Read more...
---
Complete solutions, delivering complete protection
Gallagher Access Control & Identity Management Integrated Solutions Commercial (Industry)
The recent release by Gallagher of Command Centre v8.80 and Command Centre Web enables all organisations to make security easier, faster and more efficient.
Read more...
---
Cathexis demonstrates its 'effective innovation'
Cathexis Technologies Technews Publishing Editor's Choice CCTV, Surveillance & Remote Monitoring News Integrated Solutions
Cathexis Africa recently held a roadshow with a stop in Johannesburg where Hi-Tech Security Solutions was invited to attend, along with many of the company's partners and users.
Read more...
---