printer friendly version
Fibre-optic protection against solar panel theft
April 2011 Products & Solutions, Infrastructure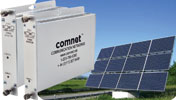 The production of electric power by photovoltaic solar panels has been steadily expanding in recent years and many systems of panels have been installed everywhere, on roofs and open fields especially. As a consequence of the value and increasing demand of these devices, theft has become an issue. To protect these installations a simple and reliable fibre-optic-based protection system has been developed.
The ComNet FDC1/2 fibre-optic cable break detectors are usually installed in a control room, however they can also be installed in an anti-tamper protected cabinet as the units are rated to operate under extensive temperatures up to +75°C and support a wide DC voltage input.
From the unit a fibre-optic protective loop is connected, the first end of the dielectric fibre-optic cable is connected to the optical transmitter output and the second end to the optical receiver input. Usually the fibre-optic cable, housing one single fibre, either single mode or multimode depending on the distance to cover, has the diameter of 2–2,8 mm and includes the tight fibre 0,9 mm and a layer of aramidic yarn for mechanical protection, under the external coating which is made of compounds suitable for outdoor installation. Using fibre-optic cable in this way offers a cost-effective solution without the possibility of the cable being bypassed by use of a jumper as would be possible with a copper cable.
The optic connection is made by ST type terminating connectors at the two ends of the cable, coupled to the ST bulkhead adapters of the optical transmitter output and of the optical receiver input. The optical cable is woven through the metal frame of solar panels prior to being connected to the FDC1/2 unit, in such a way that the panel cannot be removed without breaking the optical cable. The FDC1/2 unit constantly monitors the status of the attached fibre-optic cable and can trigger an alarm relay output in less than 0,5 ms of a cable break or tamper being detected. The relay output can be configured as a normally open or normally closed contact for maximum flexibility.
The result of this protection is that by a limited investment it is possible to protect a much larger investment in the complete solar panel power generating system. Additional cost savings can be made by using the FDC2 series which can monitor two independent fibre-optic protection loops in a single device allowing for maximum equipment density.
For more information contact ComNet Europe, +44 113 307 6400, ymamoniat@comnet.net, www.comnet.net
Further reading:
Hik-Connect for Teams released
Hikvision South Africa Products & Solutions Surveillance
Hikvision has released an update for its security management platform; Hik-Connect for Teams not only meets the specific needs of individual users, but also caters to various medium-sized businesses (SMBs) and multi-site management scenarios.
Read more...
---
Revolutionise your security with integrated solutions
Secutel Technologies Products & Solutions Surveillance
By merging the capabilities of SecuVue and Secutraq, Secutel has forged a robust system empowering users to fine-tune analytics and harness facial recognition, pose detection, and XFS, among other features.
Read more...
---
All aspects of data protection
Technews Publishing Editor's Choice Information Security Infrastructure AI & Data Analytics
SMART Security Solutions spoke to Kate Mollett, Senior Director, Commvault Africa, about the company and its evolution from a backup specialist to a full data protection specialist, as well as the latest announcements from the company.
Read more...
---
Effective access control
Flow Systems Access Control & Identity Management Products & Solutions
Flow Systems has introduced its new Extra Heavy Duty Industrial Rising Vehicle Barrier, which provides a high level of protection. It is a traditional-looking control barrier with the benefits of high-level physical protection.
Read more...
---
SafeQuip introduces lithium fire extinguishers
Fire & Safety Products & Solutions
With the use of Lithium batteries increasing in many types of portable devices and battery storage solutions, SafeQuip, in partnership with AVD Lithex, is introducing a fire extinguisher aimed at suppressing and extinguishing, and also preventing re-ignition of lithium fires.
Read more...
---
New generation of cyber-focused controllers
Gallagher News & Events Access Control & Identity Management Products & Solutions
The C7000 gives users an opportunity to leverage their hardware and firmware to build a platform designed to catapult their organisation into the future, with cybersecurity baked in from inception.
Read more...
---
Nextivity CEL-FI ROAM R41 boosts your cell signal
IoT & Automation Products & Solutions
Designed for cars, trucks, and boats, it is the industry's most powerful cellular coverage solution for on-the-go applications. It features the 4th generation IntelliBoost chip to deliver channelised coverage for mobile network operator (MNO) signals.
Read more...
---
Majority of South African companies concerned about cloud security
Information Security Infrastructure
Global and local businesses share a common concern when it comes to cloud security. 95% of global businesses and 89% of local businesses are concerned about the security of public clouds.
Read more...
---
Consolidated cybersecurity management
Technews Publishing Editor's Choice Information Security Infrastructure
SMART Security Solutions spoke to Gareth Redelinghuys, Country Managing Director, African Cluster at Trend Micro, to find out what makes Trend stand out from the crowd and also its latest market offerings.
Read more...
---
Access to data centre secured
Suprema Access Control & Identity Management Infrastructure
GBM required a modern access control system to increase the security of its facilities in a productive environment without affecting the operation of the offices and the data centre, which are carried out 24/7/365.
Read more...
---