printer friendly version
Fibre-optic protection against solar panel theft
April 2011 Products, IT infrastructure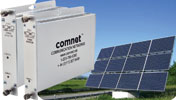 The production of electric power by photovoltaic solar panels has been steadily expanding in recent years and many systems of panels have been installed everywhere, on roofs and open fields especially. As a consequence of the value and increasing demand of these devices, theft has become an issue. To protect these installations a simple and reliable fibre-optic-based protection system has been developed.
The ComNet FDC1/2 fibre-optic cable break detectors are usually installed in a control room, however they can also be installed in an anti-tamper protected cabinet as the units are rated to operate under extensive temperatures up to +75°C and support a wide DC voltage input.
From the unit a fibre-optic protective loop is connected, the first end of the dielectric fibre-optic cable is connected to the optical transmitter output and the second end to the optical receiver input. Usually the fibre-optic cable, housing one single fibre, either single mode or multimode depending on the distance to cover, has the diameter of 2–2,8 mm and includes the tight fibre 0,9 mm and a layer of aramidic yarn for mechanical protection, under the external coating which is made of compounds suitable for outdoor installation. Using fibre-optic cable in this way offers a cost-effective solution without the possibility of the cable being bypassed by use of a jumper as would be possible with a copper cable.
The optic connection is made by ST type terminating connectors at the two ends of the cable, coupled to the ST bulkhead adapters of the optical transmitter output and of the optical receiver input. The optical cable is woven through the metal frame of solar panels prior to being connected to the FDC1/2 unit, in such a way that the panel cannot be removed without breaking the optical cable. The FDC1/2 unit constantly monitors the status of the attached fibre-optic cable and can trigger an alarm relay output in less than 0,5 ms of a cable break or tamper being detected. The relay output can be configured as a normally open or normally closed contact for maximum flexibility.
The result of this protection is that by a limited investment it is possible to protect a much larger investment in the complete solar panel power generating system. Additional cost savings can be made by using the FDC2 series which can monitor two independent fibre-optic protection loops in a single device allowing for maximum equipment density.
For more information contact ComNet Europe, +44 113 307 6400, [email protected], www.comnet.net
Further reading:
The benefits of Managed File Transfer
IT infrastructure Products
Blue Turtle Technologies looks into how a Managed File Transfer platform benefits businesses, as opposed to the usual FTP or SFTP suspects.
Read more...
---
Cyber resilience is more than cybersecurity
Technews Publishing Editor's Choice Cyber Security Integrated Solutions IT infrastructure
Hi-Tech Security Solutions held a round-table discussion focusing on cyber resilience and found that while the resilience discipline includes cybersecurity, it also goes much further.
Read more...
---
Keeping devices in check
Cyber Security Asset Management, EAS, RFID IT infrastructure
Kaspersky patents new technology for analysing relationships between electronic devices to counter cyberattacks launched through connected IoT devices.
Read more...
---
Hikvision unveils first 'True 8K' NVRs
Hikvision South Africa CCTV, Surveillance & Remote Monitoring Products
The new M-Series NVRs can be used with a host of Hikvision cameras, and are ideal for environments where a wide field of view and extremely high image resolution are needed.
Read more...
---
Manage energy usage with Paxton access control
Paxton Access Control & Identity Management Products
Paxton provides access control systems that can integrate with existing infrastructure and manage a building's energy-consuming activities to save energy and costs.
Read more...
---
Considering cloud downtime insurance?
Arcserve Southern Africa Cyber Security IT infrastructure Security Services & Risk Management
Byron Horn-Botha, business unit head, Arcserve Southern Africa, reveals three vital steps that you must consider to ensure business continuity before you buy insurance.
Read more...
---
A robust OT cybersecurity strategy
Editor's Choice Cyber Security IT infrastructure Industrial (Industry)
Cyber experts are still struggling to convince senior management to spend money to protect their control system assets, resulting in a lack of even basic measures to protect control systems.
Read more...
---
IT security at the core of smart cities
Cyber Security IT infrastructure Government and Parastatal (Industry)
The success of service delivery and public access to universal Wi-Fi, home automation and smart sensors is based on increased IT security.
Read more...
---
The next generation of Point of Sale
Commercial (Industry) Security Services & Risk Management Products
New digital point-of-sale (POS) platforms are gaining traction, which means payment providers and investors should take note.
Read more...
---
Kaspersky announces new consumer portfolio
Products Smart Home Automation
Kaspersky has announced availability of its new, simplified consumer solutions portfolio, with an enhanced user interface and experience across multiple platforms.
Read more...
---