printer friendly version
South Africa a safe haven
April 2011 Information Security, Security Services & Risk Management
Business continuity strategies include many processes and methodologies designed to protect businesses from disasters and unexpected downtime. The latest advice from several industry leaders and research institutions, however, is that to be completely sure your data is secure, a third backup location should be located on a different continent, an off-continent information safe haven.
Bradley Janse van Rensburg, solutions design manager at ContinuitySA believes this is an important component of a business continuity plan for companies that are dependent on their information to run their businesses. "When your data is your lifeblood as well as your legal responsibility, you cannot be too careful in protecting it," says Janse van Rensburg.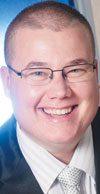 Bradley van Rensburg
He adds that international companies have a ready-made safe haven in South Africa where they can be sure their data is safe from disaster. He highlights six factors that make South Africa a good choice as a safe haven.
Natural security: "South Africa is an extremely stable area in terms of natural disasters," says Janse van Rensburg. "We are not exposed to the earthquakes, tornadoes and other natural disasters prevalent in other areas of the world. South Africa is therefore an ideal habitat for both people and data as very little protection is needed for survival here."
Politically safe: The country has a stable democracy and a free media, which is an important consideration when storing sensitive data. It is also on good terms politically with other countries, with no potential of a war and a minimal threat of terrorism.
Skills availability: There is a wide representation of international technology firms in the country, which will assure off-continent business continuity seekers of fast access to skills and support. South Africa's IT market is smaller, but no less competent than the best in the world.
Good location: South Africa is located in a good time zone for doing business with the EU and UK. Our business hours are about the same as theirs and English is the language of business, making it easy for international companies to communicate with their South African representatives and partners.
Connectivity: By 2012, there will be seven undersea cables coming into South Africa, giving the country 21 terabits of international bandwidth. The result will be a world-class communications infrastructure with plenty of resilience as the cables will be installed along the east and west coasts of Africa. Moreover, the country's internal infrastructure has proven itself of a high quality that meets the most demanding business needs.
Ease of business: Finally, the ease of doing business in South Africa, currently ranked 34th in the world, makes setting up an offshore data storage centre simple. Companies are able to set up a safe haven in short order without endless red tape.
South Africa is ideal for international companies to use as an off-continent continuity location. The success of the 2010 FIFA World Cup is proof of the capabilities of the country, the skills available and the resilience and quality of its infrastructure.
For more information contact ContinuitySA, +27 (0)11 554 8000, bradley.vanrensburg@continuitysa.co.za, www.continuitysa.co.za
Further reading:
Time is of the essence
Information Security
Ransomware attacks are becoming increasingly common. Yet, many individuals and organisations still lack a clear understanding of how these attacks occur and what can be done to secure their data.
Read more...
---
All aspects of data protection
Technews Publishing Editor's Choice Information Security Infrastructure AI & Data Analytics
SMART Security Solutions spoke to Kate Mollett, Senior Director, Commvault Africa, about the company and its evolution from a backup specialist to a full data protection specialist, as well as the latest announcements from the company.
Read more...
---
The song remains the same
Sophos Information Security
Sophos report found that telemetry logs were missing in nearly 42% of the attack cases studied. In 82% of these cases, cybercriminals disabled or wiped out the telemetry to hide their tracks.
Read more...
---
How hackers exploit our vulnerabilities
Information Security Risk Management & Resilience
Distractions, multi-tasking, and emotional responses increase individuals' vulnerability to social engineering, manipulation, and various forms of digital attacks; 74% of all data breaches included a human element.
Read more...
---
Projections for 2024's Advanced Threats Landscape
News & Events Information Security
Kaspersky Global Research and Analysis Team (GReAT) experts offer insights and projections for 2024 in the Kaspersky Security Bulletin, with a focus on the evolution of Advanced Persistent Threats (APT).
Read more...
---
Veeam and Sophos in strategic partnership
Information Security
Veeam and Sophos unite with a strategic partnership to advance the security of business-critical backups with managed detection and response for cyber resiliency, and to quickly recover impacted data by exchanging critical information.
Read more...
---
Unmasking insider risks
Information Security
In today's business landscape, insider risks can manifest in various forms, including data theft, fraud, sabotage, insider trading, espionage, whistleblowing, negligence, truck hijacking, goods robbery from warehouses, and more.
Read more...
---
When technology is not enough
Information Security
[Sponsored] Garith Peck, Executive Head of Department for Security at Vodacom Business, writes about the importance of creating a cybersecurity strategy in a world where threats never sleep.
Read more...
---
Identity verification and management trends
Technews Publishing Information Security
Insights into what we can expect from identity fraudsters and the industry next year, ranging from criminal exploitation of AI and digital IDs to multi-layer fraud protection and the need for more control over personal information sharing.
Read more...
---
From vulnerabilities to vigilance
Information Security
It is an unfortunate reality that generative artificial intelligence (GAI) has been embraced by cybercrime organisations, resulting in drastic changes in attack methods, strategies, and technologies, says Stephen Osler from Nclose.
Read more...
---