printer friendly version
South Africa a safe haven
April 2011 Cyber Security, Security Services & Risk Management
Business continuity strategies include many processes and methodologies designed to protect businesses from disasters and unexpected downtime. The latest advice from several industry leaders and research institutions, however, is that to be completely sure your data is secure, a third backup location should be located on a different continent, an off-continent information safe haven.
Bradley Janse van Rensburg, solutions design manager at ContinuitySA believes this is an important component of a business continuity plan for companies that are dependent on their information to run their businesses. "When your data is your lifeblood as well as your legal responsibility, you cannot be too careful in protecting it," says Janse van Rensburg.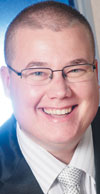 Bradley van Rensburg
He adds that international companies have a ready-made safe haven in South Africa where they can be sure their data is safe from disaster. He highlights six factors that make South Africa a good choice as a safe haven.
Natural security: "South Africa is an extremely stable area in terms of natural disasters," says Janse van Rensburg. "We are not exposed to the earthquakes, tornadoes and other natural disasters prevalent in other areas of the world. South Africa is therefore an ideal habitat for both people and data as very little protection is needed for survival here."
Politically safe: The country has a stable democracy and a free media, which is an important consideration when storing sensitive data. It is also on good terms politically with other countries, with no potential of a war and a minimal threat of terrorism.
Skills availability: There is a wide representation of international technology firms in the country, which will assure off-continent business continuity seekers of fast access to skills and support. South Africa's IT market is smaller, but no less competent than the best in the world.
Good location: South Africa is located in a good time zone for doing business with the EU and UK. Our business hours are about the same as theirs and English is the language of business, making it easy for international companies to communicate with their South African representatives and partners.
Connectivity: By 2012, there will be seven undersea cables coming into South Africa, giving the country 21 terabits of international bandwidth. The result will be a world-class communications infrastructure with plenty of resilience as the cables will be installed along the east and west coasts of Africa. Moreover, the country's internal infrastructure has proven itself of a high quality that meets the most demanding business needs.
Ease of business: Finally, the ease of doing business in South Africa, currently ranked 34th in the world, makes setting up an offshore data storage centre simple. Companies are able to set up a safe haven in short order without endless red tape.
South Africa is ideal for international companies to use as an off-continent continuity location. The success of the 2010 FIFA World Cup is proof of the capabilities of the country, the skills available and the resilience and quality of its infrastructure.
For more information contact ContinuitySA, +27 (0)11 554 8000, [email protected], www.continuitysa.co.za
Further reading:
Top fraud trends to watch in 2023
News Security Services & Risk Management
Even though financial concerns remain a significant obstacle for companies in implementing new anti-fraud technologies, 60% of businesses expect an increase in their anti-fraud technology budgets in the next two years.
Read more...
---
Be cautious when receiving deliveries at home
News Perimeter Security, Alarms & Intruder Detection Security Services & Risk Management
Community reports of residents being held up at their gate when collecting fast food deliveries at home are once again surfacing.
Read more...
---
OSINT: A new dimension in cybersecurity
Cyber Security
The ancient Chinese strategist Sun Tzu noted, you should always try to know what the enemy knows and know more than the enemy.
Read more...
---
Sasol ensures Zero Trust for SAP financials with bioLock
Technews Publishing Editor's Choice Cyber Security Security Services & Risk Management
Multi-factor authentication, including biometrics, for SAP Financials from realtime North America prevents financial compliance avoidance for Sasol.
Read more...
---
Building a holistic application security process
Altron Arrow Cyber Security
Altron Arrow asks what it means to build a holistic AppSec process. Learn what's involved in a holistic approach and how to get started.
Read more...
---
Managing data privacy concerns when moving to the cloud
Cyber Security
While the cloud offers many business benefits, it can also raise concerns around compliance, and some organisations have taken the approach of staying out of the cloud for this reason.
Read more...
---
Accelerating your Zero Trust journey in manufacturing
IT infrastructure Cyber Security Industrial (Industry)
Francois van Hirtum, CTO of Obscure Technologies, advises manufacturers on a strategic approach to safeguarding their businesses against cyber breaches.
Read more...
---
The democratisation of threats
Cyber Security
Bugcrowd looks at some of the primary vulnerabilities the world faced in 2021, and the risks moving forward with growing attack surfaces and lucrative returns on crime.
Read more...
---
Protecting yourself from DDoS attacks
Cyber Security Security Services & Risk Management
A DDoS attack, when an attacker floods a server or network with Internet traffic to prevent users from accessing connected online services, can be costly in both earnings and reputation.
Read more...
---
Exploiting Android accessibility services
Cyber Security
Pradeo Security recently neutralised an application using Android accessibility services that exploits the permission to perform fraudulent banking transactions.
Read more...
---