printer friendly version
Continuous data protection
April 2011
Cyber Security
Preserves and protects your business-relevant data assets.
Loophold Security Distribution has announced SonicWALL's next generation of continuous data protection (CDP) solutions. Built from the ground up with an entirely new architecture, SonicWALL CDP 6.0 automatically preserves and protects business-relevant data assets against loss from file, device, and location-based disasters. With support for Windows, Linux and Mac OS, CDP provides granular, globally enforced policy controls over the entire backup operation.
CDP 6.0 supports Microsoft applications including SQL, Exchange and SharePoint servers, Active Directory and Small Business Servers. Its unmatched flexibility enables IT administrators to dictate what information to backup, what to exclude and how the information should be maintained to adhere to recovery and compliance requirements.
Says Martin Tassev, MD at Loophold Security Distribution, "Today's businesses require increasingly sophisticated backup and disaster recovery (DR) technology in order to optimise data storage, backup and bandwidth utilisation. We are now able to deliver this to the local market with SonicWALL's CDP 6.0.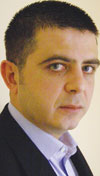 Martin Tassev
"In addition, SonicWALL further leverages benefits by tightly integrating its solutions, providing optimised functionality and benefits. This is illustrated with the ability to integrate CDP 6.0 with SonicWALL's global management system (GMS) platform, providing businesses with remote access, distributed backup, centralised reporting as well as monitoring without the need for site-to-site VPN links. The solution significantly reduces time to generate management reports, improves and streamlines operations."
CDP 6.0 features
The new CDP revolutionises the backup and recovery process for IT organisations. A sophisticated new fileset backup methodology combined with agent-based data de-duplication moves and stores only unique data blocks. This speeds the backup process and optimises bandwidth usage while maintaining total information continuity and the ability to flexibly restore multiple revisions.
The new CDP 6.0 solution has been designed to help IT meet compliance and legal requirements, ensuring that mission-critical intellectual property and compliance data in e-mail and on the network is automatically protected against file, device and location-based disasters that can cause severe data loss.
"Risk management and compliance mandates are issues forcing IT to rethink data protection, data availability, data preservation, and disaster recovery readiness and responsiveness," says Ken Dang, product manager, CDP at SonicWALL. "SonicWALL CDP 6.0 governs information growth effectively in real time. It scales up to midsize and larger organisations, providing options to preserve, replicate, archive, govern and restore greater amounts of data, across Windows, Mac OS and Linux platforms, and at a lower price than its predecessor devices."
For more information contact Loophold Security Distribution, +27 (0)11 575 0004, [email protected]
Further reading:
Managing data privacy concerns when moving to the cloud
Cyber Security
While the cloud offers many business benefits, it can also raise concerns around compliance, and some organisations have taken the approach of staying out of the cloud for this reason.
Read more...
---
Accelerating your Zero Trust journey in manufacturing
IT infrastructure Cyber Security Industrial (Industry)
Francois van Hirtum, CTO of Obscure Technologies, advises manufacturers on a strategic approach to safeguarding their businesses against cyber breaches.
Read more...
---
The democratisation of threats
Cyber Security
Bugcrowd looks at some of the primary vulnerabilities the world faced in 2021, and the risks moving forward with growing attack surfaces and lucrative returns on crime.
Read more...
---
Protecting yourself from DDoS attacks
Cyber Security Security Services & Risk Management
A DDoS attack, when an attacker floods a server or network with Internet traffic to prevent users from accessing connected online services, can be costly in both earnings and reputation.
Read more...
---
Exploiting Android accessibility services
Cyber Security
Pradeo Security recently neutralised an application using Android accessibility services that exploits the permission to perform fraudulent banking transactions.
Read more...
---
Cyber resilience is more than cybersecurity
Technews Publishing Editor's Choice Cyber Security Integrated Solutions IT infrastructure
Hi-Tech Security Solutions held a round-table discussion focusing on cyber resilience and found that while the resilience discipline includes cybersecurity, it also goes much further.
Read more...
---
Keeping devices in check
Cyber Security Asset Management, EAS, RFID IT infrastructure
Kaspersky patents new technology for analysing relationships between electronic devices to counter cyberattacks launched through connected IoT devices.
Read more...
---
Considering cloud downtime insurance?
Arcserve Southern Africa Cyber Security IT infrastructure Security Services & Risk Management
Byron Horn-Botha, business unit head, Arcserve Southern Africa, reveals three vital steps that you must consider to ensure business continuity before you buy insurance.
Read more...
---
A robust OT cybersecurity strategy
Editor's Choice Cyber Security IT infrastructure Industrial (Industry)
Cyber experts are still struggling to convince senior management to spend money to protect their control system assets, resulting in a lack of even basic measures to protect control systems.
Read more...
---
Why Multi-Factor Authentication, universal ZTNA and Zero Trust matter
Access Control & Identity Management Cyber Security
Malicious cyber actors are experimenting with new attack vectors and increasing the frequency of zero-day and other attacks, according to Fortinet's 1H 2022 FortiGuard Labs Threat Landscape report.
Read more...
---