printer friendly version
Identity and access are inseparable
April 2011
Cyber Security
As data security becomes a catastrophe, identity and access management becomes essential.
While the recent CA IT Management Symposium 2011 was focused on the IT market, it should come as no surprise that security featured prominently at the event as MD of CA Southern Africa, Gary Lawrence introduced the industry shift to cloud computing.
Lawrence noted that business today wants more from its IT systems, cheaper and more reliably. This is where the cloud concept plays a part, as it can bring business the agility and the differentiation it requires to succeed, with less hassles. The CIO of today needs to understand how technology can boost business and help the company differentiate itself in a competitive marketplace.
Focusing on the security side of things, CA Southern Africa's security head, Ugan Naidoo spoke on the security needs in corporations today. Naidoo said that 86% of all corporate data leaks left evidence of the breach in the company's log files. The information was there, but most people could not or did not bother checking it.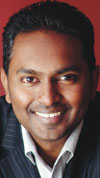 Ugan Naidoo
The result is a dire need for companies to concentrate on data loss prevention (DLP) as well as effective identity and access management (IAM), throughout the enterprise. Naidoo says business needs to be able to integrate identity allocation and authorisation in terms of what an individual is able to access and what information can be copied to a portable storage device, like a USB stick, or e-mailed out of the company.
"Operationalising security is the key," he said. The core of IAM is therefore to control identities, control access and control information. Software alone is not the answer as users need to be educated, policies designed and real-time monitoring must be standard."
By effectively identifying users, their entitlements and roles on an ongoing basis – to avoid crossed wires when employees change jobs – companies will be able to effectively control their information. Of course, this also includes the unstructured information on most servers and information portals.
Cloudy security
When looking at security in the cloud specifically, Naidoo warns that the hosting aspect is only one part of cloud computing. The concept must also include mobiles, Internet and remote access, and all of these must be as secure as the hosted servers are.
The catch with cloud services is that it becomes easy for businesses to bypass the official IT rules and boundaries, and serve themselves. This obviously creates a security nightmare as security is normally the last thing on users' minds behind convenience. Ideally, every identity that is defined for use within the enterprise must also have a cloud component that determined what role that user can play in accessing and using data via cloud or mobile services.
ABSA Bank presented a case study on its IAM experience, noting that HR is the central point in identifying individuals – a point which some in IT contest. The IAM process therefore starts with HR and a clean database of individual identities, positions and assignments. And, importantly, it is an ongoing process that changes with the company and the individuals it employs.
The final message for the security world from the symposium is that while IT is charging ahead with new solutions and technologies, security personnel cannot afford to be left behind. If security cannot integrate the traditional security worlds with the new ways IT is devising to gain access to data and locations, this is one job description that will shrink into insignificance.
Credit(s)
Further reading:
Managing data privacy concerns when moving to the cloud
Cyber Security
While the cloud offers many business benefits, it can also raise concerns around compliance, and some organisations have taken the approach of staying out of the cloud for this reason.
Read more...
---
Accelerating your Zero Trust journey in manufacturing
IT infrastructure Cyber Security Industrial (Industry)
Francois van Hirtum, CTO of Obscure Technologies, advises manufacturers on a strategic approach to safeguarding their businesses against cyber breaches.
Read more...
---
The democratisation of threats
Cyber Security
Bugcrowd looks at some of the primary vulnerabilities the world faced in 2021, and the risks moving forward with growing attack surfaces and lucrative returns on crime.
Read more...
---
Protecting yourself from DDoS attacks
Cyber Security Security Services & Risk Management
A DDoS attack, when an attacker floods a server or network with Internet traffic to prevent users from accessing connected online services, can be costly in both earnings and reputation.
Read more...
---
Exploiting Android accessibility services
Cyber Security
Pradeo Security recently neutralised an application using Android accessibility services that exploits the permission to perform fraudulent banking transactions.
Read more...
---
Cyber resilience is more than cybersecurity
Technews Publishing Editor's Choice Cyber Security Integrated Solutions IT infrastructure
Hi-Tech Security Solutions held a round-table discussion focusing on cyber resilience and found that while the resilience discipline includes cybersecurity, it also goes much further.
Read more...
---
Keeping devices in check
Cyber Security Asset Management, EAS, RFID IT infrastructure
Kaspersky patents new technology for analysing relationships between electronic devices to counter cyberattacks launched through connected IoT devices.
Read more...
---
Considering cloud downtime insurance?
Arcserve Southern Africa Cyber Security IT infrastructure Security Services & Risk Management
Byron Horn-Botha, business unit head, Arcserve Southern Africa, reveals three vital steps that you must consider to ensure business continuity before you buy insurance.
Read more...
---
A robust OT cybersecurity strategy
Editor's Choice Cyber Security IT infrastructure Industrial (Industry)
Cyber experts are still struggling to convince senior management to spend money to protect their control system assets, resulting in a lack of even basic measures to protect control systems.
Read more...
---
Why Multi-Factor Authentication, universal ZTNA and Zero Trust matter
Access Control & Identity Management Cyber Security
Malicious cyber actors are experimenting with new attack vectors and increasing the frequency of zero-day and other attacks, according to Fortinet's 1H 2022 FortiGuard Labs Threat Landscape report.
Read more...
---