printer friendly version
Surveillance in Silverton
April 2011
CCTV, Surveillance & Remote Monitoring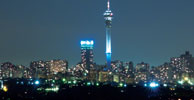 Community business organisation turns to IP-surveillance to monitor commercial district.
One of the most serious and worrisome problems facing South African businesses today is the prevalence of crime. Unlike inflated overheads, stiff competition or overpriced raw materials, crime cannot be overcome by sound business practices or an inspired marketing campaign. Silverton Business Watch, a non-profit community initiative, recognised the devastating consequences of crime in its central business district and decided to avail itself of a high-tech surveillance solution to fight the scourge threatening its local industry.
Ecotech Converge (specialising in the areas of IT convergence, software and hardware distribution, advanced networking and hosting solutions, and infrastructure consulting) proposed the installation of an IP-based monitoring system. Tried and tested in their own environment, Axis network cameras were recommended by Ecotech and selected by Silverton Business Watch due to their superior image quality and broad product range.
The Axis surveillance solution has proved to be so effective that crime was reduced by 30% in the three months after installation. The success of this project has led to the expansion of the system into the nearby Silverton residential area. Ecotech Converge, through the deployment of an advanced security structure, has been instrumental in creating a safer environment for all of the inhabitants of Silverton.
Serving the community
Silverton, a suburb of Pretoria, Gauteng, is home to a wide variety of commercial ventures, including textiles and clothing, automotive, chemicals, engineering, computers and communication and food and beverages to name but a few.
Silverton Business Watch was established by SAPS in conjunction with the local Community Patrol Association with the intention of taking a proactive stance against crime affecting the area. The organisation enables businesses to maintain direct communication with the South African Police Services (SAPS), the Society for Prevention of Cruelty to Animals (SPCA), the local fire brigade and metro police, via hand radios.
Security in the Silverton CBD is further boosted by a community supported patrol vehicle. The dedicated vehicle, driven by a community member, makes the rounds of businesses during the day on the lookout for any suspicious activity.
A number of AXIS 215 PTZ Network Cameras strategically serve to monitor all exits and entrances to the CBD district. The pan/tilt control and day/night functionality of the AXIS 215 PTZ allows for effortless tracking of an individual or vehicle and permits operators to zoom in for a more detailed view when the need arises.
Complete darkness or smoky, hazy conditions pose no threat to the success of the security solution due to the installation of the AXIS Q1910 Thermal Network Camera. The AXIS Q1910 uses thermal imaging (rendering infrared radiation as visible light) to detect objects and people under circumstances that would normally prohibit the deployment of video surveillance.
Monitoring of footage gleaned from the Axis network cameras is a joint venture between the community and Ecotech Converge. A shift system ensures that recordings are constantly observed and feedback is provided to field operators via two-way radios. All video material is backed up off site as a special precaution in case this footage is required at a later date.
Credit(s)
Further reading:
Hikvision unveils first 'True 8K' NVRs
Hikvision South Africa CCTV, Surveillance & Remote Monitoring Products
The new M-Series NVRs can be used with a host of Hikvision cameras, and are ideal for environments where a wide field of view and extremely high image resolution are needed.
Read more...
---
Real-world sustainability and innovation
Axis Communications SA Security Services & Risk Management
Technology such as smart city surveillance systems, in combination with video analytics that use artificial intelligence to analyse, prioritise and make decisions, enables cities to use resources as efficiently and sustainably as possible.
Read more...
---
AI in video analytics
CCTV, Surveillance & Remote Monitoring Integrated Solutions
AI (artificial intelligence), has been developed and debated ever since the first computers were invented, and while the most revolutionary incarnations are not yet here, AI-based technologies are widely used today.
Read more...
---
Milestone flies a Kite for small businesses
Milestone Systems CCTV, Surveillance & Remote Monitoring
Milestone Systems introduces Milestone Kite for small to medium-sized businesses and organisations, supporting 6000+ camera models from 100+ manufacturers.
Read more...
---
Railway AI-enabled video analytics
Rugged Interconnect Technologies CCTV, Surveillance & Remote Monitoring
The Rugged Computing Group has announced the AVA-RAGX, a fanless AIoT video analytics platform for railway applications, paired with Nvidia's Jetson AGX Xavier platform.
Read more...
---
No supply chain delays from Germany
Dallmeier Electronic Southern Africa News CCTV, Surveillance & Remote Monitoring Products
Dallmeier announces that its complete Domera single-sensor camera family is available without delivery problems for installers and channel partners.
Read more...
---
Hikvision releases eDVR Series with eSSD technology
Hikvision South Africa CCTV, Surveillance & Remote Monitoring Products
Hikvision recently added the eDVR Series to its expanding portfolio of security solutions for SMBs, offering compact, durable, easy-to-use and energy-efficient solutions.
Read more...
---
Axis announces W101 body-worn camera
Products CCTV, Surveillance & Remote Monitoring
Axis Communications has designed a body-worn camera, the Axis W101, that has an operating time of up to 17 hours with over 12 hours at 1080p.
Read more...
---
Adding value to SMB applications
Hikvision South Africa CCTV, Surveillance & Remote Monitoring Products
Hikvision designed its PT cameras to provide affordable choices for SMBs, and to pave the way to easy installation and reliable security with flexibility and convenience.
Read more...
---
Redefining access control in the commercial sector
Axis Communications SA Commercial (Industry) Access Control & Identity Management
Technology is key to keeping assets and personnel safe and secure, especially in the face of concern surrounding proposed new trespassing laws.
Read more...
---