printer friendly version
GeoVision débuts in-vehicle surveillance with Subaru
February 2011
CCTV, Surveillance & Remote Monitoring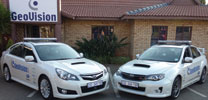 GeoVision SA has designed an in-vehicle surveillance solution that keeps fleet owners in the picture.
GeoVision SA has announced a new tracking and surveillance solution for fleet owners in South Africa. Installed on two Subaru sedans in a pilot project, the solution offers users the ability to track a vehicle via GPS as well as view live video footage from cameras installed in the vehicles.
Says Jacques Taylor, sales manager at GeoVision SA, "With a simple right mouse button click on the vehicle icon in GeoVision's GIS user interface (UI), supervisors can view the events happening inside a vehicle being tracked. The GeoVision GIS Software can be installed on any PC with an Internet connection. This device will be able to access the data required as long as the vehicles have been configured correctly."
The GeoVision software functions and looks like any other fleet management UI, but besides the basic user configurable exceptions, such as speeding, driving out of a designated area, lengthy idling and various other events, the software also allows for further integration by enabling various fixed DVRs or NVRs to be monitored within the same UI.
The system allows for the population of the map with user-specific addresses and can be configured as a command-and-control system, also allowing for nearest vehicle or address searches. Users can dispatch a vehicle to an address via SMS, including route instructions. Further integration possibilities are made possible, even to the extent of allowing a user-defined map API.
This ability allows for the integration of further features, including two-way audio, remote control of Pan/Tilt/Zoom cameras access to the onboard recorded video footage and logs, and even licence plate recognition (LPR).
Various installation and configuration options are available from basic 2-camera units to 8-camera systems incorporating LPR and various choices in night viewing including thermal capabilities for both enforcement and night driving safety. Power management solutions are also available for larger configurations to ensure safe and reliable power to both systems and the vehicle itself.
GeoVision also offers solutions for the management and safe archiving of all data captured. Taylor warns that although GeoVision solutions are compatible with any vehicle, warrantees are an important consideration. "It is with this in mind that we sought the cooperation of a partner to showcase the solutions. Subaru with its proven performance and safety was the obvious partner to suit GeoVision's track record. All Subaru vehicles supplied and fitted with GeoVision solutions carry the full Subaru warranty and maintenance plans."
Subaru has also a proven track record globally with many fleet vehicles in the private and public sectors, including law enforcement operations from Japan to Australia, Europe and South Africa and government fleets in Africa. Less down time, exceptional reliability and lower cost of maintenance are all contributing factors as a fleet option which simply cannot be ignored.
Further reading:
Drones and cybersecurity?
October 2019 , CCTV, Surveillance & Remote Monitoring
Hacker drones can eavesdrop electronically on conversations, can perform network attacks, or can create fake wireless access points.
Read more...
---
Body-worn cameras transforming security
October 2019 , CCTV, Surveillance & Remote Monitoring, Security Services & Risk Management
Police Service Northern Ireland now has over 7 000 officers using 2 500 cameras covering approximately 173 000 incidents each year.
Read more...
---
Camera Selection Guide 2019
CCTV Handbook 2019 , CCTV, Surveillance & Remote Monitoring
The Camera Selection Guide 2019 includes a range of IP, analogue, thermal and speciality cameras aimed at a broad range of surveillance functions.
Read more...
---
Intelligent analytics and the brains to match
September 2019, Bosch Building Technologies , CCTV, Surveillance & Remote Monitoring, Integrated Solutions
What if the brains behind our security cameras could be trained to improve their cognitive ability to pay attention, learn, and problem-solve according to specific rules and situations?
Read more...
---
AI-powered autonomous Drone-in-a-Box
September 2019 , CCTV, Surveillance & Remote Monitoring, Integrated Solutions
Organisations in the mining, energy and industrial, oil and gas, ports and terminals sectors can optimise security and business operations, whilst reducing risks and operational costs
Read more...
---
Cybersecurity for video surveillance systems
September 2019, Mobotix , Cyber Security, CCTV, Surveillance & Remote Monitoring
Video surveillance systems are increasingly accessible over any IP network, which has led to the rise of potential cyberattack.
Read more...
---
What are the cybersecurity issues in video surveillance?
November 2019, Axis Communications SA , Editor's Choice, CCTV, Surveillance & Remote Monitoring, Cyber Security
he importance of the data captured by surveillance cameras – and what can be done with it – has led to a new breed of cybercriminals, looking for insights to steal and sell.
Read more...
---
The safe city and its need for interoperability
November 2019 , Integrated Solutions, CCTV, Surveillance & Remote Monitoring
Interoperability continues to present one of the greatest challenges, particularly with video management systems, video recording devices and cameras.
Read more...
---
A platform approach to safer and smarter cities
November 2019, Milestone Systems , CCTV, Surveillance & Remote Monitoring
Selecting the right platform to manage the vast data collected from smart and safe cities is critical to the ultimate success of the project.
Read more...
---
Creating safe cities with smart technology
November 2019, Secutel Technologies , CCTV, Surveillance & Remote Monitoring
In a digital age, where resilience and responsiveness are paramount to fighting crime and creating a safer world, CCTV systems are becoming part of every city's infrastructure.
Read more...
---