printer friendly version
GeoVision débuts in-vehicle surveillance with Subaru
February 2011
CCTV, Surveillance & Remote Monitoring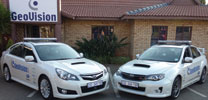 GeoVision SA has designed an in-vehicle surveillance solution that keeps fleet owners in the picture.
GeoVision SA has announced a new tracking and surveillance solution for fleet owners in South Africa. Installed on two Subaru sedans in a pilot project, the solution offers users the ability to track a vehicle via GPS as well as view live video footage from cameras installed in the vehicles.
Says Jacques Taylor, sales manager at GeoVision SA, "With a simple right mouse button click on the vehicle icon in GeoVision's GIS user interface (UI), supervisors can view the events happening inside a vehicle being tracked. The GeoVision GIS Software can be installed on any PC with an Internet connection. This device will be able to access the data required as long as the vehicles have been configured correctly."
The GeoVision software functions and looks like any other fleet management UI, but besides the basic user configurable exceptions, such as speeding, driving out of a designated area, lengthy idling and various other events, the software also allows for further integration by enabling various fixed DVRs or NVRs to be monitored within the same UI.
The system allows for the population of the map with user-specific addresses and can be configured as a command-and-control system, also allowing for nearest vehicle or address searches. Users can dispatch a vehicle to an address via SMS, including route instructions. Further integration possibilities are made possible, even to the extent of allowing a user-defined map API.
This ability allows for the integration of further features, including two-way audio, remote control of Pan/Tilt/Zoom cameras access to the onboard recorded video footage and logs, and even licence plate recognition (LPR).
Various installation and configuration options are available from basic 2-camera units to 8-camera systems incorporating LPR and various choices in night viewing including thermal capabilities for both enforcement and night driving safety. Power management solutions are also available for larger configurations to ensure safe and reliable power to both systems and the vehicle itself.
GeoVision also offers solutions for the management and safe archiving of all data captured. Taylor warns that although GeoVision solutions are compatible with any vehicle, warrantees are an important consideration. "It is with this in mind that we sought the cooperation of a partner to showcase the solutions. Subaru with its proven performance and safety was the obvious partner to suit GeoVision's track record. All Subaru vehicles supplied and fitted with GeoVision solutions carry the full Subaru warranty and maintenance plans."
Subaru has also a proven track record globally with many fleet vehicles in the private and public sectors, including law enforcement operations from Japan to Australia, Europe and South Africa and government fleets in Africa. Less down time, exceptional reliability and lower cost of maintenance are all contributing factors as a fleet option which simply cannot be ignored.
Further reading:
Platforms and community lead the future
May 2019, Milestone Systems , Editor's Choice, CCTV, Surveillance & Remote Monitoring, News, Integrated Solutions
Milestone Systems took a look into the future of open platforms and the power of community at MIPS EMEA in Copenhagen in March this year.
Read more...
---
The consequences of false alerts
May 2019, Leaderware , Editor's Choice, CCTV, Surveillance & Remote Monitoring, Integrated Solutions
Craig Donald discusses the impact of false alarm rates on the utility of intelligent security technology systems.
Read more...
---
Does your control room add value?
May 2019, Fidelity Security Group, G4S South Africa, Progroup , Editor's Choice, CCTV, Surveillance & Remote Monitoring, Integrated Solutions, IT infrastructure, Commercial (Industry)
Whether on- or offsite, control rooms are a critical aspect of security today and care must be taken in the design and rollout of these nerve centres.
Read more...
---
Delivering greater control room value
May 2019, Cathexis Technologies , Editor's Choice, CCTV, Surveillance & Remote Monitoring, Integrated Solutions
A truly integrated security system requires that all aspects of the security system work seamlessly together, while being managed by the heart of the system, which is the control room.
Read more...
---
Security workforce management platform
May 2019, Secutel Technologies , CCTV, Surveillance & Remote Monitoring, Integrated Solutions, Security Services & Risk Management
Secutel Technologies says the South African market is excited about body-cam technology and clearly sees the potential benefits.
Read more...
---
HD PIR camera with strobe light
May 2019, Hikvision South Africa , Perimeter Security, Alarms & Intruder Detection, CCTV, Surveillance & Remote Monitoring
Hikvision's Turbo HD passive infrared (PIR) camera uses advanced video surveillance technologies to capture infrared light given off by human bodies.
Read more...
---
AI enhances intruder detection
May 2019, Dahua Technology South Africa , Products, CCTV, Surveillance & Remote Monitoring
Dahua Technology launched its new XVR series, XVR5000-I/XVR7000-4KL-I featuring full-channel SMD Plus to benefit customers with an AI upgrade.
Read more...
---
KCB Bank Tanzania
May 2019 , CCTV, Surveillance & Remote Monitoring, Products
Uniview delivered a cost-effective and intelligent solution to help KCB Bank to upgrade its CCTV system.
Read more...
---
The world's first surveillance camera day
May 2019 , News, CCTV, Surveillance & Remote Monitoring, Conferences & Events
As part of the National Surveillance Camera Strategy for England and Wales, the Surveillance Camera Commissioner is holding the world's first Surveillance Camera Day on 20 June.
Read more...
---
Control room software selection
May 2019, Intelligent Monitoring , CCTV, Surveillance & Remote Monitoring, Security Services & Risk Management
Wolfgang Kirsch discusses what customers should look for when selecting a control room management platform.
Read more...
---