printer friendly version
Infinite possibilities from Milestone
February 2011
CCTV, Surveillance & Remote Monitoring
High performance functionality benefits large-scale video surveillance projects.
Milestone Systems has released version 4.0 of XProtect Corporate, claiming an infinitely scalable federated architecture, extended user rights, bookmarking, multistage video grooming and edge storage support that expands the capabilities for reliable management of large-scale security system operations.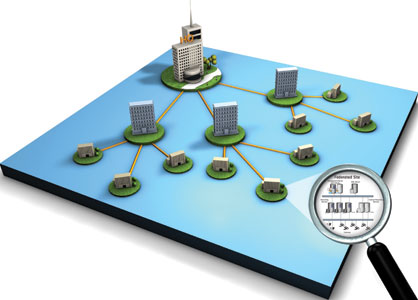 Milestone Federated Architecture
XProtect Corporate is the top-of-the-line offering in the Milestone family of open platform IP video management software, designed for high capacity, multisite installations, supporting unlimited numbers of cameras and users. This newest version 4.0 of XProtect Corporate includes key additions:
* Milestone Federated Architecture provides infinite scalability through central management of all federated entities in a system hierarchy on all levels of multiple sites – all the way out from headquarters to subsidiaries and beyond, to each of their branch offices.
* Extended User Rights allow tailoring user access and operation by skill levels, tasks, or time profiles (such as guards on shifts), by individual or as groups.
* The Alarm Manager gives consolidated and prioritised overviews for enhanced alarm handling with rule definitions for event triggers and dynamic camera previews, including work instructions, escalation or forwarding actions. These improve response times and reduce false alarms.
* Bookmarking incidents in both live and browse modes with time-synchronised video previews eases evidence creation and sharing details to speed up investigations.
* Multistage storage lets system administrators measurably optimise storage in levels, defining chains and timing multiple archives to different drives and hardware, grooming the video data to lower frame rates at each stage. Check storage status in your system at any time, including device usage by camera.
* Edge Storage Support is now ready: this ground-breaking technology can be deployed as the cameras providing edge capability become available from the manufacturers. This will increase system reliability during maintenance downtime or for installations with cameras on wireless, public Internet or other environments where network connections can be temporarily lost. Edge storage is a safeguard to ensure uninterrupted recording.
"Milestone has a great performance story to share: XProtect Corporate 4.0 brings a new chapter in database optimisation. In synergy with the hardware configuration, you can now get exponentially more video written to the database. This means that you can reduce the overall cost of your hardware needs because we help streamline those requirements," states Christian Bohn, VP marketing and product development at Milestone Systems. "Milestone's unique video archiving model has also been further developed with multistage grooming, encryption and recording configuration options that significantly lower the cost of storage."
For more information contact Milestone Systems, +45 (0)88 300 300, cdp@milestonesys.com, www.milestonesys.com
Further reading:
Drones and cybersecurity?
October 2019 , CCTV, Surveillance & Remote Monitoring
Hacker drones can eavesdrop electronically on conversations, can perform network attacks, or can create fake wireless access points.
Read more...
---
Body-worn cameras transforming security
October 2019 , CCTV, Surveillance & Remote Monitoring, Security Services & Risk Management
Police Service Northern Ireland now has over 7 000 officers using 2 500 cameras covering approximately 173 000 incidents each year.
Read more...
---
Camera Selection Guide 2019
CCTV Handbook 2019 , CCTV, Surveillance & Remote Monitoring
The Camera Selection Guide 2019 includes a range of IP, analogue, thermal and speciality cameras aimed at a broad range of surveillance functions.
Read more...
---
Intelligent analytics and the brains to match
September 2019, Bosch Building Technologies , CCTV, Surveillance & Remote Monitoring, Integrated Solutions
What if the brains behind our security cameras could be trained to improve their cognitive ability to pay attention, learn, and problem-solve according to specific rules and situations?
Read more...
---
AI-powered autonomous Drone-in-a-Box
September 2019 , CCTV, Surveillance & Remote Monitoring, Integrated Solutions
Organisations in the mining, energy and industrial, oil and gas, ports and terminals sectors can optimise security and business operations, whilst reducing risks and operational costs
Read more...
---
Cybersecurity for video surveillance systems
September 2019, Mobotix , Cyber Security, CCTV, Surveillance & Remote Monitoring
Video surveillance systems are increasingly accessible over any IP network, which has led to the rise of potential cyberattack.
Read more...
---
What are the cybersecurity issues in video surveillance?
November 2019, Axis Communications SA , Editor's Choice, CCTV, Surveillance & Remote Monitoring, Cyber Security
he importance of the data captured by surveillance cameras – and what can be done with it – has led to a new breed of cybercriminals, looking for insights to steal and sell.
Read more...
---
The safe city and its need for interoperability
November 2019 , Integrated Solutions, CCTV, Surveillance & Remote Monitoring
Interoperability continues to present one of the greatest challenges, particularly with video management systems, video recording devices and cameras.
Read more...
---
A platform approach to safer and smarter cities
November 2019, Milestone Systems , CCTV, Surveillance & Remote Monitoring
Selecting the right platform to manage the vast data collected from smart and safe cities is critical to the ultimate success of the project.
Read more...
---
Creating safe cities with smart technology
November 2019, Secutel Technologies , CCTV, Surveillance & Remote Monitoring
In a digital age, where resilience and responsiveness are paramount to fighting crime and creating a safer world, CCTV systems are becoming part of every city's infrastructure.
Read more...
---