printer friendly version
Infinite possibilities from Milestone
February 2011
CCTV, Surveillance & Remote Monitoring
High performance functionality benefits large-scale video surveillance projects.
Milestone Systems has released version 4.0 of XProtect Corporate, claiming an infinitely scalable federated architecture, extended user rights, bookmarking, multistage video grooming and edge storage support that expands the capabilities for reliable management of large-scale security system operations.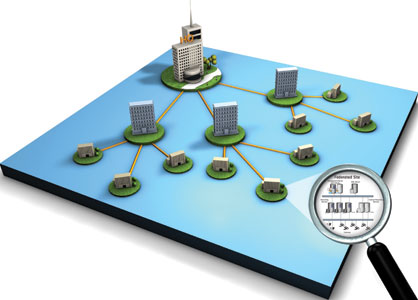 Milestone Federated Architecture
XProtect Corporate is the top-of-the-line offering in the Milestone family of open platform IP video management software, designed for high capacity, multisite installations, supporting unlimited numbers of cameras and users. This newest version 4.0 of XProtect Corporate includes key additions:
* Milestone Federated Architecture provides infinite scalability through central management of all federated entities in a system hierarchy on all levels of multiple sites – all the way out from headquarters to subsidiaries and beyond, to each of their branch offices.
* Extended User Rights allow tailoring user access and operation by skill levels, tasks, or time profiles (such as guards on shifts), by individual or as groups.
* The Alarm Manager gives consolidated and prioritised overviews for enhanced alarm handling with rule definitions for event triggers and dynamic camera previews, including work instructions, escalation or forwarding actions. These improve response times and reduce false alarms.
* Bookmarking incidents in both live and browse modes with time-synchronised video previews eases evidence creation and sharing details to speed up investigations.
* Multistage storage lets system administrators measurably optimise storage in levels, defining chains and timing multiple archives to different drives and hardware, grooming the video data to lower frame rates at each stage. Check storage status in your system at any time, including device usage by camera.
* Edge Storage Support is now ready: this ground-breaking technology can be deployed as the cameras providing edge capability become available from the manufacturers. This will increase system reliability during maintenance downtime or for installations with cameras on wireless, public Internet or other environments where network connections can be temporarily lost. Edge storage is a safeguard to ensure uninterrupted recording.
"Milestone has a great performance story to share: XProtect Corporate 4.0 brings a new chapter in database optimisation. In synergy with the hardware configuration, you can now get exponentially more video written to the database. This means that you can reduce the overall cost of your hardware needs because we help streamline those requirements," states Christian Bohn, VP marketing and product development at Milestone Systems. "Milestone's unique video archiving model has also been further developed with multistage grooming, encryption and recording configuration options that significantly lower the cost of storage."
For more information contact Milestone Systems, +45 (0)88 300 300, cdp@milestonesys.com, www.milestonesys.com
Further reading:
Platforms and community lead the future
May 2019, Milestone Systems , Editor's Choice, CCTV, Surveillance & Remote Monitoring, News, Integrated Solutions
Milestone Systems took a look into the future of open platforms and the power of community at MIPS EMEA in Copenhagen in March this year.
Read more...
---
The consequences of false alerts
May 2019, Leaderware , Editor's Choice, CCTV, Surveillance & Remote Monitoring, Integrated Solutions
Craig Donald discusses the impact of false alarm rates on the utility of intelligent security technology systems.
Read more...
---
Does your control room add value?
May 2019, Fidelity Security Group, G4S South Africa, Progroup , Editor's Choice, CCTV, Surveillance & Remote Monitoring, Integrated Solutions, IT infrastructure, Commercial (Industry)
Whether on- or offsite, control rooms are a critical aspect of security today and care must be taken in the design and rollout of these nerve centres.
Read more...
---
Delivering greater control room value
May 2019, Cathexis Technologies , Editor's Choice, CCTV, Surveillance & Remote Monitoring, Integrated Solutions
A truly integrated security system requires that all aspects of the security system work seamlessly together, while being managed by the heart of the system, which is the control room.
Read more...
---
Security workforce management platform
May 2019, Secutel Technologies , CCTV, Surveillance & Remote Monitoring, Integrated Solutions, Security Services & Risk Management
Secutel Technologies says the South African market is excited about body-cam technology and clearly sees the potential benefits.
Read more...
---
HD PIR camera with strobe light
May 2019, Hikvision South Africa , Perimeter Security, Alarms & Intruder Detection, CCTV, Surveillance & Remote Monitoring
Hikvision's Turbo HD passive infrared (PIR) camera uses advanced video surveillance technologies to capture infrared light given off by human bodies.
Read more...
---
AI enhances intruder detection
May 2019, Dahua Technology South Africa , Products, CCTV, Surveillance & Remote Monitoring
Dahua Technology launched its new XVR series, XVR5000-I/XVR7000-4KL-I featuring full-channel SMD Plus to benefit customers with an AI upgrade.
Read more...
---
KCB Bank Tanzania
May 2019 , CCTV, Surveillance & Remote Monitoring, Products
Uniview delivered a cost-effective and intelligent solution to help KCB Bank to upgrade its CCTV system.
Read more...
---
The world's first surveillance camera day
May 2019 , News, CCTV, Surveillance & Remote Monitoring, Conferences & Events
As part of the National Surveillance Camera Strategy for England and Wales, the Surveillance Camera Commissioner is holding the world's first Surveillance Camera Day on 20 June.
Read more...
---
Control room software selection
May 2019, Intelligent Monitoring , CCTV, Surveillance & Remote Monitoring, Security Services & Risk Management
Wolfgang Kirsch discusses what customers should look for when selecting a control room management platform.
Read more...
---